12 Actors Who Almost Played Batman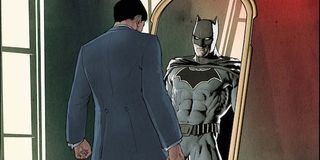 (Image credit: See-Saw Films)
You should be aware by now that Warner Bros. has found its new Batman following Ben Affleck's official exit after three movies in the cowl. Actor Robert Pattinson will lead director Matt Reeves' The Batman, which is set for 2021.
Obviously, you probably have an opinion about this. Maybe you would have rather they stuck with an older interpretation of the hero and cast Jon Hamm, or maybe, after accepting the decision to make Bruce Wayne younger, you believe that Nicolas Hoult would have been a better fit.
Believe it or not, the role of Batman has seen more controversial casting than Edward from Twilight. In fact, some of the names who were merely under consideration to portray the iconic DC character sound questionable in retrospect.
Actors like Ethan Hawke, The X-Files' David Duchovny, Mel Gibson and many others were offered the chance to star as Gotham's savior, but settled for other opportunities, for better or worse. The following actors are some of the most intriguing and infamously speculated names who almost played Batman.
Jake Gyllenhaal
After it was confirmed in 2018 that Ben Affleck would not be returning for Matt Reeves' solo Batman film, for a brief moment, the Academy Award-nominated actor, known for embracing darkness in thrillers like Donnie Darko and will gain comic book movie experience as Mysterio in this year's Spider-Man: Far From Home, was the frontrunner to replace him.
Of course, this turned out to be merely rumors, but it was not the first time Jake Gyllenhaal was eyed for the cowl. While Christopher Nolan was casting for 2005's Batman Begins, Jake Gyllenhaal was among the top choices to play Batman before the part ultimately went to Christian Bale.
While I can imagine that the talented actor would have had an interesting take on the character, one thing I know for sure is that it would have led to a very bizarre Brokeback Mountain reunion in The Dark Knight.
Johnny Depp
Fans of Johnny Depp would agree that the actor is a jack of all trades who could play suave and debonair just as easily as he could play grim and violent. These are key characteristics of pulling off both billionaire Bruce Wayne and his costumed alter ego, Batman.
However, Johnny Depp's good friend Tim Burton could not convince Batman Forever director Joel Schumacher that the Edward Scissorhands star was a right fit for the role in the 1995 sequel. Eventually, talk of Depp playing The Riddler in The Dark Knight Rises would surface, only to be shot down as internet rumors. I, for one, would have supported either of these decisions 1000 percent.
Keanu Reeves
Technically, Keanu Reeves is a guy who already knows what it is like to play a vengeful combat expert dressed in black (John Wick), but does that not make you even more curious how he could have pulled off playing Batman?
Before Ben Affleck landed the part, the actor, who had already had a taste of portraying a DC character with 2005's Constantine, very publicly expressed interest in playing Dark Knight in Batman v Superman: Dawn of Justice. He was also considered for Batman Forever in the mid 1990s. I cannot imagine Keanu Reeves replacing Val Kilmer making too much of a difference.
Josh Brolin
It was a big year for comic book movies in 2018 and the most prolific actor in the genre at the time happened to be Josh Brolin, playing the cult favorite biomechanical being Cable in Deadpool 2 and the ruthless, genocidal warmonger Thanos in Avengers: Infinity War. At one time, he had a shot at DC fame, too.
Josh Brolin's name was thrown around in consideration to play Bruce Wayne in Batman v Superman: Dawn of Justice. He later admitted to having no hard feelings over losing to Ben Affleck, even going as far as, essentially, calling out fans' bitterness over the casting as ridiculous.
Bill Murray
It is easy to scoff at the idea of a beloved comedic actor taking on the role of DC's dark, gritty caped crusader, just like fans initially reacted to the casting of Michael Keaton. However, if Bill Murray had donned the cowl, it would have been less Keaton, more Adam West.
About a decade before Tim Burton was at the helm, Ghostbusters director Ivan Reitman was tapped to give Batman a new life on the big screen, but in the vein of the 1960s TV show, and he wanted to cast his buddy Bill Murray as his Bruce Wayne. The project, which also considered casting Eddie Murphy as Robin and David Bowie as Joker, fell apart, paving the way for Burton to bring the proper, darker take on the character into the mainstream.
Armie Hammer
Can you imagine the creator of Mad Max helming the Justice League with Oliver from Call Me By Your Name as Batman? Well, in another reality, this would have been the dawn of the DCEU.
Until its ridiculously high budget and the 2008 Writers Strike sealed the project's doom, George Miller was set to direct Justice League: Mortal, casting a then 19-year-old Armie Hammer as Batman, along with Adam Brody as The Flash and Common as Green Lantern, among others. Looking back, Hammer realized that his casting as a Bruce Wayne not yet into his 20s may not have been received very well.
Harrison Ford
As Indiana Jones, Han Solo, Blade Runner's Rick Deckard and plenty of other roles as gruff men of action, Harrison Ford is practically the face of cinematic heroism. Thus, filling the boots of the Dark Knight would sound like a natural fit for the actor.
Before Michael Keaton signed on, Harrison Ford was under consideration for Tim Burton's Batman in 1989. While it may be fun to imagine the actor as Bruce Wayne (even at 47), I am thankful that he was still available that year to reprise his most famous character in Indiana Jones and the Last Crusade.
Pierce Brosnan
"The name's Wayne, Bruce Wayne" is what Tim Burton's take on Gotham's millionaire playboy may have sounded like had Pierce Brosnan accepted the title role in 1989's Batman. Though the Irish actor turned the part down, he later looked back on the decision as a mistake on his part.
Pierce Brosnan initially thought the idea of playing a "guy who wears his underpants outside his trousers" was a joke and refused the role, not comprehending Tim Burton's more serious intentions for the character. On the bright side, at least he can say he is James Bond.
Henry Cavill
How could you not look at Henry Cavill and say, "It's a bird! It's a plane! It's Superman!"? Well, perhaps if he had landed the role of the Dark Knight first.
The British actor auditioned for Christopher Nolan's Batman Begins, but, despite his imposing figure and a jawline perfect for the cowl, he, of course, lost to Christian Bale. Henry Cavill bounced back quite gracefully when cast as Clark Kent in Zack Snyder's Man of Steel and later facing off against the character he missed out on playing in Batman v Superman: Dawn of Justice.
Tom Hanks
It is difficult to think of Tom Hanks as anyone other than a soft spoken, lighthearted person. Even his performance in Saving Private Ryan, one of the bleakest films of all time, is enough to convince me he was is the perfect choice for that upcoming Mr. Rogers biopic.
Believe it or not, though, the two-time Academy Award-winner was one of the top names considered to play the dark, brooding, vengeful vigilante in Tim Burton's Batman and after Keaton turned down Batman Forever, Tom Hanks' name was thrown around again. It would not be the last time he was considered for a comic book movie as he Warner Bros. had interest in seeing him play Lex Luthor in Batman v Superman: Dawn of Justice.
Technically, Tom Hanks has done a comic book movie, as 2002's Road to Perdition was inspired by a 1998 DC Comics... comic. However, as far as full-blooded superhero movies go, we still have yet to see him don a cape or sport a menacing grin.
Daniel Day-Lewis
His name is lined up in the ranks close to Marlon Brando or Robert De Niro. He could turn even the simplest words of a script into poetry. He could breathe glorious life into just about any role you challenge him with.
The idea of Daniel Day-Lewis as Batman sounds too incredible to be real. Indeed, it will forever remain mere fantasy as the three-time Oscar winner did not accept the offer to replace Michael Keaton for 1995's Batman Forever, allowing Val Kilmer to step in. So close...
Heath Ledger
For many, Heath Ledger's portrayal of the Joker in 2008's The Dark Knight is the definitive image of Batman's greatest foe. However, he came close to playing the part on the other side of the law of the Nolanverse.
The late Australian actor was Christopher Nolan's top choice to lead Batman Begins before Christian Bale was even considered. I think we can all agree that, while Heath Ledger was an actor of tremendous talent, we are thankful he was turned down the first time so he could apply that talent to the striking performance that would posthumously earn him an Academy Award.
To you, many of these actors may sound like fine choices to play the Dark Knight, while others sound utterly ridiculous. The important thing to remember is that a performance is measured not by expectation, but execution.
Who is to say that Josh Brolin could have made a better Batman than Ben Affleck or Daniel Day-Lewis than Val Kilmer (that might be a given, though)? We will never know, just like we do not know the fate of Robert Pattinson's upcoming portrayal in Matt Reeves' The Batman. As Michael Keaton and Ben Affleck have taught us, it is best not to jump to conclusions and give an actor a fair shot.
This poll is no longer available.
Your Daily Blend of Entertainment News
Jason has been writing since he was able to pick up a washable marker, with which he wrote his debut illustrated children's story, later transitioning to a short-lived comic book series and (very) amateur filmmaking before finally settling on pursuing a career in writing about movies in lieu of making them. Look for his name in just about any article related to Batman.