Huntress Who? Birds Of Prey Trailer Missed An Opportunity To Introduce Its Other Leading Ladies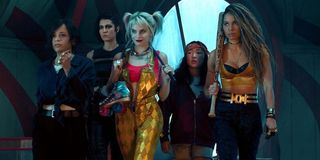 (Image credit: (Warner Bros))
Ahead of its February 2020 release, the first Birds of Prey trailer is finally here! On Tuesday, Warner Bros released the most exciting look yet of the next DCEU film. Wow, does it look like a fun ride! Margot Robbie's Harley Quinn is back and more kooky than ever, delivering hilarious one-liners, a Marilyn Monroe-inspired music number and badass drop kicks. But, Harley? It sounds like you thought up a non-existent "I" in team.
Ms. Quinn stole the show. Completely. Based on the new trailer, it looks like Birds of Prey: And the Fantabulous Emancipation of One Harley Quinn has its sights on Margot Robbie's lovable villain, even though the title led us to believe it was an ensemble film. It's true, Harley is packed with personality and has an interesting story arc to tell following her breakup with Jared Leto's Joker. But I can't help feeling that the rest of the DC ladybirds making their big screen debut in the upcoming release are being robbed of a proper introduction to audiences in light of it.
The stylishly weird and incredibly fun trailer has Harley Quinn narrating. She sets up the movie by sharing she needs a "fresh start" after she and the Clown Prince of Crime went their separate ways. Harley explains that she's not the only Gotham dame looking for "emancipation," as flashes of Jurnee Smollett-Bell's Black Canary, Rosie Perez's Detective Montoya and Mary Elizabeth Winstead's Huntress flash across the screen.
Ella Jay Basco's Cassandra Cain, Ewan McGregor's Black Mask and Chris Messina's Victor Zsasz also make appearances in the epic first look. Their debuts all pale in comparison to Margot Robbie's second go at the DC character. A clear tone set by her Harley Quinn here, and it seems to be overwhelmingly her movie.
Let's run through the lines the other leading women in Birds of Prey say throughout the trailer. They each get one short sentence and it's completely Harley Quinn centric. Take a look:
None of these lines are memorable and reveal anything about the characters. They are used as devices to buff up Harley Quinn's big personality and wacky ways. They seem to each play the "straight man" role to highlight Harley's comedic spotlight. Is this because that is going to be their roles in the actual movie, or are their introductions being saved for later? Both options pose a problem for the "Birds of Prey."
If Black Canary, Huntress, Renee Montoya or Cassandra Cain can't keep up with Harley Quinn's scene-stealing charm, the movie is going to suffer for it. It already happened in Suicide Squad. Margot Robbie's performance was always the most fleshed out and interesting character in the room, so much so that the other characters being introduced moved to the background and felt one-dimensional. So far, they all look badass together, but if the movie doesn't give them instances to shine in their own way, they'll look like background dancers behind Harley's glamorous star power.
If the trailer is decieving and each of these leading ladies have been written well and accounted for, the marketing is doing a huge disservice to them. Birds of Prey isn't well-known to a mainstream audience. If you asked most people about the origins of Huntress or named her alter ego, which is Helena Bertinelli, they would draw a blank. That's where marketing comes in handy. If memorable introductions are made in the advertising, audiences feel some kind of connection with the characters by the time the movie rolls around.
This doesn't mean advertising needs to show all the movie's cards, but a good tease helps. Take Guardians of the Galaxy. When Disney was rolling out the title, it wasn't a familiar property. Most had never heard of its ensemble characters in their lives. But the marketing did a great job of bringing a sense to them. Audiences wanted to know more about Rocket the Raccoon and Groot. But Birds of Prey is riding entirely on Harley Quinn's branding.
A slew of new posters for Birds of Prey only invited Margot Robbie to the shoot too. Check them out:
As the Twitter user notes, where are character posters for the rest of the cast? These new designs even draw less attention to the Birds of Prey title by shortening it to "BOP." With that marketing attitude, audiences are going to have no problem calling it the "Harley Quinn" movie and skipping out on any interest in the impressive other DC characters coming to the big screen.
Not to mention, Birds of Prey is just four months away! The movie will likely get another trailer ahead of its release, and hey, maybe it will bring better attention to the other main characters. Maybe it won't. If the movie is putting this small of a stake in its other female leads, there must be a good reason why, right? It really makes me wonder if Birds of Prey is an ensemble flick and does justice to Huntress, Black Canary and Cassandra Cain.
Bird of Prey's screenwriter Christina Hodson recently said Margot Robbie (who is also a producer on the movie) wanted to tell a "Harley Quinn plus girls story" and give the character "friends." So the object of Birds of Prey doesn't necessarily exist to place the spotlight on characters such as Huntress or Black Canary. Maybe they are more of a support system and backup to Harley's journey to "emancipation" in the story?
If that's the case, Harley Quinn and the Birds of Prey may have been a title more representative of the movie. Not to say Birds of Prey doesn't look awesome. It looks great! It may work beautifully with Margot Robbie's character at the center and the other ladies in the background. The marketing team may have decided to draw the audience in with Harley Quinn and the movie could actually be about a badass "girl gang" forming. Time will tell.
Birds of Prey: And the Fantabulous Emancipation of One Harley Quinn hits theaters on February 7, 2020.
YA genre tribute. Horror May Queen. Word webslinger. All her writing should be read in Sarah Connor's Terminator 2 voice over.
Your Daily Blend of Entertainment News
Thank you for signing up to CinemaBlend. You will receive a verification email shortly.
There was a problem. Please refresh the page and try again.