This Rotten Week: Predicting The Current War, Black And Blue, And Countdown Reviews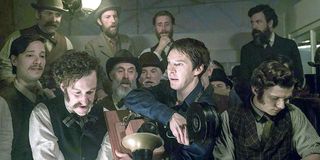 October is coming to a close with the upcoming weekend, and there's a nice diverse slate of movies coming out that offer a little something for everyone. We've got a biopic, a cop thriller, and a campy horror film. Get ready for The Current War, Black and Blue, and Countdown.
Just remember, I'm not reviewing these movies, but rather predicting where they'll end up on the Tomatometer. Let's take a look at This Rotten Week has to offer.
The Current War hasn't followed what you would call an optimal path to theaters. It actually finished shooting and premiered two years ago, but because of the Harvey Weinstein situation messing up distribution, and planned reshoots, it took an extra minute to be released. These kinds of issues around a flick are often a death knell making it all but certain the movie will bomb. And I'm not super confident that this will be a trend-breaker.
The premise, a bio-pic centered on the race towards functional electrical systems between Thomas Edison and Nikola Tesla, should be compelling cinema. But early critical response says otherwise. Through 45 reviews, the Alfonso Gomez-Rejon (Me, Earl and the Dying Girl - 81%) film is sitting at 31%. A movie that goes through this kind of production hell usually makes for an easy prediction. Even without the early reviews I would have gone super low with the score.
In Black and Blue, a rookie cop is waiting not-so-patiently in the car for her partner to meet a CI, gets out, stumbles on a bunch of other cops shooting someone, and then gets shot herself. So kind of bad first couple of days on the force for sure. The whole thing is caught on her body cam, and now she's in a race against time with the a corrupt police force and every active criminal in the city trying to hunt her down. If the plot sounds a bit hokey, it's because it is, but also this movie looks like it could be an entertaining watch that also includes some social commentary.
Black and Blue looks like your standard action drama, with a nice pace, plenty of shooting, a little bit of a moral message, and plenty of "close calls." I suspect it's a fun flick, easy watch and really nothing more. A few early reviews are in and they are already trending toward the wrong side of the scale. I think this finishes below 50%.
In Countdown, the world is introduced to an app that can accurately predict when someone is going to die... but in this case it's not just some fun random number generator. Instead the app proves to be stunningly accurate, with some kind of evil presence ensuring the when the clock hits zero, you are done. The premise is intriguing if a little silly.
It sure looks like the flick is mostly tongue-in-cheek, having some fun at everyone's expense and really not taking much all that seriously even if there are some legit scares mixed in there. I won't finish well with critics, but will have some fans for sure. Maybe at the very least Countdown will be seen as a nice Halloween adventure.
I had one hit and one miss last week with my predictions, though the latter was a close one. To start with the success, Maleficent: Mistress Of Evil (Predicted: 45% Actual: 41%) came well within range, as critics were completely underwhelmed with the follow up to Angelina Jolie's original turn as the evil witch in the Sleeping Beauty story. While fairy tale retellings have been big this year, this one really didn't succeed in connecting.
Zombieland: Double Tap (Predicted: 54% Actual: 67%) was the miss as I shot too low on what I thought would be an underwhelming sequel to the hilarious and creative original. Where I went wrong was that critics agreed the original movie's crew is more than enough to sustain a quality film, even if there was nearly universal agreement the second wasn't nearly as good as the first. That being said, it still finished certified fresh because of the strong leads and more than enough laughs.
Next time we've got Terminator: Dark Fate, Arctic Dogs, Harriet, and Motherless Brooklyn. It's gonna be a Rotten Week!
Your Daily Blend of Entertainment News
Doug began writing for CinemaBlend back when Terminator: The Sarah Connor Chronicles actually existed. Since then he's been writing This Rotten Week, predicting RottenTomatoes scores for movies you don't even remember for the better part of a decade. He can be found re-watching The Office for the infinity time.