The Lighthouse's Robert Pattinson Explains His Trick To Vomit Before Emotional Takes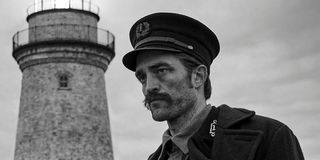 In the years since the Twilight franchise came to a close, Robert Pattinson has proven that he's capable of fully immersing himself in some complex characters. For his latest role in the psychological thriller The Lighthouse, he found himself taking some extreme measures to make sure he was convincingly portraying a man on the brink of insanity. He recently discussed the hard work he put into his performance, and revealed one particularly bizarre trick he used: vomiting before an emotional scene.
The film centers on two men who lose their minds while looking after a lighthouse on a remote island. In one sequence, both Robert Pattinson and Willem Dafoe's characters are drunk and losing their grip on reality, so they're incredibly emotional. To prepare for the scene, the Cosmopolis actor found himself calling on a pretty surprising bodily function. He shared the anecdote with Mr Porter (opens in new tab), explaining:
Robert Pattinson previously revealed that The Lighthouse's director Robert Eggers pushed him so hard during the film's "miserable" shoot that at one point he wanted to punch him. But now, the director is vouching for the actor's strangely effective way of getting into character. He told the magazine:
Despite his reservations on set, Robert Pattinson's extreme acting methods don't seem to have scared Willem Dafoe away. In fact, he even praised the actor, saying:
For all the trouble he went to, Robert Pattinson's commitment to nailing The Lighthouse's most emotional scenes seems to have paid off. The actor is earning excellent reviews for his performance, and A24 even submitted him as a candidate for this year's Academy Awards. There's no word yet on whether he'll utilize his newfound puking skill when he has to handle Bruce Wayne's highs and lows in The Batman.
Your Daily Blend of Entertainment News
Thank you for signing up to CinemaBlend. You will receive a verification email shortly.
There was a problem. Please refresh the page and try again.