The Matrix 4: What Kind Of Story Are We Getting?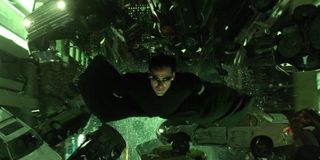 As revealed earlier this summer, there's a fourth Matrix movie headed our way in the near future, with The Matrix 4 looking to begin production early next year. As series co-creator Lana Wachowski will be the writer and director of her famed franchise's next chapter, there's no telling what kind of story we're getting for this movie. Which leaves us to make some exciting guesses based on what we do know at this moment.
Using that information, as well as some creative thinking, there are a couple possibilities that we could see making the rounds in this new Matrix adventure. Now keep in mind, this is all speculation at this point, as the actual story, and quite possibly the true title to The Matrix 4, are being kept under wraps. Until we have more information on where everything is going, here are the most viable directions The Matrix 4 could be going down.
The Matrix 4 Could Be A Prequel
One of the most talked about scenarios in The Matrix 4's unspecified story is a potential prequel, i.e. a new entry taking audiences back to the past. As a new cast of young actors and rumors as to who they'll be playing have been swirling, the first possibility folks jumped to discuss was a throwback. With that in mind, a potential Matrix movie that sees young Neo and Morpheus present in the film wouldn't be a totally a foreign concept, especially if some of the recent rumors turn out to be true.
As younger versions of both characters have been apparently on the list of things to expect for The Matrix 4, a prequel story could be something that Lana Wachowski would be interested in telling to the die-hard fans who are waiting patiently to plug into that world once again. Though, there's always the other favored approach when it comes to extending a franchise such as this.
The Matrix 4 Could Be A Sequel
With The Matrix 4 already gaining steam as a potential sequel to The Wachowski's famed trilogy, there are some other details that have arisen in the casting department that have definitely made this sound all the more possible. As new leads have been cast in the series, through the inclusion of stars Jessica Henwick and Yahya Abdul-Mateen II, this new film could continue in a world formed by the consequences of The Matrix Revolutions.
People are also theorizing that the casting of Neil Patrick Harris might be the creation of a new Agent character that would wreak havoc on the world in a way Hugo Weaving's Agent Smith did in the original films. The presence of so many legacy cast members could be relegated to mere cameos in flashbacks or supporting roles for this new crop of folks to fight their exciting new battle. An old generation helps usher the new generation in to take the lead. This wouldn't be the first recent franchise to take that approach.
The Matrix 4 Could Be A Midquel Within The Pre-Existing Trilogy
New characters and old characters alike can mix it up in The Matrix 4, especially if this new story happens to be a midquel. Events that might take place within the timeline of events in the Matrix films could be the new focus, considering all the names that have popped up as returning, alongside new cast members.
It's true that there's always room on either end of the timeline, and prequels/sequels just need a good hook to do what previously seemed impossible. That said, the ending that we saw in The Matrix Revolutions just might leave Lana Wachowski with a taste to not want to rewrite the fate of the series. Instead, a midquel could enrich the history of The Matrix to a fuller extent, while not altering the events we've already seen.
The Matrix 4 Could Be A Complete Reboot
In a previous incarnation of this new Matrix movie, writer Zak Penn stated that a reboot was totally off the table. However, with Lana Wachowski now set as the writer and director of The Matrix 4, this idea could potentially be back on the table. That point is doubly important to consider when taking into account the fact that The Matrix trilogy followed the sixth iteration of Neo's adventures. With an ending that literally rebooted everything in the conclusion of The Matrix Revolutions, that film ends with a vague promise that we might see Neo again.
In this rebooted Matrix world, who's to say that things would play out the same exact way all over again? There wouldn't need to be an explanation as to how Keanu Reeves, Carrie Anne-Moss, and Jada Pinkett Smith would return alongside the new cast members added into this film's lineup. Instead, we'd see a new chain of events take place, as more than likely the peace between the machines and humanity was short lived. And the same archetypes that started us off last time would be around to set the future of humanity's resistance on the right path.
Again, these are pretty big guesses as to where The Matrix 4 could be headed. Of course, if this series has taught us anything, it's that even these hypothetical scenarios might be considered playing it way safer than whatever has been brewing in Lana Wachowski's head. For the time being, we're just going to have to wait it out, and see where things land when it comes to all of the minds about to be freed in this next round of futuristic insurrection. When that particular White Rabbit presents itself, you can bet we'll follow it straight to the end.
The Matrix 4 looks to start production in early 2020, with no release date specified just yet. If you're curious what will be hitting theaters in the meantime, our 2019 and 2020 release schedules are available for your box office planning needs. And don't forget to take our poll below, letting you choose which version of Matrix 4 sounds best to you, the fans.
This poll is no longer available.
Senior Movies Contributor
CinemaBlend's James Bond (expert). Also versed in Large Scale Aggressors, time travel, and Guillermo del Toro. He fights for The User.
Your Daily Blend of Entertainment News
Thank you for signing up to CinemaBlend. You will receive a verification email shortly.
There was a problem. Please refresh the page and try again.