The Matrix 4: An Updated Cast List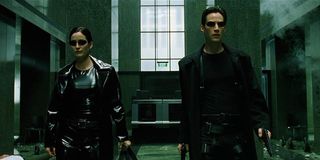 The Matrix has now joined the ranks of properties and franchises that Hollywood has decided to resurrect and/or revitalize. Although there'd previously been talk several years back about returning to this sci-fi world through a spinoff or prequel, it was announced in August that a direct follow-up, i.e. The Matrix 4, is officially in the works. And while a release date hasn't been set just yet, The Matrix 4 is on the fast track, with production scheduled to begin in early 2020.
Because Warner Bros is so eager to get the ball rolling on The Matrix 4, there's already a solid lineup of actors that's being assembled for this highly-anticipated project, whether they were officially confirmed or revealed through reports. Here's everyone who's either signed on for or is in talks to join The Matrix 4.
Oh, and there will be SPOILERS for the first three Matrix movies ahead!
Keanu Reeves
Although Neo sacrificed his life at the end of The Matrix Revolutions to destroy the Agent Smith virus, resulting in the machines leaving the human-filled city of Zion, the Oracle mused to the program Sati that she thought they'd see Neo again. That is definitely the case, as Keanu Reeves will reprise Neo in The Matrix 4. What's still unclear is if he'll actually be brought back to life in this next movie (even if it's only through the Matrix) or if his scenes will be limited to flashbacks. I suspect the former so that Reeves has a meaty enough role, but regardless, given the Keanussance that's unfolded in recent years with the John Wick movies, Toy Story 4, Always Be My Maybe and plenty of other projects, now the actor gets to return to arguably his biggest franchise.
Carrie-Anne Moss
Like Neo, Carrie-Anne Moss' Trinity perished during The Matrix Revolutions, and just like with the main protagonist, we don't know yet if a full-blown resurrection is on the table for her or if we'll be looking back at a time when she was still alive. Whatever the answer is, Carrie Anne-Moss will be portraying Trinity again. In recent years, she's kept busy with projects like The Bye Bye Man, Jessica Jones and Tell Me a Story.
Jada Pinkett Smith
Unlike Neo and Trinity, Niobe, one of the most skilled pilots among the rebels, was still alive at the end of The Matrix Revolutions, seen embracing Morpheus as the Sentinels left Zion. So then it stands to reason that when we see Jada Pinkett Smith playing the character again in The Matrix 4, assuming the actress works out a deal, it'll be a 'present day' version of her, though don't take that as being 100% confirmed just yet. Smith's notable credits post-The Matrix Revolutions include the Madagascar movies, Magic Mike XXL, Girls Trip, Hawthorne and Gotham.
Yahya Abdul-Mateen II
Now we come to the first of the individuals who are brand new to The Matrix franchise. Yahya Abdul-Mateen has risen to prominence through appearances in The Greatest Showman, Aquaman and Us, and he's also one of the main cast members on HBO's Watchmen. His fame will rise even higher when people see him in The Matrix 4, although as with the following two individuals on this list, we don't know yet who he's playing. That said, there's speculation that Abdul-Mateen could be playing a younger version of Morpheus, the role previously occupied by Laurence Fishburne (who, by the way, is not attached to The Matrix 4… at least, not yet).
Neil Patrick Harris
You know him from TV shows like Doogie Howser, M.D., How I Met Your Mother and A Series of Unfortunate Events, and he's also contributed to genre fiction like Starship Troopers and various animated DC Comics adaptations. Now Neil Patrick Harris is boarding The Matrix 4, and it'll be interesting to see whether he plays a protagonist or antagonist in the movie.
Jessica Henwick
Then we have Jessica Henwick, who is arguably best known for playing Colleen Wing in Iron Fist and is being eyed for one of the lead roles. According to Deadline, Henwick "performed quite strongly during the audition process," and it's possible she's being tapped to play a "female-like Neo character." The actress has also starred in Star Wars: The Force Awakens and the upcoming Godzilla vs. Kong.
Jonathan Groff
If you haven't seen Jonathan Groff on the Broadway stage or in TV shows like Glee and Mindhunter, then you likely have at least heard him as Kristoff in the Frozen movies, shorts and more. Now Groff is making the jump to sci-fi with The Matrix 4, and just like the other newcomers, no details about his role were provided. Nevertheless, Groff now has the opportunity to leave his mark on another iconic franchise, only this time we're fairly certain his character won't be talking to reindeer.
Toby Onwumere
Having previously worked with Lana Wachowski on Sense8, Toby Onwumere is now getting the opportunity to work with her again through The Matrix 4. Onwumere appeared in the Netflix series' Christmas special and second season as Capheus, taking over the role from Aml Ameen. The actor also recurred as Kai on the Fox series Empire. And yes, we don't know who he's playing yet either.
Max Riemelt
Another Sense8 star who's taking part in The Matrix 4 is Max Riemelt, who played Wolfgang Bogdanow on the Netflix show and announced that he's re-teaming with Lana Wachowski on his social media accounts. Other than Sense8, the majority of Riemelt's acting work has been in German productions, so on top of The Matrix 4 being his biggest American project yet, needless to say that it'll introduce him to a lot of folks who didn't check out the sci-fi series.
Eréndira Ibarra
What a Sense8 reunion this is turning out to be! Eréndira Ibarra played Daniela Velázquez in the Netflix series, and while she has plenty of Spanish-language productions under her belt, The Matrix 4 will provide the opportunity for more American audiences to get to know her. What am I gonna say next? That's right, nothing about who Ibarra will play was revealed.
Priyanka Chopra
Priyanka Chopra was already a huge Bollywood star by the time she started starring in American productions like the Baywatch reboot, Isn't It Romantic? and the TV series Quanitco. Now she's in talks to join The Matrix 4, according to Variety. Whoever Chopra ends up playing, not only will it boost her already notable profile up even higher, she'll also have the opportunity to leave an even bigger mark on the action genre. Chopra would also film The Matrix 4 concurrently with the Amazon series Citadel, which co-stars Richard Madden and hails from MCU superstar directors Joe and Anthony Russo.
Andrew Caldwell
While Andrew Caldwell has had parts in movies like Transformers, All About Steve and Haunt, the majority of his acting work has been on TV. He popped up in numerous Nickelodeon and Disney Channel shows over the years, and iZombie fans will recognize him as Harley Johns, who recurred in Season 3. It goes without saying that The Matrix 4 will be a huge platform for him to shine on, and perhaps it'll lead to him getting more film work as his career continues.
Brian J. Smith
The Sense8 fun continues. Brian J. Smith, who played Will Gorski on the Netflix series, has boarded The Matrix 4 in an undisclosed role. Smith has also appeared on shows like Stargate Universe, Gossip Girl and Treadstone, and he also scored a Tony Award nomination in the 2013 revival of The Glass Menagerie. At this point, it's probably just worth asking which Sense8 actors won't be in The Matrix 4.
Ellen Hollman
Most of you probably know Ellen Hollman best for her role on as Saxa on the latter two seasons of the TV show Spartacus, known respectively as Vengeance and War of the Damned. More recently, she's recurred on shows like Into the Badlands, NCIS: New Orleans and 9-1-1, and now she's been added to The Matrix 4 cast. Considering that Hollman is a Jiu Jitsu martial artist, it's a good bet we'll see her show off her fighting moves within the Matrix.
Keep checking back with CinemaBlend for more updates concerning The Matrix 4, but for now, plan your trips to the theater with our 2019 release schedule and 2020 release schedule.
Connoisseur of Marvel, DC, Star Wars, John Wick, MonsterVerse and Doctor Who lore. He's aware he looks like Harry Potter and Clark Kent.