Could Hobbs And Shaw Beat John Wick? Here's What David Leitch Says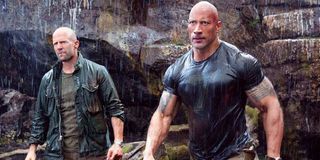 When it comes to being a badass, you would be hard pressed to find anyone, fictional or not, who can hold a candle (or a pencil) to John Wick, played by Keanu Reeves. However, a dangerous duo of tough guys have also emerged from another one of Director David Leitch's productions, Hobbs & Shaw, starring Dwayne 'The Rock' Johnson and Jason Statham.
To get to the bottom of this fictional fight, I asked the man who played a part in the creation of all three characters, Hobbs & Shaw Director David Leitch. While it's an unlikely chance that these two parties will ever have to confront one another, given the director worked on both projects, I still had to know who he feels is the most badass. Take a look at what he had to say.
Well there you have it folks, it would be a good fight, according to David Leitch. I don't think anyone could disagree with his feelings on the matter, but that's what we all expected right? How about we take a closer look at the pedigree of these ass-kicking gentlemen to figure out who would win. For simplicity's sake we'll start with John Wick.
John Wick, also known as The Boogeyman, is a renowned assassin that worked for a syndicate called The High Table. After retiring from the bloody business and the death of his wife, John Wick has his car stolen, his house is broken into, and worst of all, he watches the killing of his puppy, Daisy. After being left for dead he decides to come out of retirement one last time to basically kill anyone and everyone who was involved. I'm not kidding when I mean everyone. At the end of John Wick: Chapter 3 - Parabellum his body count is close to 400. You would think they would have learned to leave the Baba Yaga alone at this point.
Throughout the franchise, John Wick dispatches foes with every object under the sun from guns, knives, and his fist to unconventional weapons such as cars, horses and even books! The man is a certified killing machine and a very, very bad mama jama.
But David Leitch is known for formidable characters onscreen, so let's not forget about the latest addition to the Fast & Furious franchise, Hobbs & Shaw. Luke Hobbs, played by Dwayne 'The Rock'' Johnson, is no stranger to combat. After first being introduced in Fast Five, Hobbs has proven himself to be a formidable tracker and fighter, taking out countless henchman -- and even a helicopter -- with his super-human strength and excellent marksmanship.
In Hobbs & Shaw, Hobbs is begrudgingly paired with up Deckard Shaw, played by Jason Statham to recover a deadly virus created by the terrorist organization Eteon. Shaw is a smooth-talking, fast-driving explosives expert who isn't afraid to get dirty with his tactics. Together they fight off numerous henchman, usually with Shaw behind the wheel and Hobbs taking out bad guys.
However, their toughest challenger is super soldier Brixton Lane, played by Idris Elba, who is half-man, half-machine. Using his superior speed, endurance and bionic sight, Brixton beats up on Hobbs and Shaw in every encounter. But in their final match up, both Luke Hobbs and Deckard Shaw realize the value of teamwork and together they take down 'Black Super Man.'
So, now that we are familiar with these characters, who do I think would win? I mean, it's a tough call. On one side we've got John Wick who has racked up a sizable body count. The man has taken people out with all sorts of weapons and is fueled by pure anger. The more people trying to kill him, the stronger he gets. On the other hand we've got Hobbs and Shaw, who individually might not be able to take on the near invincible Wick, but together is a whole different story. I mean they basically took out the Terminator in Hobbs & Shaw.
One thing I do know, is that Hobbs and Shaw would definitely put up a fair fight and play the whole thing with some added humor. Who do you think would in this fictitious face-off? Cast your vote and sound off in the comments below! If you want to catch all the Hobbs & Shaw action at home it's now available on Digital HD, Blu-ray, 4K and DVD.
This poll is no longer available.
Your Daily Blend of Entertainment News
Into tracksuits by Paulie Walnuts, the Criterion Channel and Robert Eggers.