Explaining John Wick, The Continental, And The Rules The Assassins Follow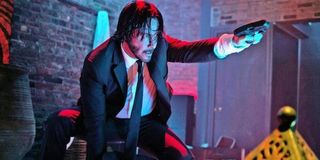 Last weekend, action fans flooded movie theaters to check out John Wick: Chapter 3 – Parabellum, the latest adventure of Keanu Reeve's increasingly iconic, deadpan, dog-loving assassin. The John Wick films are known for incredibly slick choreography and memorable action sequences, but one thing that never gets much attention is the surprisingly complex mythology. John Wick may go around tallying up head shots left and right, but even he has a strict set of rules that he needs to follow.
Obviously the main draw for a John Wick movie is action over the story, but the films place such emphasis on the hitman's world that it's tough to ignore. There's a unique mythology at play here, as John Wick's word is populated by secret clubs, assassin hotels and a whole network of goods and services purely for people of the underworld.
Each film expands the lore, but it doesn't give any real explanation. It lets the audience try to figure it out before moving right into the next action scene.
It can be kind of confusing, but that's where we come in! John Wick likes to throw a lot of seemingly random rules at you, but when you piece them all together, it starts to make some sense. Here are some of the most important aspects of John Wick's underworld and how it works.
The Baba Yaga
It makes sense to start right at the beginning with the man himself. John Wick's backstory is never really brought up in detail, though Parabellum tries to shed some light on the subject.
While the movie doesn't spend a lot of time explaining, it's implied that John Wick was raised by Angelica Houston's The Director, the leader of the Ruska Roma. In addition to teaching ballet, she apparently trains orphans to become assassins, and John Wick (whose real name is Jardani Jovonovich) eventually became her most successful student.
Basically, John was one of the greatest assassins who ever lived. He was so deadly that he earned the nickname Baba Yaga, which means The Boogeyman. John Wick spends an unknown amount of years racking up the kill count, building his reputation, and meeting a ton people.
The movies make it seem like basically every assassin knows who John Wick is. However, one day he falls in love with a woman named Helen and decides to get out of the life, something that is implied to be very hard to do and no one has ever done.
Apparently, you can't just leave the underworld, so John had to undergo an "impossible task" to earn his freedom. We don't know what he did, but it involved killing a lot of people. He succeeded and left his old life behind to start a new one with Helen. It didn't last long however, and that's where the first John Wick begins.
Assassins Have Unbreakable Vows
In John Wick: Chapter 2, we learn that John didn't complete his impossible task on his own. He needed help from an Italian crime lord named Santino D'Antonio. In order to secure this help, John offered his marker, which is the underworld's version of an unbreakable vow from Harry Potter.
The marker is essentially an amulet with a bloody fingerprint inside. If someone gives their amulet away for a favor, it means that they are making a blood oath to do any task the person asks of them in the future. If someone like John Wick gives away his marker, then that means you basically have the world's greatest assassin in your pocket for one favor.
If you give away your marker, then the debt must be honored. You have to do whatever it is that the person asks. The assassin world takes this very seriously, and it's one of the only two unbreakable rules. John Wick tried to break it and his house was burned to the ground as a result.
The Continental
One of the major locations of the John Wick films is the Continental, and it's more than just a fancy New York City hotel. The building caters exclusively to assassins and all its amenities are geared toward their specific purposes. For example, instead of recommending a nice restaurant, the concierge will point you to the secret backdoor of your target's safe house.
The Continental is a branch of worldwide hotels, and each one is run by a manager. Ian McShane's Winston runs the New York location, Halle Berry's Sophia is in charge of the Casablanca Continental and Julius looks after the Rome Continental. It's implied that each Continental offers the same services and follows the same guidelines, but the day-to-day stuff depends on the manager.
The most important thing about the Continental is that absolutely no business can be conducted on hotel grounds. In other words, no assassin is allowed to kill another assassin inside the hotel. It's the No. 1 rule of the underworld, and if broken, it's punishable by death or being labeled as "excommunicado."
That means that the assassin loses all access and privileges to the Continental's underworld resources. That's a major setback for any professional hitman, but it becomes a real headache if they have an open contract on their head. John Wick dealt with that exact scenario after he killed Santino in the Continental, as the High Table doubled the contract that was already out on him.
The Goods And Services
The life of a professional killer is dangerous and there are a number of resources scattered around the world to help assassins. For instance, a seemingly ordinary doctor's office can be a late night emergency room for a quick patch up if a mission goes wrong. Or you can visit a historian and get old blueprints or maps to find secret pathways to a seemingly impenetrable fortress. Even taxi drivers are in on it.
Assassins can also find the best guns and ammunition to fit their specific needs. There are also tailors who will custom make bullet proof suits to help protect the killers who still want to look damn good. All of these services are pretty much hidden right in the open, but a well-connected assassin knows the best spots.
All of these services don't come free. The underworld has its own special form of currency in the form of gold coins. If an assassin kills their mark, they get rewarded with coins, which can then be spent at the Continental or any other underworld establishment. A skilled assassin like John Wick will tally up enough coins to save for emergencies and keep secret stashes in convenient places.
The High Table
All these rules had to come from somewhere, and in the underworld, the High Table is the highest authority. Not much is known about the group, but they are a council of crime lords who oversee all the wheeling and dealings. They set the rules and if anyone breaks them, then they decide the punishment through an agent called The Adjudicator.
Basically everyone in the underworld works for the High Table in some form or they are at least expected to serve when called. For example, the Continentals all answer to the Table.
The only person that we know of who is ahead of the High Table is the Elder, who lives out in the middle of dessert and does... something. His job is pretty unclear, but he's the only one who can reverse a decision made by the Table. Only a few people know who he is or how to find him.
We don't know the identity of anyone currently on the High Table, how many members there are or what their origins are. However, they seem to be fairly disliked by the people who have to answer to them, and John Wick is especially not a fan by this point. The High Table essentially marked him for death, and he's been a frequent source of trouble.
It's not every day that an action franchise comes along that tries to build its own unique world. The star of John Wick is unquestionably the action, but part of the reason that these movies are so popular is that it's a cool world. Nothing is every really explained and literally everyone seems to know who John Wick is, but that does help to make the world feel lived in.
At the end of the day, you don't want your action movie to spend five minutes explaining the bureaucracy of the hitman's job when you could be watching a sword fight on motorcycles. However, it's still fun to piece it all together once the gunfire dies down.
The John Wick franchise will continue with the release of Chapter 4 on May 21, 2021.
Your Daily Blend of Entertainment News
Matt has lived in New Jersey his entire life, but commutes every day to New York City. He graduated from Rowan University and loves Marvel, Nintendo, and going on long hikes and then greatly wishing he was back indoors. Matt has been covering the entertainment industry for over two years and will fight to his dying breath that Hulk and Black Widow make a good couple.
Your Daily Blend of Entertainment News
Thank you for signing up to CinemaBlend. You will receive a verification email shortly.
There was a problem. Please refresh the page and try again.