New Netflix Movie Adds An LGBTQ Storyline Not In The Book It's Based On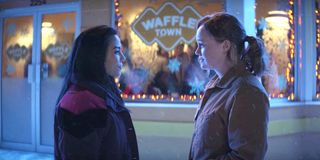 Let's be honest: It's not often that filmmakers add LGBTQ representation when it adapts a book into a film. But that's exactly what happened with Netflix's new holiday-themed teen romance. And the authors had a strong reaction to the added storyline.
Let It Snow: Three Holiday Romances is a 2008 anthology of young adult stories from authors Lauren Myracle, Maureen Johnson, and pre-Fault in Our Stars John Green. And while it took over a decade for the book to be adapted into a film, the authors are thrilled with the finished product.
Netflix's Let it Snow keeps the book's Love Actually-esque approach to telling interconnected stories. But the screenwriters added a new story, featuring two girls who struggle to admit their feelings for one another. Though this marks a significant departure from the book, Lauren Myracle understood the value of the new storyline. Here's what she told BuzzFeed News:
Liv Hewson was also impressed with the changes from page to screen. She pointed out that the approach the filmmakers took to telling a lesbian storyline felt true to life. In an interview on the red carpet with MEAWW, she said:
Some spoilers ahead: In the Netflix movie, Dorrie (Liv Hewson) approaches Kerry (Anna Akana) at the diner she works at, but is rejected at first. Later in the film, Kerry reveals to Dorrie that she hasn't come out yet. Their story ends on a somewhat ambiguous note, as Kerry admits her feelings for Dorrie, despite her ongoing fear of being fully open about her sexuality. John Green admired the complexity that Let It Snow's writers brought to their story:
Over the past several years, LGBTQ representation has slowly begun to increase in TV and film. And John Green thinks these more inclusive stories should be commended:
Let It Snow premiered on Netflix on November 8.
Your Daily Blend of Entertainment News
Thank you for signing up to CinemaBlend. You will receive a verification email shortly.
There was a problem. Please refresh the page and try again.