6 New Netflix Christmas Movies That Are Just In Time For The Holidays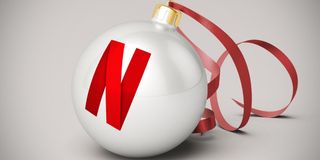 While we're still in the middle of the spooky season that is Halloween, something much colder lurks around the corner. That's right: brace yourselves, Christmas movies are coming! And we're not just talking a couple of flicks either, as content providers like Hallmark have plans for a record number of yuletide cinematic offerings to be unleashed in the year 2019. To compete with that sort of intense competition, one has to act pretty early... which is probably why Netflix has unveiled its holiday movies this very week.
Not content with letting Hallmark do all the heavy ho-ho-holiday lifting, the streaming giant is looking to get into the game with a lot of movies, shows, and specials that'll warm your heart, as well as your cocoa. In the middle of that burgeoning lineup are six original Netflix films that plan to win over one and all as the weather outside grows ever so frightful. Everything from sequels to holiday favorites, a long-awaited adaptation, and a couple of other surprises are in store for you lucky viewers.
Put on your hat and gloves, as this list is going to get real frosty real quick. Now let's see what's sledding into the Netflix queue throughout November and December's holiday season.
Holiday In The Wild
While you may love Christmas movies like no other genre in the world, you might be sick and tired of watching them all take place in the snow. Well, should you have this very specific demand, Netflix has you covered with our first film, Holiday In The Wild. Starring Sex and the City's Kristin Davis as Kate, the film shows us a wife who tries to take the edge off of her son's departure for college with a romantic trip with her husband.
Strangely enough, that's right about the time he decides to dump her, leaving Kate to embark on an African safari all by herself. Luckily, Holiday In The Wild has a couple of things to take her mind off of her recent pains. Thanks to some animal rescue scenarios, and a handsome pilot played by Rob Lowe, Kristin Davis' recently single woman will have a lot to keep her busy in this unconventionally warm holiday movie.
Available 11/1/19
Let It Snow
Believe it or not, the film adaptation of the YA Christmas triptych Let it Snow has been in development for almost a decade. Authors John Green, Maureen Johnson, and Lauren Myracle put together an impressive trio of stories that see a cast of teenage characters finding love, friendship, and happiness in one really snowy night in Richmond, Virginia.
Just as impressive as the list of authors involved in Let It Snow's literary incarnation, the movie version has quite a cast of heavy hitters itself. With an ensemble that includes Chilling Adventures of Sabrina's Kiernan Shipka, Spider-Man: Far From Home's Jacob Batalon, and fellow Spider-Person Shameik Moore, he of Spider-Man: Into The Spider-Verse fame, that's just the surface of the spectacular roster of talent that will bring this story to life.
Available 11/8/19
Klaus
The legend of Santa Claus is about to get another fresh coat of paint, as Klaus reimagines the story of the beloved holiday figure in an animated comedy with a big heart. In this version of the story, Klaus (J.K. Simmons) is a lonely carpenter who teams up with a less-than-passing postal cadet named Jesper (Jason Schwartzman) to bring holiday magic to a village that's not in a holly jolly mood.
Co-starring Rashida Jones, Joan Cusack, and Will Sasso, Klaus is a Christmas movie that looks to give both kids and adults a new angle on a very classic tale. Not only does this look like a gorgeously animated film, but did we mention J.K. Simmons is playing this story's version of Santa? That feels like something people might be just a little interested in knowing.
Available 11/15/19
The Knight Before Christmas
If the Christmas movies on Netflix had a royal court, you could bet that actor Vanessa Hudgens would be sitting right on that hallowed lineup of talent. After scoring a pretty big win with The Christmas Switch, Hudgens has gone back to playing one version of herself with this year's The Knight Before Christmas. Don't think this is going to be some standard, business-as-usual holiday movie rom-com though, as there's a pretty big catch when it comes to the object of Vanessa Hudgens' affection this time out.
As luck, or misfortune, would have it, Hudgens' character of Brooke is a science teacher who's about to meet a guy from out of town. And by out of town, we totally mean that he's a time traveling knight from the medieval era. Naturally she'll try to send him back to his own time, but if you know anything about holiday movies like The Knight Before Christmas, you can kind of see where this Christmas movie is going in the most charming way possible.
Available 11/21/19
Holiday Rush
Christmas is probably the worst time to lose your job, especially in the world of holiday movies like Holiday Rush. Starring A Million Little Things' Romany Malco as a popular New York City radio DJ, and Star Trek Discovery's Soniqua Martin-Green as his producer, this Christmas movie comedy has Malco almost going off the air for good and his kids looking to get everything on their Christmas list.
As a deal to get him back into the broadcasting game is in the works, one big catch presents itself to Malco and his on-screen family: they have to live much simpler lives. With a story of family togetherness, and the help of the legendary Darlene Love in the role of the protagonist's aunt, Holiday Rush is going to be a race against time to save the day, and get a little bit closer to the ones we love.
Available 11/28/19
A Christmas Prince: The Royal Baby
If you're one of those fans of Christmas movies who watched A Christmas Prince religiously back when it premiered in 2017, and if you're someone who really enjoyed seeing A Christmas Prince: The Royal Wedding continue the story of Rose McIver's Queen Amber and Ben Lamb's King Richard, then oh baby are you in for a fun time this year! You totally saw what I did there, as there's nothing better than throwing in a quick joke to announce that A Christmas Prince: The Royal Baby is on the way for this December.
For you folks out there who need a little more than a little prince or princess to spice up the sequel plot, how's this for a story? Not only will the king and queen have to restore peace with a foreign country, but if Amber and Richard fail, a curse will fall upon the kingdom of Aldovia. It all comes down to a missing 600-year-old treaty, and a midnight deadline, which only makes A Christmas Prince: The Royal Baby that much more of a fairytale for fans of Netflix's holiday movies to enjoy.
Available 12/5/19
Now before you start decking the halls out of excitement, keep in mind that these titles are subject to change. So you will have to check your Netflix queue twice before you settle in for your long winter's binge! Other than that, our only advice is that you'll definitely want to keep your eyes out for the monthly rundowns we'll have in the future, as November and December promise to have more content on the movie and TV sides of the house.
Until that day comes, please enjoy this list of Christmas movies, and don't forget to binge responsibly! Cold feet during a movie marathon are no joke, folks.
This poll is no longer available.
Your Daily Blend of Entertainment News
Senior Movies Contributor
CinemaBlend's James Bond (expert). Also versed in Large Scale Aggressors, time travel, and Guillermo del Toro. He fights for The User.