Why That Classic T-1000 Joke In Wayne's World Was Changed At The Very Last Minute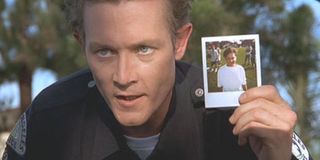 Throughout a legendary career that's seen him rise through the ranks of moviemaking, producer Hawk Koch has been through his fair share of movie shoots and seen many historic movie scenes committed to film. And one of the funniest moments Koch had ever witnessed on a set came thanks to his son Robby, as he made comedy history when watching Robert Patrick's cameo as the T-1000 being shot for director Penelope Spheeris' legendary comedy Wayne's World. It's a scene that, surprisingly enough, was re-written by Robby Koch, when he disapproved of the originally drafted gag.
The way that the scene plays out in Wayne's World is that Mike Myers' Wayne is speeding through traffic, driving rather recklessly. Eventually, he's stopped by Patrick's T-1000, and asked if he's seen the boy in the Polaroid photo he's holding up. Wayne screams and speeds away, with the infamous law enforcement cyborg beginning to chase him on foot.
But that wasn't what was originally scripted, in a script that already had quite a bit of changes made to its original form. In his recently released memoir, Magic Time: My Life in Hollywood, Hawk Koch recalls the story of how that moment was originally supposed to play out, and how his own son helped rewrite that moment on the fly.
Watching the set of Wayne's World in action, Robby saw a take of the originally scripted joke, and in Hawk Koch's own words, the following occurred:
I was able to interview Hawk Koch ahead of this week's release of Magic Time: My Life in Hollywood on behalf of CinemaBlend, and sure enough, he laughed proudly when we discussed this story in particular. In a book that has quite an impressive litany of tales that his friends have been telling him he needed to write down, this is one of the most personal, and certainly one of his proudest moments as a father and an industry legend.
Like any other kid growing up in the wake of Terminator 2: Judgement Day, Robby Koch knew that if you're going to have the T-1000 doing anything, it's going to be searching for John Connor. So obviously, a simple joke about speeding wasn't going to do.
While the James Cameron-directed sequel was released in 1991, Wayne's World would only be a year behind that very film, which was an impressive box office juggernaut in its day. Its place in the pop culture world cemented so early in its legacy, there were bound to be jokes from all sorts of sources that pulled from the well of humor inspired by the film.
This also wasn't the only time that the always eager Robert Patrick would make a cameo as the T-1000, as he not only appeared in the video for the Guns and Roses' song used in T2, "You Could Be Mine," he also reprised the role in the 1993 action-comedy The Last Action Hero, as well as a DirecTV ad In 2000. Patrick's deadpan killing machine chops made his menacing character a pop culture landmark in the '90s, and Wayne's World feels like it kind of kicked off that trend.
With that in mind, watch the scene that inspired one of the many anecdotes in Magic Time: My Life in Hollywood, shared below, and try to imagine it playing out any other way:
Interestingly enough, because of Robby Koch's suggestion on the set, when it came time to take the Polaroid of the boy Patrick's Terminator 2: Judgement Day character was looking for, he earned himself another fun spot in movie history. Thanks to an impromptu Polaroid taken on the set, young Robby's honest teenage feedback helped director Penelope Spheeris' comedy classic land a Terminator 2 joke that's as timeless as both Wayne's World and the James Cameron movie that it was cribbing from. And to think, if Billy Idol played the role as initially intended, we might have seen yet another different joke come out of the process.
Looking back on what is one of the most memorable Wayne's World cameos that have ever been filmed, it's hard to imagine how that particular scene would have played out if Robert Patrick has merely pulled Mike Myers's Wayne over for speeding. It's certainly a joke that could have worked, as both performers involved were game to the task, and Wayne clearly was speeding. But sometimes, there's a better joke to be found in the moment, and Robby Koch found it, giving his father Hawk one hell of a story to tell in his memoir.
With his career in comedy punch-up work secure, Robby went to the only place a young man with such a comedy background could: he went into entertainment law. Eventually, Hawk's son had become the representative to such high-level talents as The Handmaid's Tale and The Invisible Man star Elizabeth Moss, and has built a reputation for being a friendly pitbull to his clients.
But if you talk to Hawk Koch about his son's moment in the sun, he'll tell you the following:
Inspiration comes from anywhere, if you know what mark to hit. Magic Time: My Life In Hollywood is evidence of that point, as Hawk Koch has gotten to participate in many a box office success, and tells the stories he earned from seeing those films through in various positions of power.
Of course, this is just scratching the surface of the tales the book contains, and if you're interested in reading more, Magic Time: My Life In Hollywood is currently available for your enjoyment!
Your Daily Blend of Entertainment News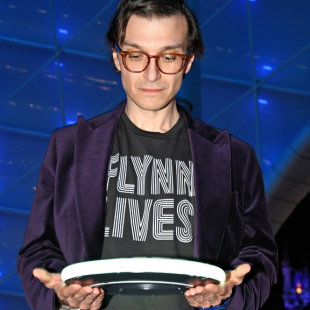 Senior Movies Contributor
CinemaBlend's James Bond (expert). Also versed in Large Scale Aggressors, time travel, and Guillermo del Toro. He fights for The User.