Ford V Ferrari Has A Surprise Ending For Those Not Familiar With History That's A Standout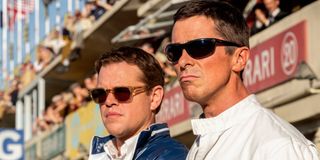 Warning: SPOILERS for Ford v. Ferrari are in play. If you haven't seen the film yet, you might want to drive away until you've caught it for yourself.
Throughout the year, director James Mangold's racing film Ford v Ferrari has been sold to audiences as a lighthearted historical biopic involving Carroll Shelby (Matt Damon) and Ken Miles' (Christian Bale) historic quest to win the only American victory at the famed 24 Hours of Le Mans racing event. But as it turns out, there's a couple of surprises in store for those not familiar with the history behind the story this film tells, and it makes for one heck of a standout ending.
Before we go any further with spoiling what exactly happens at the end of Ford v Ferrari, we'd invite you to take a look at the most recent trailer for the film. After this point, we'll start speaking about spoilers, so if you haven't seen the film yet and you're still reading, you've been warned.
Still here? Fantastic. Now prepare to relive the heartbreak of Ford v Ferrari's final act, as the last third of the film finds itself on a pretty unusual footing when compared to what audience would expect from such a marketing campaign. While 90% of James Mangold's film is the rip roaring tribute to guts, glory, and automotive genius, Carroll Shelby and Ken Miles' Le Mans story wasn't one of ultimate success.
While all three racers running Ford cars in the 1966 event placed in first, second and third place, Miles was told by the top brass in his racing team to slow down so the trio of Ford race cars could cross the finish line at the same time. And while the first place finish looked like it belonged to Christian Bale's lovable hard case, as it turns out, a technicality put him in second.
Carroll Shelby, also deceived by his bosses at Ford, takes this news just as well as Miles does. It doesn't take long for Damon and Bale's historical racing buddies to move past this betrayal and get back to building the next car. They've already set their sights on the 1967 Le Mans, with Ken Miles swearing that they'll get them next year, and thanking Shelby for fulling his promise of "the drive." And it's at this moment that history, and Ford v Ferrari, takes the most unexpected turn yet.
Unfortunately for Ken Miles, both the man and Christian Bale's dramatized interpretation, he wouldn't make it to next year's event. When testing their newly redesigned Ford race car, Miles suffers another brake failure, which causes the fatal crash that would claim his life just two months after he ran the race at the center of Ford v Ferrari's big race.
So just when you think you think you're settling into the ending of a sports history story that ultimately redeems the human spirit, you're hit with an emotional gut punch that sees a friend and father losing his life to the very sport he excelled at. The interesting thing is, while it's a definitely a downer of a moment, it doesn't derail the film that came before it.
Throughout Ford v Ferrari (the story crafted by writers Jez Butterworth & John-Henry Butterworth, from an original draft by Jason Keller), we see an undercurrent of emotion running through the life of Christian Bale's Ken Miles. Whether it's bonding with his son (Noah Jupe), tender conversations with his wife (Caitriona Balfe), or even his time with Carroll Shelby and the race crew, the temperamental race legend maintains his humanity in humorous and touching moments on display.
In turn, this approach to the story heightens the stakes of the 1966 Le Mans struggles that Christian Bale and Matt Damon's characters went through. Instead of focusing on the race, Ford v Ferrari focuses on the people that took part in its execution. Were this a movie that merely focused on the race, as audiences expected it to do, the film would have ended with title cards that described Ken Miles' death and Carroll Shelby's perseverance in his memory.
Rather than relegate the very human story intertwined with this narrative to simple text on a screen, the storytellers at the head of Ford v Ferrari let audiences latch onto historical figures as likable characters, shared their triumphs and setbacks in all their glory, and eventually landed an ending that only hurts so much due to the fact that you actually got to love these characters for who they were.
Historical biopics are only as good as their portrayals of the people that lived those events. With most films of the genre favoring more restrained, formulaic executions, Ford v Ferrari made the history it was telling fun to watch, through characters who felt more like living human beings than mere landmarks in sporting record. The fact that the film shows Ken Miles bravely lose the Le Mans race, and then his untimely death chasing a future victory, just instills in the audience the message that nothing's ever promised, and sometimes history ends abruptly with no clean or happy ending.
Ford v Ferrari is in theaters now, and is sure to make audiences laugh, as well as cry, as they take this beautiful ride in racing history. If you've already seen it, you know what's coming. So if you happen to see it again with friends and family, be sure to bring enough tissues for everyone.
Senior Movies Contributor
CinemaBlend's James Bond (expert). Also versed in Large Scale Aggressors, time travel, and Guillermo del Toro. He fights for The User.
Your Daily Blend of Entertainment News
Thank you for signing up to CinemaBlend. You will receive a verification email shortly.
There was a problem. Please refresh the page and try again.