Rocketman's Taron Egerton Weighed In On Rami Malek Not Singing In Bohemian Rhapsody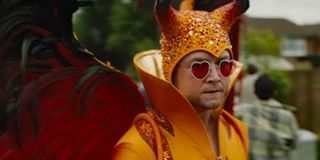 Musical biopics have been popular theatrical outings recently, with Bohemian Rhapsody making nearly a billion dollars with its story about Queen and the Elton John biopic Rocketman making a tidy profit some few months after. There's one major difference between Bohemian Rhapsody and Rocketman however: While Rami Malek's singing was reworked to make him sound more like Freddie Mercury, Taron Egerton did his own singing as Elton John.
Of course, there are people out there in the universe who have wondered if Taron Egerton has thoughts about the differences between his biopic and the Fox one. During a recent appearance on Watch What Happens Live! the actor had a pretty diplomatic answer when questioned about how he feels about Rami Malek not doing his own singing. He said:
There's something goofily charming about 30-year-old Taron Egerton referring to 38-year-old Rami Malek as "an incredible young man," but it's mostly just nice Egerton didn't take the bait the Watch What Happens Live! caller dangled in front of him.
If you have wondered how he really feels about all of the comparisons between the two musical movies, he has spoken out about it previously, calling Rami Malek's performance "astonishing" and describing the film itself as 'rip-roaring" and "great fun." He also previously said he hoped the movie would make "half as much" as Bohemian Rhapsody, so it looks like he isn't particularly interested in comparing box office totals either.
There is something to be said about Taron Egerton's performance as Elton John mostly relying on an intimate performance that focused more on what Taron Egerton could bring to the table while playing the singer rather than being focused on embodying the singer from voice to toe. (In fact Elton John didn't really want Egerton to sound exactly like him.) Rami Malek's version of Freddie Mercury focused a lot on his physical transformation, the ability of the actor to fully embody Mercury's mannerisms, his performances and even his teeth.
Even though both actors were part of musical biopics and both involved Director Dexter Fletcher, Rocketman and Bohemian Rhapsody ultimately aren't even trying to do the same thing or appeal to the same audience. Rocketman is more of a straight musical with the Elton John songs featured directly tying into the plot.
Bohemian Rhapsody uses music to capture the feeling of the time period. It also ends with an extended scene given fans a recreation of a good chunk of the Queen performance at the real-life event Live Aid, which is one of the most audacious extended cinematic moments I've witnessed and I have no idea how the studio was brave enough to think the movie could pull it off. But they did, and it does. Just like the Elton John and Freddie Mercury performances were different, the tone and formatting of both movies were too.
Meanwhile, if you are wondering whether or not Taron Egerton has a favorite Elton John song, he also revealed it's one that didn't make it into the film: "Someone Saved My Life Tonight."
I think that would have been a "beautiful performance by an incredible young man," too. Rocketman is now out on Blu-ray and DVD (opens in new tab), as is Bohemian Rhapsody.
Your Daily Blend of Entertainment News
Reality TV fan with a pinch of Disney fairy dust thrown in. Theme park junkie. If you've created a rom-com I've probably watched it.