Tim Miller Won't Work With James Cameron Again After Terminator: Dark Fate 'Control' Clash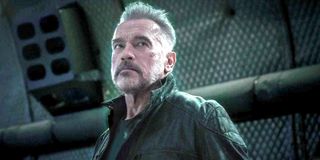 It's not uncommon for two headstrong people to butt heads when they work together. But those kinds of clashes can leave a bad taste -- and that seems to be what happened between Terminator: Dark Fate's director and the series' creator. In fact, Tim Miller and James Cameron's disagreements were so severe, the Dark Fate director has hinted that he'd never want to work with him again.
Despite nabbing the franchise's best reviews in years, Terminator: Dark Fate has proven to be a major disappointment at the box office. Tim Miller sat down with KRCW to reflect on the movie and what went wrong -- and he had plenty of opinions to share. He had a unique challenge on his hands -- to revive the franchise, but turn back the clock a bit and make a direct sequel to T2, ignoring all later chapters.
Terminator: Dark Fate had strong buzz from the beginning, since it brought back franchise stars Linda Hamilton and Arnold Schwarzenegger. As a producer on the film, James Cameron also returned, and took on his first hands-on role in the series since the early 1990s. He had a strong vision for where Terminator: Dark Fate should go, which often was at odds with Tim Miller's. And he explained that the had some intense disagreements regarding everything from major plot points to minor pieces of dialogue. As a result, Tim Miller was blunt when asked if he'd work with James Cameron again:
Tim Miller knew that James Cameron and co-producer David Ellison ultimately had the final say in what made it to the screen. But he felt strongly that he should fight for every last piece of his creative vision. Though they didn't see eye-to-eye, it seems he and James Cameron may be able to bury the hatchet. Tim Miller told KRCW:
Tim Miller maintains he that he, too, is proud of Terminator: Dark Fate, and thinks that fans' disappointment with previous installments may have contributed to their lack of interest. And though it's clear that he won't be involved in any new installments, what's less certain is where the Terminator franchise goes from here.
Your Daily Blend of Entertainment News