3 Key Films That Inspired Queen & Slim, According To The Director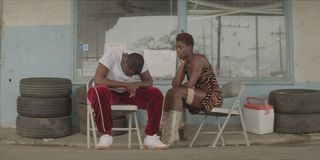 Queen & Slim is an ambitious and powerful movie, and watching it you'd never expect that it was from a first time feature filmmaker. And yet, it is the first venture into that particular realm for Melina Matsoukas, who has had a long and successful career in directing music videos before making this particular leap. It's an impressive venture that balances a variety of tones and genres, and would have been a challenging project for a veteran to take on, let alone someone looking to establish their particular voice on a new stage.
The reason the film succeeds is because Matsoukas emerges with the feature as an exciting potential auteur – and as I recently learned during a recent interview with the filmmaker, that vision was constructed with some particular inspirations in mind. In the making of the movie she recognized all of the different elements at play in Lena Waithe's script, and drew from particular sources. And while she didn't give me a full list of all the titles that had their part to play in the making of Queen & Slim, she did highlight three in particular.
Belly
Like Melina Matsoukas, director Hype Williams was well-established in the world of music videos when he decided to make his feature debut with the crime drama Belly, and it was that particular title that the Queen & Slim was first to identify when discussing the films that inspired her work. It's not so much that there are specific narrative elements in the 1998 movie that the filmmaker noted, but instead the way that the cinematography captures the skin tone of the characters.
Offering high praise to Williams, Matsoukas explained,
Anyone who has ever seen work by Hype Williams recognizes it immediately – the basic definition of an auteur – and it's exciting that Melina Matsoukas is implementing elements of it into her work. It's something that can be seen in the way that Queen & Slim is lit.
In The Mood For Love
While it's true that it's the crime drama aspect of Queen & Slim that drives the narrative, romance is a key subgenre at play, as one of the most important aspects of the movie is the relationship between the titular characters – which starts as "bad first date" and evolves into something much deeper as they find themselves on the run from the law following a horrific encounter with the police.
In determining the best way to portray this on-the-run romance, Melina Matsoukas turned to the great Wong Kar-wai, and specifically his 2000 film In The Mood For Love:
The Wong Kar-wai film follows a man (Tony Leung) and a woman (Maggie Cheung) who discover that their respective spouses have been cheating on them, and while sharing in their shared grief together start to develop stronger feelings for each other. That's clearly not the circumstances faced by the characters in Queen & Slim, but it's easy to see how Melina Matsoukas would learn from the way that the pacing of the relationship plays out.
Y Tu Mamá También
On top of everything else, Queen & Slim is also very much a road movie, as the eponymous outlaws make their way from Ohio to Louisiana in their attempt to evade the law and escape to freedom. The episodic nature of the storytelling does occasionally leave them on foot, but a great deal of the film is set within the interior of various cars, and Melina Matsoukas was challenged to find a way to make the cinematography interesting and not feel repetitive.
Obviously there are many classic and brilliant road movies out there, but in this case Matsoukas reflected on work from yet another brilliant filmmaker, namely Alfonso Cuarón. The man shot what is considered one of the best car sequences of all time in the making of Children of Men, but for inspiration purposes, the Queen & Slim director found herself looking at 2001's Y Tu Mamá También:
All of this culminates in a vision that is uniquely Melina Matsoukas' in Queen & Slim, and the results are tremendous. The film stars Daniel Kaluuya and Jodie Turner-Smith, and will be in theaters for your consumption early this week, arriving everywhere on November 27th.
Assistant Managing Editor
NJ native who calls LA home and lives in a Dreamatorium. A decade-plus CinemaBlend veteran who is endlessly enthusiastic about the career he's dreamt of since seventh grade.
Your Daily Blend of Entertainment News
Thank you for signing up to CinemaBlend. You will receive a verification email shortly.
There was a problem. Please refresh the page and try again.