Game of Thrones: The Complete Collection Giveaway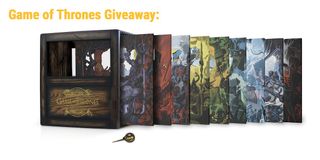 Is there another show that defined a decade more than Game of Thrones? The hit series was a commanding part of culture in the last ten years and has ushered in an era of big-budget television epics. But like all good things, it has come to an end.
However, just because the show is over, doesn't mean you have to wait for the prequels to revisit Westeros. We are joining forces with HBO to give away Game of Thrones: The Complete Collection. Just fill out the poll below to be eligible to win!
This box set is packaged in a visually stunning wooden shadow box case, the Complete Collection contains all eight epic seasons and bonus features including the exclusive Game of Thrones: Reunion Special hosted by Conan O'Brien, the Game of Thrones: The Last Watch documentary chronicling the making of the final season, all-new deleted scenes, and more.
Want to see Game of Thrones: The Complete Collection in all its glory? Check out the video at the bottom of the article.
We will announce the winner Wednesday, December 4th.
Official Rules: Just fill out the above quiz and leave your email address so we can copy you. The giveaway ends at 12 p.m. ET on Wednesday, December 4th. The winner is chosen at random and will be notified via email and given 3 days to respond. Winner will need to provide his or her mailing addresses (no P.O. boxes please). Only U.S. residents over the age of 18 may apply. Prize packs will be mailed directly to the winner. No purchase necessary. Participants can be disqualified for any reason. Failure to comply with the rules will result in disqualification and subsequent mockery. Any shipping issues are not the responsibility of CinemaBlend. Good luck!
Into tracksuits by Paulie Walnuts, the Criterion Channel and Robert Eggers.
Your Daily Blend of Entertainment News
Thank you for signing up to CinemaBlend. You will receive a verification email shortly.
There was a problem. Please refresh the page and try again.