Captain Marvel's Avengers: Endgame Suit Posed An Odd Challenge For MCU Designer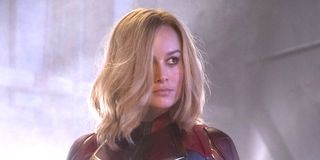 When it comes to the MCU, there are always a ton of moving parts. That's part of the reason why the team behind Avengers: Endgame faced a unique challenge -- and had to make a key change to Captain Marvel's suit before the film hit theaters.
In a new book, The Art of Avengers: Endgame, Marvel's Director of Visual Development Andy Park delves into the nitty gritty details of how they bring the MCU to life on the big screen. And he revealed that the Captain Marvel suit we first see Carol Danvers in was not the first suit they put her in. According to him, the decision to change it up was all in the timing:
Avengers: Endgame filming initially took place immediately following Avengers: Infinity War, between August 2017 and January 2018. Reshoots occurred throughout the remainder of 2018 and into early 2019. Captain Marvel's principal photography lasted between March 2018 and July 2018. And the Endgame filmmakers found themselves in a unique position. Initially, Marvel planned to film Carol Danvers' debut film before Endgame. But a shift in schedule meant they filmed Brie Larson's Endgame scenes before she started work on Captain Marvel.
Between three films being shot in such quick succession, The Snap, and the decades of difference between the Avengers films and Captain Marvel, it's easy to see how costuming got complicated. Early set photos from Captain Marvel revealed Brie Larson in a version of the suit that was decidedly different than what fans expected. And the creative team behind Avengers: Endgame have also revealed that another version of Carol Danver's suit was considered. Since we still don't know when to expect Captain Marvel 2, we'll have to wait to see how her suit evolves.
Keep up with all of the changes of the MCU with our handy guide.
Your Daily Blend of Entertainment News