Why The Irishman's Runtime Is Actually A Problem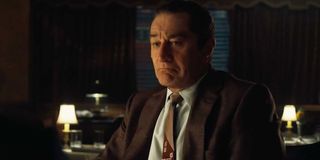 There's been a lot of talk about the length of movies in recent months. In an era where major tentpole releases are routinely coming in at over two hours long, some movies push that envelope even further. This year, we saw a comic book movie, Avengers: Endgame come it at over three hours long, which is something nobody would have believed could happen only a few years ago.
Not to be outdone, the new Martin Scorsese movie, The Irishman, which just debuted on Netflix following a brief theatrical run, comes it at just short of three and a half hours long.
While these excessive length times have been remarked on, there seems to be a general feeling that anybody who has a problem with really long movies needs to just "get over it" and get on with their day. If you don't like the length, you can always skip the movie.
The Perfect Theatrical Experience Is Sometimes Impossible
Putting aside the elitism of that stance, Netflix would seem to be a saving grace. It gives one the ability to start and stop a movie as you need to. Of course, there's a problem there too, because many on social media are being equally elitist about this idea. It seems that if you can't find 3.5 hours to sit and watch the new movie, you're not watching the movie "right," and this I have a problem with.
Somebody put in the work to break up The Irishman into give digestible chunks for people who would rather watch it as a mini-series. It's a pretty solid idea honestly, though it is getting exactly the response that you'd expect on the internet. A lot of people seem to think that even suggesting such a thing is the worst idea in the history of cinema.
I sort of watch movies for a living. In order to write about them, you have to see them, and so I see as many movies a year as I possibly can. I'm as big an advocate for the theatrical experience as you'll find. I'll have seen close to 100 movies that were released in 2019 by the end of the calendar year, and I'm never bored of it. I would rather see a movie in a theater than anyplace else.
Most of the movies I see at press screenings that take place a few days, sometimes a few weeks, before they're released to the public. These screenings are scheduled ahead of time so I can make plans to go to them.
Even doing this takes work for me because I have a tiny human child that lives in my house with me. She's two and a half years old and somebody needs to make sure she doesn't kill herself everyday, and so I need to be sure my wife is cool with that before I run off to the movies.
Does my wife sort of hate me because my job requires me to go to the movies while she stays home with a Tasmanian devil in a high chair? Yes, yes she does. I can't even blame her.
However, because I'm actually leaving the house, going to these screenings once I'm actually in the car isn't an issue. I sometimes do have to skip screenings if there are too many in a week or if my wife has something in the evening more important than my trip to the theater, but for the most part this works pretty well.
Netflix Isn't Always As Convenient As It Appears
The Irishman, however, is an entirely different animal. I literally don't have 3.5 consecutive hours in my life to allow me to watch this movie in a single sitting, especially at home.
As crazy as it is, watching movies at home is infinitely more complicated than watching movies in a theater. I know, I've tried. There have been times when I needed to watch something on Netflix and have tried to schedule it the way I do a theatrical screening. I go into my office, close the door and flip on Netflix.
The problem is, nobody told the two-year-old that Daddy was busy. The kid, who most of the time could take or leave me when Mom is around, is at the door immediately wanting to know what I'm doing. Even if I wasn't trying to severely limit her screen time, the stuff I'm watching is almost never for her. The Irishman certainly isn't.
Even if that doesn't happen, anything that comes up around the house in the evening I can't truly ignore. If my family needs my help, I need to help, so if I'm home, I can't ever focus on a movie.
The way my normal day goes, I have about a two-hour period of time after I finish my writing for the day and before I pick up my daughter at day care. I have used this time to watch Netflix movies in the past (usually bad ones), but at three and a half hours, it will take me at least two days to watch The Irishman. If the movie was actually shorter, this wouldn't be an issue.
The Irishman's Limited Theatrical Release Was Too Limited
It's certainly true that The Irishman was released in theaters, but the release was limited, and the closest theater to me that was showing it was a reasonable distance away. That turns a three and a half hour movie into a four and a half hour movie when travel is included, and more if I want to arrive in time to buy some popcorn or get a decent seat. And that assumes that showtimes are convenient. If the movie was shorter, this might be more feasible.
Now I know my case is a very specific one. Everybody's lives are different, and if my daughter was older and less of a whirling dervish, this wouldn't be a problem. But certainly I'm not the only father out there who wants to watch The Irishman the way it's intended to be seen, but simply can't.
None of this is to say that The Irishman shouldn't be three hours plus. If Martin Scorsese believes this is how long his movie should be, then I trust him, because he's certainly earned that. The point is simply to say that a move's length does, in fact, matter. Longer films can be a hindrance to a lot of people for a lot of reasons. This is simply one of them.
I have a three hour and 40 minute flight coming up in a little over a week. I suppose I could watch The Irishman on my phone, though Martin Scorsese wouldn't approve.
Let us know how you've been watching The Irishman in the poll and comments below, and be sure to read CinemaBlend's review of the movie.
This poll is no longer available.
Your Daily Blend of Entertainment News
Content Producer/Theme Park Beat
CinemaBlend's resident theme park junkie and amateur Disney historian. Armchair Imagineer. Epcot Stan. Future Club 33 Member.