Martin Scorsese's The Irishman: How You Can Watch The New Netflix Movie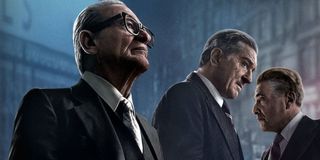 Never has a Netflix movie stirred up so much buzz as Martin Scorsese's three and a half hour epic, The Irishman. With a limited and somewhat complicated theatrical release model preceding its eventual arrival to the Netflix streaming catalog, the mob epic is one of the most talked-about films of the year. And one of the questions everyone's asking is, "How can I see The Irishman?"
Well, there are several ways you can see Robert DeNiro, Al Pacino and Joe Pesci collaborating with the director of such American classics as Goodfellas, Casino, and Raging Bull. And we're going to be walking you through each of the ways The Irishman will be available to you, from the theatrical options on the market to the Netflix release at the end of the month.
Starting with the most static option, here's how you can watch this new Netflix movie, depending on how far you want to go.
Option 1: You Can See The Irishman At The Belasco Theatre in New York Throughout November
If you're close to, or going to be in the New York City area throughout the month of November, you'll be able to see The Irishman at the Belasco Theatre on West 44th Street. The first movie to be shown in the venue's 112 year history, Martin Scorsese's latest film will be available at the theater until December 1.
As far as tickets are concerned, you'll be paying $18.50 at face value, which includes the base price of $15, plus $3.50 in fees added on through Telecharge. Also, the showing schedule is akin to a Broadway show, with blackouts on Monday, 7 PM showings on Tuesday through Sunday, and 1 PM matinees included on both Saturday and Sunday. If you're planning to see Netflix's The Irishman at the Belasco, it's advised you pre-order those tickets ASAP, as they've been known to go for some pretty steep prices on the reseller's market.
Option 2: You Can Check Your Local Listings To See Where/When The Irishman Is Playing Near You
That's not to say The Belasco Theatre is your best bet to see The Irishman, as the film's limited theatrical release does have a wider reach than most might expect. While you won't be be able to watch Netflix's Martin Scorsese film at a major theater chain, thanks to their historic rivalry over availability windows, that means you'll find this movie in independent and art-house cinema chains off the beaten path.
With this option, tickets to The Irishman will vary in availability, showtimes, and pricing/fees, as any standard theatrical film would. You'll also have to check your local listings carefully, as the rollout of Martin Scorsese's latest epic is staggered, with some locations already showing the film, and others opening at later dates throughout the month. You can find more information about tickets, showtimes, and opening dates at The Irishman's official ticketing website.
Option 3: You Can Wait Until The Irishman Drops On Netflix November 27th
The final option for those of you who really want to see The Irishman is probably going to be the most commonplace method of watching any big Netflix film, at least for the time being. Sure enough, if you really want to see Martin Scorsese do his thing with a three and a half hour look into the heart of the mob over decades worth of history, you're more than likely going to be watching the action at home, on your own couch.
All you need to be able to do that is have an internet connection, a Netflix subscription, and enough comfortable seating to accommodate you and whomever else decides to join you on this historical odyssey. While it's not exactly the theatrical experience, you can always pause or stop the film and come back to it when you're ready to go, and if you're in the mood for more Martin Scorsese films of that nature, you can always pivot to another one of the director's works. Though sadly, Goodfellas and Casino are unavailable on Netflix at this time.
How Should You See Netflix's The Irishman
While this is really a question of personal taste, the debate is already raging over whether to stay home to watch Martin Scorsese's The Irishman, or to go watch it in an actual theater. On the one hand, you're supporting the theatrical experience, and you're paying back Netflix and Scorsese in a way that validates their expensive gamble on what's being called by some a sterling example of cinema. But on the other side of the coin, three and a half hours is indeed a long time to be at a theater.
Ultimately, the choice will be up to you, the audience. Whether you value sharing a movie with the public, or the convenience of logging into Netflix and watching it at home, is your own personal battle to wage. There really isn't a wrong way to watch The Irishman, though you will probably get a lot of shade if you're watching it with the Motion Smoothing feature turned on, and at a faster speed than intended. So be careful out there.
No matter how you choose to watch it, it's an occasion to celebrate that The Irishman even exists for us to see its finished product. What looked like another casualty of development hell turned into a movie that everyone wants to get their hands on. Thankfully, even if you can't make it out to a theatrical showing, you'll be able to enjoy Martin Scorsese's latest on your own time. You'll just have to wait a little longer than you might like, but from what's being said, that wait is apparently worth it.
The Irishman is currently playing in limited theatrical engagements, so check your local listings, or the guide above, for further information. Meanwhile, the film will be on Netflix's instant library as of November 27th, just in time for Thanksgiving. Also, don't forget to check the compatibility of the device you use to watch Netflix, as come December 1, you might have to switch devices.
Senior Movies Contributor
CinemaBlend's James Bond (expert). Also versed in Large Scale Aggressors, time travel, and Guillermo del Toro. He fights for The User.
Your Daily Blend of Entertainment News
Thank you for signing up to CinemaBlend. You will receive a verification email shortly.
There was a problem. Please refresh the page and try again.