5 Not-So-Great Movies Al Pacino Made Better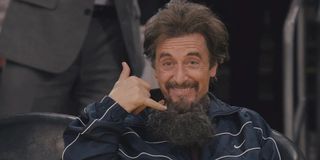 Al Pacino is one of our all-time greatest working actors. It is hard to dispute his legacy. Having starred in a number of excellent movies over the years, including, but certainly not limited to, The Godfather trilogy, Dog Day Afternoon, Serpico, Heat, Glengarry Glen Ross, and, most recently, Once Upon A Time ... In Hollywood and The Irishman, Pacino has proven his talents in a wide number of well-acclaimed movies. But the renowned thespian has also starred in just as many not-so-great movies — if not more. In fact, one could reasonably argue that, for every great movie Pacino has starred in, there are just as many stinkers attached to his name. But just because the film itself is bad doesn't mean that he's bad in them. Quite the opposite, in fact.
Al Pacino likes a challenge. As he recently admitted in an interview with GQ, the veteran actor often knows when a movie is going sideways (or wasn't very good from the beginning). Rather than take his lumps, though, Pacino is strangely invigorated by the possibility of upping the ante and improving the film from bad to simply "mediocre." Some folks say you shouldn't strive for mediocrity. But Pacino isn't simply anyone. In any case, while it's not too clear which movies he's referring to in this case, there are several examples of lackluster movies attached to Pacino's name. And within a number of those wayward movies are entertaining or inspired performances from Al Pacino, who is clearly working overtime to salvage whatever he can there.
Even when Al Pacino isn't very good, it's rare to see the actor half-assing it. He is a committed performer, and he will do whatever he can to leave an impression or make the most of his time starring on the silver screen. Suffice to say, Pacino has provided us with a number of impressive or simply memorable performances over the years. These are a simply a few times where his talents, insistence, and persistence as an dedicated, hard-working actor resulted in great/rewarding Pacino performances in not-very-good movies. Some movies don't deserve his skills, but he provides them anyhow.
Jack And Jill (2011)
Al Pacino won not one but two Razzie awards for his supporting work in 2011's Jack and Jill. One for his performance and one for his odd on-screen dynamic (or perhaps lack thereof) with Adam Sandler in the role of Jill. While that movie earns no shortage of disdain, much of which has been dished out by the critics already, it's hard to properly criticize Al Pacino's mesmerizing performance. While it's a fascinatingly bizarre turn from the acclaimed actor, it's absolutely a scene-stealer — one that lets the dramatic heavyweight to let loose and play with his public image in strange, surprising ways.
In the part of "Al Pacino," the role he was born to play, Al Pacino fully embraces the liberating opportunity to have fun playing a heightened version of himself, one who has fallen madly in love with Adam Sandler's Jill. It allows the actor to say lines he would otherwise never get to say and participate in an elaborate musical number for Dunkin' Donuts as "Dunkaccino," which gave us the line "Say hello to my chocolate blend!" It's utterly insane that the Oscar-winning actor even agreed to do it at all, but his involvement in Jack and Jill is, nevertheless, the comedy's only funny or redeeming aspect.
88 Minutes (2007)
With its overly melodramatic tendencies, lame story twists and clunky execution, 88 Minutes can easily be called one of the worst movies to star Al Pacino. Yet, even when he's in a total stinker, the Academy Award-winning actor will make the most of his time on-screen. Pacino is clearly trying to make this one work, flailing around, yelling, hooting and hollering. He takes the air out of the room every time he's on-screen. Yet, there is no denying that he is a charismatic presence. Al Pacino is not doing his best work in 88 Minutes, but he is certainly putting on a performance — to say the least.
The premise itself is decent enough: a college professor (and part-time forensic psychologist?) gets a call saying that he has only 88 minutes to live. From there, it's a chase to find out who is hunting him down and why. Unfortunately, with the plot's over-reliance on red herrings and flimsy character work, 88 Minutes isn't a breezy watch. It also doesn't help that it's actually 108 minutes long (stick to the script!). (Side note: this movie does, in fact, actually stay true to the timeframe found in the title after the clock is set inside the plot, for whatever it's worth.) Nevertheless, what would've been a totally disposable, "2 p.m. on a lazy Sunday on HBO" movie becomes moderately watchable thanks to Al Pacino's lunatic lead performance. From his zany haircut to his flair for the dramatic, Pacino isn't going to let this weirdly sleepy movie fall to the waist-side without him giving everything he's got.
Two For The Money (2005)
While I hold a soft spot for it, Two for the Money isn't necessarily a great film. It's a gambling drama that relies heavily on cliches and a formulaic plot, and it doesn't stand out on its own to be fully rewarding of the talents of its two Oscar-winning stars, Matthew McConaughey and, naturally, Al Pacino. Nevertheless, while the plot itself is forgettable in its approach, Pacino does leave an impression thanks to his memorably loud, crude supporting turn.
As a gambling tycoon, Al Pacino plays a character who lives and dies in the moment, with everything always on the line and everything to lose in an instant. As a result, the veteran actor plays up his appetite for high dramatics, verbal dexterity, and foul-mouthed giddiness. The resulting performance is expectedly explosive, and one that gives what might've been an otherwise boilerplate movie a little bit more kick and flavor. Suffice to say, it is one for the money and two for the show. While Matthew McConaughey can be known for his great performances, it's Al Pacino stealing the spotlight here.
Righteous Kill (2008)
Al Pacino and Robert De Niro are undeniably two of the most well-acclaimed, well-regarded and most instantly recognizable actors in cinema history. And they have graced the screen together on a select few occasions. They both star in The Godfather: Part II, for instance, but they don't share any scenes together. Beyond that, they starred together in Heat, though they only have one highly memorable scene with one another, and they were both recently at the forefront of Martin Scorsese's newest film, The Irishman, where they share a surprisingly tender on-screen bromance as Frank Sheeran and Jimmy Hoffa, respectively. But nobody really talks about their other cinematic duet, 2008's Righteous Kill. There's a pretty good reason why ...
In short, Righteous Kill is a misfire. It's a boring, plotting mess of a movie, and one that certainly doesn't deserve the pedigree of either Robert De Niro or Al Pacino, let alone both of them working together. Nevertheless, you can give these two actors the worst screenplay imaginable and they'd still try to find a way to salvage it if they could. While Righteous Kill never hits its target, it's hard to make anything with these two thespians completely dull. Sure enough, both Al Pacino and notably Robert De Niro turn in enjoyable turns. While De Niro might be stronger of the two in this film, Pacino's work is certainly much flashier, allowing the actor to have another chance to play it up and cut loose once more — even if he doesn't reconnect his spark with De Niro. Thankfully, as noted earlier, the actors were given another chance to work together in The Irishman. That movie is certainly much better.
Gigli (2003)
One of the most notoriously bad movies in arguably the history of cinema, there have been many bad things said about Gigli. It had an impact on the careers of both of its romantic leads, Ben Affleck and Jennifer Lopez, it ended writer/director Martin Brest's filmmaking career (he's still residing in director's jail) and it won a whopping 10 Razzies, including Worst Picture of the Decade in 2010 and Worst "Comedy" Of Our First 25 Years in 2005. It's safe to say that it's not a well-beloved movie. That's putting it mildly, to say the least. Yet, Al Pacino continues to provide a magnetizing presence.
Al Pacino only has a bit part in the proceedings, yet he spends the majority of his screen-time in Gigli yelling and demanding your attention. The actor isn't one to walk gracefully into the movie's demise. No, he'll make a production out of it, as the actor has proven several times throughout his career. Notably in several of the movies mentioned in this list. Sure enough, Pacino goes out swinging. And while he garnered Pacino his second Razzie nom, it proved that even under the worst circumstances, Al Pacino will make his time on the silver screen worth the while — even if he cannot save the film.
These are only a few of the not-so-great movies to star Al Pacino over the years. Unfortunately, while the award-winning A-list actor has most certainly proven himself several times over throughout the decades, he isn't not immune to making bad movies. Sure enough, while he tries his best to save a few of them, he can only do so much. Nevertheless, as we have noted, Pacino isn't one to simply accept a paycheck. He will try to save a movie as best as possible, and though he's not always successful, he knows how to make it count. These movies certainly wouldn't be the same without him.
Your Daily Blend of Entertainment News
Will is an entertainment writer based in Pittsburgh, PA. His writing can also be found in The Playlist, Cut Print Film, We Got This Covered, The Young Folks, Slate and other outlets. He also co-hosts the weekly film/TV podcast Cinemaholics with Jon Negroni and he likes to think he's a professional Garfield enthusiast.