Why Martin Scorsese And Al Pacino Never Worked Together Before Netflix's The Irishman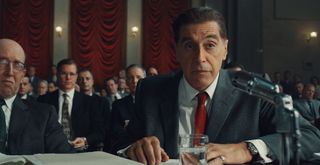 Martin Scorsese has directed some of the most beloved, memorable films in Hollywood history. Al Pacino has starred in his own fair share of cinematic gems. But amazingly, before Netflix greenlit The Irishman, the two icons never got a chance to work together. And now Martin Scorsese is opening up about what it was like to finally snag the 'unreachable' star.
At a recent AFI FEST event, Martin Scorsese sat down for a quick Q&A session, where he discussed the many obstacles he and Robert De Niro faced in trying to get The Irishman made. And he also opened up about his decades-long quest to cast Al Pacino in, well, anything:
When Al Pacino signed on for The Irishman, Martin Scorsese finally got the chance to see what Robert De Niro meant. But he also had the opportunity to bring the two actors together on screen. It's a rare cinematic feat -- this is only the fourth time both have appeared in the same film. The actors both starred in The Godfather Part 2. But Robert De Niro plays a younger version of Vito Corleone, the father of Al Pacino's Michael, so they never share a scene. It wasn't until 1995's Heat that the two actors finally had a chance to play opposite each other. Though they teamed up again in 2008's Righteous Kill, there's something extra special about the two actors joining forces with one of their most esteemed peers.
According to Martin Scorsese, seeing Robert De Niro and Al Pacino in The Irishman creates a kind of meta experience for the viewer:
He may be talking about the actors' shared history, The Irishman does follows its characters, including Al Pacino's Jimmy Hoffa, through several decades with the aid of some much-talked about anti-aging CGI. And whether or not you agree with Martin Scorsese's decision to release the film via Netflix, you can't deny that The Irishman feels like a huge cinematic moment for the director. If nothing else, it gave him the chance to finally cross one of his most-sought after moments off his bucket list.
The Irishman will be available to stream on Netflix on November 27.
Your Daily Blend of Entertainment News
Thank you for signing up to CinemaBlend. You will receive a verification email shortly.
There was a problem. Please refresh the page and try again.