Awkward: Disney+ Is Giving Aladdin's Prince Anders His Own Spinoff And The Backlash Is Intense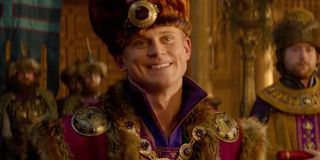 Disney might want to work on its timing. Just days after Aladdin's star confessed to having career troubles, the studio announced it's producing a spinoff for Disney+ that stars the relatively obscure Prince Anders. And thus far, the backlash has been pretty intense.
The Hollywood Reporter broke the news of the standalone film on December 6. It's not a surprise that Disney would try to leverage Aladdin's success. The film has grossed over $1 billion around the world since it hit theaters in May 2019. What is surprising is that the studio would put its weight behind a character that few seem all that enthusiastic about. The spinoff news probably wouldn't have been met with much enthusiasm under normal circumstances. But the recent news that the actor behind the titular hero, Mena Massoud, hasn't gone on a post-Aladdin audition added a layer of frustration for fans.
In an interview with The Daily Beast, the Aladdin star expressed his frustration that studios don't seem interested in considering him for roles, despite proving that he is capable of successfully leading a big budget movie. Fans were already miffed about Mena Massoud's struggle -- so Disney really couldn't have picked a worse time to announce they're moving ahead with a spinoff that no one seems to have asked for.
On Twitter, few people who reacted to the news of the Aladdin spinoff seemed to think it was a good idea. And those who were critical of the move had a range of reasons to be skeptical. Many pointed out that Disney's decision to announce the Prince Anders movie so soon after Mena Massoud's announcement was in poor taste:
Others offered praise for Prince Anders actor Billy Magnussen but still found the new announcement "very odd":
Tweeters were quick to point out that Disney seems to have some pretty weird priorities when it comes to producing franchise spinoffs:
The general consensus among Aladdin fans on Twitter seemed to be that of all the characters in the film, Prince Anders was one of the worst candidates for a solo movie:
To many fans, it did seem "random" to single out Prince Anders first:
One fan contended the claim that Prince Anders was a character that fans were invested in -- and pointed out that race could be a factor in Disney's decision:
It remains to be seen whether there is actually any real demand for the streaming service's planned spinoff. According to The Hollywood Reporter, the Disney+ project is separate from the rumored Aladdin sequel, which is still in the early stages of development. There's no official word yet as to whether Mena Massoud will be a part of either film.
Your Daily Blend of Entertainment News