Burger King Is Rewarding Fans For Sharing Rise Of Skywalker Spoilers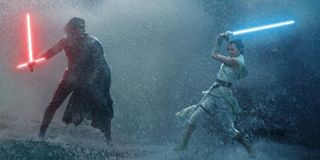 In most cases, brands do whatever they can to avoid spoiling movies. While some people love to know plot twists ahead of time, there are plenty others who avoid those details at all costs. Where Star Wars: The Rise of Skywalker is concerned, though, there seems to be a shortage of spoilerphobia. First, the film's trailers revealed huge plot details that have left fans reeling. And now, Burger King, of all places, is offering fans the chance at free food if they share spoilers.
The promotion is being rolled out at Burger Kings across Germany. The fast food chain has created voice-activated coupons that allegedly contain Star Wars: The Rise of Skywalker spoilers. Fans need to record themselves reading the spoilers in the coupon -- and then once they turn it in, they'll receive a free Whopper. To help spread the word about the spoilerific deal, Burger King even created a Star Wars-themed commercial that shows spoilers embedded within their menu. And just a heads up, if you plan on watching the commercial or checking out the coupon -- the potential spoilers are definitely visible in both.
A few things aren't clear where Burger King's promo is concerned. The first is whether or not the spoilers they're revealing are even accurate. Some seem to be close to alleged plot details leaked from what appeared to be an original Rise of the Skywalker screenplay. But the film's ex-director, Colin Trevorrow, insists those spoilers weren't real. And even though John Boyega accidentally left his script behind during his last move, it seems pretty unlikely that Burger King's marketing team would be able to get a hold of a legit shooting script without enduring a potentially huge legal battle.
The second, and potentially more problematic, issue here is whether Disney and Lucasfilm have given their blessing for Burger King to run this promotion. Kathleen Kennedy has made it clear that the studio intentionally leaned into spoiler culture with the Rise of Skywalker promotions. But that doesn't mean they would be willing to let another brand run an entire marketing campaign off of potential fan misery leading into the saga's finale.
But even if Burger King didn't get Disney's blessing, it's still possible for them to make bank on Star Wars spoilers. Neither the commercial nor the coupons use the film's name, which helps them navigate the murky waters around the brand's copyright. Is it a little sketchy? Sure. Is it legal? Probably.
There's no word yet as to how popular Burger King's promotion is in Germany. But at this point, fans don't have to wait much longer before spoilers won't matter much anyway. Star Wars: The Rise of Skywalker is likely to have a huge opening weekend worldwide when it hits theaters on December 20.
Your Daily Blend of Entertainment News