The Funny Avengers: Endgame Scene Karen Gillan Improvised With Robert Downey Jr.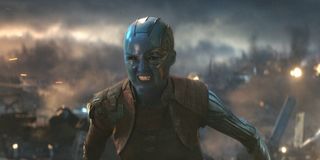 As it marked the end of an era in the MCU, Avengers: Endgame had some pretty emotional moments. But it also offered a bit of much-needed levity. And according to Karen Gillan, one of the funniest moments in the film actually came as a result of some improvisation with her co-star Robert Downey Jr.
All told, Karen Gillan's character Nebula had one of the most interesting and surprising arcs in Avengers: Endgame. And though she ended up performing some incredible acts of heroism, she also became a little bit easier to relate to, in part because of her interactions with Tony Stark.
In an interview with The Hollywood Reporter, Karen Gillan discussed the process she went through while making Avengers: Endgame. And when the conversation turned to the hilarious scene where Tony and Nebula kill time, she shared some behind-the-scenes intel. THR asked Karen Gillan who was better at flicking the paper footballs, she said, with a laugh:
Knowing the actors came up with their back-and-forth all on their own makes the scene seem even more endearing. And it wasn't the only moment in Avengers: Endgame that was improvised. In fact, many of Tony Stark's scenes -- from his infamous "I love you 3000" and "Liar" lines to the scene in which he offers food to everyone -- were the product of Robert Downey Jr.'s creativity.
Karen Gillan seems to have enjoyed her time working with Robert Downey Jr. But she revealed in her THR interview that filming Avengers: Endgame wasn't all fun and games. It was especially challenging because the actors didn't have a full script while they were in production. She credited the Russo Brothers with helping keep track of where her character was in the story, depending on what scene they were filming.
She also admitted that the heavy prosthetics and makeup that she has to wear to transform into Nebula make performing a challenge. According to Karen Gillan, the mask she wears makes it hard to move her face -- which, she says, informed the way she plays Nebula. That restriction definitely informed the scene between Nebula and Tony Stark in the best way possible. Her deadpan reactions to what should be a fun, easygoing game are every bit as hilarious as Robert Downey Jr.'s ad-libbed dialogue.
We unfortunately won't be seeing any more interaction between Nebula and Tony Stark. But we can expect to see and hear from Karen Gillan's character in the future. She has a role in Marvel's What If…?, and will also appear in the much-anticipated Guardians of the Galaxy Vol. 3, which is due to hit theaters in 2022. She is also currently starring in the #1 movie, Jumanji: The Next Level.
Your Daily Blend of Entertainment News