12 Crazy Behind-The-Scenes Facts From Avengers: Endgame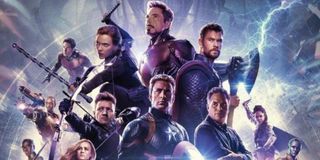 CinemaBlend participates in affiliate programs with various companies. We may earn a commission when you click on or make purchases via links.
It's finally here. After years of anticipation, Disney+ is finally available for your viewing pleasure. Among the treasure trove of content available on the service, new and old, is none other than the streaming premiere of Avengers: Endgame (Side note: A bunch of other MCU movies are on there too).
Avengers: Endgame has made billions of dollars worldwide, and it's the highest-grossing film of all-time. Suffice it to say, it has done very well for itself, and you have an opportunity to watch and re-watch it as many times you please if you get the subscription (a free seven-day trial is being offered now). If you find yourself eager to re-watch the mega Marvel cinematic event, you should know the nutty behind-the-scenes details that went into bringing this astronomical cinematic experience to life.
Naturally, with a blockbuster this big, there are many stories, hard-fought battles, high-stakes creative decisions and a number of cheeky surprises that went into this gigantic spectacle. So we've complied 12 of the wildest behind-the-scenes moments that went into the making of both Avengers: Endgame and its predecessor, Avengers: Infinity War. It took a lot of patience, commitment, and a great deal of lucky to pull of this feat. So let's delve deeper into the process that went into making this summer's box office smash.
Tony Stark's Infinity Gauntlet Snap Was The Last Shot Completed, And Not A Moment Too Soon
When you have an enormous undertaking like Avengers: Endgame, there is hardly ever a moment wasted. The lead-up to its much-anticipated release is filled with a lot of hard work and not a whole lot of downtime, and it should not be too shocking to know that the post-production team was working overtime on this movie, right down to the wire. Specifically, WETA's digital effects team was still working on Endgame with less than two weeks to go before its world premiere. And the final shot completed was certainly a meaningful one: it was the brief-but-meaningful moment where Tony Stark snapped his fingers while wearing the Infinity Gauntlet, defeating Thanos once and for all, and saving the galaxy — if at a tremendous cost.
Robert Downey Jr. Was The Only Cast Member Who Read The Full Script For Avengers: Endgame
There is a lot of secrecy that goes into the making of a Marvel movie. Certainly, when it came time to shoot Avengers: Endgame, there was a lot on the line. Only the top brass could glimpse the script from first page to last. Even the cast members were only given their own respective pages to read... well, all except one. As it turns out, Robert Downey Jr was only one actor who got to read the script from beginning to end. Obviously, the A-list actor was at the forefront of this cinematic universe, so during his final hours in the franchise, it's only fitting that he was the first one to get the full glimpse of the story.
The Screenwriters Started Writing Infinity War And Endgame During The Making Of Captain America: Civil War
You don't write movies like Avengers: Infinity War and Avengers: Endgame overnight. It takes a lot of planning, staging, back-and-forth and retooling to crack the code on these monstrously large movies. Sure enough, it literally took years for screenwriters Christopher Markus and Stephen McFeely to finish work on these blockbusters, and they were working on them while the Russo brothers were filming Captain America: Civil War. Sure enough, they had many busy days bouncing between bulky scripts, though they got extra help from Eric Pearson (Thor: Ragnarok).
There Were Reportedly 60 Pages Of Ideas For Avengers: Infinity War And Avengers: Endgame
Have you thought about how much planning must have gone into making both Avengers: Infinity War and Avengers: Endgame? Surely there were at least a million-and-a-half ideas that were thrown around. It's hard to know what exactly the movie looked like from the first days of writing it to the final product, but we do know that there were reportedly around 60 pages worth of ideas for both movies. That's a lot of thinking.
Tony Stark's Snack Scenes Were Often Improvised
Shooting days can be long. You're in one place for an extended period of time, lit under hot lights and trapped in confined places with a lot of people, and it can be exhausting. There isn't a lot of time to take a break to grab something to eat, and Robert Downey Jr. has gotten wise. As a veteran of the acting profession, he knows the right way to sneak snacks onto set, and that's how Tony Stark found himself munching on food throughout the course of Avengers: Endgame. Much like Marlon Brando once hid cue cards throughout a set, Stark snuck food throughout a scene, and he'd bring it out and eat during a scene — often without telling anyone before doing so. The scene where Tony Stark offers food to everyone, for instance, was improvised.
Stars Like Paul Rudd Filmed Other Marvel Movies While Simultaneously Working On Avengers: Endgame
It takes a long time to film Avengers: Infinity War and Avengers: Endgame, respectively. They are long movies, and there is a lot of planning that goes into shooting such gigaantic movies. Sure enough, with the high volume of actors involved in such big movies, there isn't a lot of time to get these movies shot. Therefore, some actors, like Paul Rudd, had to film two movies simultaneously. He'd be working on Endgame and Ant-Man and the Wasp at the same time, for instance. Do you wonder if he had any trouble keeping his lines straight between movies? Thankfully, it all worked out.
The Line "I Love You 3000" Came From Robert Downey Jr's Real-Life Child
During the first act of Avengers: Endgame, not too long after the big time jump, it's revealed that Tony Stark has finally settled down. He's married to Pepper Potts and they live in a cabin together in the woods with their young daughter, Morgan. Throughout the film, Morgan tells her dad, "I love you 3000," which is a line that hit close to home for Robert Downey Jr for several reasons. Specifically, this is something that one of his real-life children (possibly his daughter, Avri Roel Downey) said to him, which Downey Jr. later told the directors. They found the line so adorable, they decided to incorporate it into the movie.
There Was Originally A Scene Involving 13 Reasons Why's Katherine Langford As Teenage Morgan, But It Ultimately Got Cut
Speaking of Morgan Stark, during an earlier version of Avengers: Endgame, there was a scene involving Katherine Langford (13 Reasons Why) as teenage Morgan, telling her father within the Soul Stone that it's okay if he doesn't make it out of this one. It's similar in design to the scene with Thanos and young Gamora in Avengers: Infinity War. It's a soft, tender moment, but it ultimately didn't make its way into the final version. Nevertheless, you can watch the deleted scene for yourself on Disney+ in the bonus features section.
Natalie Portman Didn't Actually Film Her Scenes In Avengers: Endgame
There's no denying that Avengers: Endgame has an incredible cast. A roster that includes an enviable lineup of talent, it's hard to think of many famous actors who don't reprise their roles. Sure enough, Natalie Portman does make a brief cameo in the movie, but it's surprising to learn that Portman didn't actually show up on set to appear in this blockbuster. Rather, her footage was collected from Thor: The Dark World and placed into the film. There are some claims that she recorded some lines for the movie, but it's clear that the forthcoming Thor 4 will have to serve as the actress' proper re-introduction to this cinematic universe. In any case, this scene is a crafty way to put her in the movie.
WETA Played A Big Hand In The Women Of Marvel Scene
Filmmaking can often be a collaborative process. It takes a lot of people to construct a movie and there are often a lot of ideas thrown around. Not everything can make it into the final product, but it's often when directors listen to other ideas that some big moments come together. Case-in-point, according to Matt Aitken, the visual effects supervisor over at WETA, his team played a heavy hand in creating the now-famous Women of Marvel scene during the big final battle. During the creation of the scene, Aitken claims his team helped put together a version of the scene that the directors approved. The special effects team plays a part in helping to create the images that we see on the screen, and Aitken claims this is one of their biggest contributions.
It Took About 1,400 Visual Effects Artists To Create The Final Battle Sequence In Roughly 16 Weeks
One of the most memorable moments in Avengers: Endgame is the astonishingly huge climax, which involves seemingly hundreds of Marvel characters fighting for their existence against Thanos. With a number of special effect characters in this scene, it obviously took a lot of people to pull this off. And in true team fashion, it took about 1,400 visual effect artists in order to create this battle sequence under a very tight window frame: a mere 16 weeks. Four month isn't a lot of time to pull off a scene this massive, but the animators were able to pull it off anyhow, and it's one hell of a feat
Avengers: Endgame Is The First Marvel Movie To Feature A Character Introduced In A Marvel TV Series
Avengers: Endgame features a lot of characters, many of whom don't make it out for another movie by the end. In addition to all its various accomplishments, though, it is also the first Marvel movie to feature a character who originally debuted in a Marvel TV series. Specifically, there is a very brief moment where we see James D'Arcy's Edwin Jarvis, the butler of Howard Stark. Before then, the character had starred in the short-lived Agent Carter series. This moment will serve as the opening of the floodgate for when Disney+'s multitude of streaming shows will correlate into the various different films.
These are only a handful of the surprising and intriguing tidbits revealed during the making of Avengers: Endgame. There are certainly many others that were worth considering, including the production's hiatus during Hurricane Irma, the inclusion of Joe Russo's daughter as Hawkeye's child, the high volume of Academy Award winning/nominated actors in the movie (19!) and one of the writers' main regrets: not including more scenes with Bucky and Captain America. Nevertheless, we hope we provided you with some fun food for thought whenever you throw Avengers: Endgame on Disney+.
Look through our Marvel movies guide to learn what's coming up in Phase 4 and beyond.
Will is an entertainment writer based in Pittsburgh, PA. His writing can also be found in The Playlist, Cut Print Film, We Got This Covered, The Young Folks, Slate and other outlets. He also co-hosts the weekly film/TV podcast Cinemaholics with Jon Negroni and he likes to think he's a professional Garfield enthusiast.