Sonic's New Movie Trailer Has A Joke About The Rock And He Finally Responded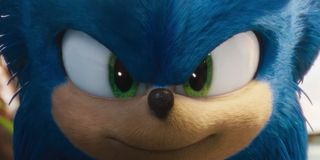 After seemingly endless ups and downs, the Sonic the Hedgehog movie seems to be finding its footing with fans. The adaptation of the classic '90s Sega game has undergone heavy edits, and now marketing for the film is under way. New footage of the film has been cropping up in promos online, and it's full of action and plenty of jokes -- including one about The Rock. And the man himself just weighed in on his reaction to being name-dropped by an infamous spiny mammal.
On December 14, the Sonic the Hedgehog Twitter account shared a clip from the trailer released in November, featuring the redesigned Sonic. In the clip, Sonic can be heard asking, "Where am I? What year is it? Is The Rock president?" The account was so hyped about the joke, they even used it as a quote in the new tweet -- and made sure to tag Dwayne Johnson, for good measure.
Their efforts got his attention, and apparently, his appreciation as well. The Rock retweeted the clip and included his reaction, which was effusive, to say the least. He said, "So crazy I used to love playing Sonic in college. Many moons later this… life can be so damn wildly unpredictable and surreal at times." He finished off his sentiments with the 'my mind is blown' emoji.
The Rock's heartfelt response to becoming a pop culture reference in the movie based on one of his favorite video games is really sweet. And it's a reminder that despite his enormous success, he's still very appreciative and humble about how far he's come. But he shouldn't be surprised that his name comes up randomly -- even in a movie about fast-footed hedgehogs. A strong argument could be made that at this point, The Rock is a lot more famous than the iconic video game character who gave him a shoutout.
The Sonic the Hedgehog account hasn't responded to The Rock yet. Still, his fans were quick to weigh in and offer some suggestions for a future collaboration. One fan pointed out that a scene from the future where The Rock is president was the obvious next step. But that could be a stretch.
The actor is currently busy promoting his own '90s throwback project. Jumanji: The Next Level hit theaters this weekend. The film is a part of a beloved film franchise that began with 1995's blockbuster Jumanji. He'll also star in the upcoming Jungle Cruise, which is based on the Disneyland ride, another childhood staple for many of us. Despite fans' wishes, The Rock probably won't actually appear in Sonic the Hedgehog. But at least he'll get a chance to experience the nostalgia for the game with the rest of us when the movie hits theaters on February 14, 2020.