10 Best Comedy Movies Of 2019, Ranked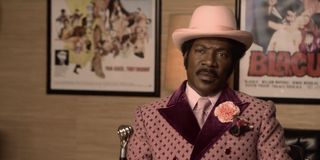 2019 has been a good year for movies. There are always great films that come out in any given year, but there may be no genre that gets more overlooked than the comedy. The point of the film is to laugh at it, and that makes it tough for some to take it seriously. However, if you love to laugh at the movies, there were some absolutely great opportunities to do so in 2019.
If you're a comedy fan looking for something you missed this year, or just wondering what CinemaBlend thought of your favorite comedy of the year, check out our top 10 of 2019 right here.
10. Detective Pikachu
To be sure, Detective Pikachu is only a middle of the road film when you look at the whole thing. But when you have Ryan Reynolds voicing your lead character, then you're putting yourself in a strong position when it comes to pure comedy, and Reynolds does not disappoint.
Detective Pikachu could have even ended up in a higher spot on this list if it was a more even film. Ryan Reynolds provides a steady stream of great jokes for the first half of the movie, but the second half is a weaker movie in every possible way, including the humor. Still, with no idea when we'll see Reynolds playing Deadpool again, Detective Pikachu is a decent enough place to enjoy Reynolds' style of humor.
9. Stuber
Stuber got mixed reviews upon release, but I for one have zero problem putting it on a list of the best comedies of the year. Kumail Nanjiani and Dave Bautista are a welcome addition to the buddy comedy hall of fame. The duo have great chemistry throughout Stuber and they compliment each other perfectly.
Dave Bautista is a cop on a mission who, due to laser surgery, can't see well enough to drive himself. Nanjiani is the hapless Uber driver who really needs the 5-star review. Is the premise contrived and ridiculous? Absolutely. Are you going to care five minutes after they meet? Not even a little.
8. Shazam!
While the biggest genre in movies today is based on something called comic books, it would be quite rare to ever expect one of the current crop of comic book movies to end up on a list like this. And yet, Shazam! earned its spot quite easily. The story of a teenage boy who gains the power to transform into an adult superhero is ripe for comedy gold, and the film fully embraces that with fantastic results.
Zachary Levi is at a level of perfect casting for Shazam!, on par with Robert Downey Jr. as Iron Man. There may be nobody better to play the adult with the mind of a kid. The movie becomes a superhero version of [Big](https://en.wikipedia.org/wiki/Big(film), with all the laughs one would expect from that, while also being no less a great superhero movie, with excellent action and even some surprisingly mature scary moments. _Shazam! is everything, including a great comedy.
7. Toy Story 4
Nobody was quite sure what to expect from Toy Story 4 when Pixar and Disney announced the film several years ago. If done well, it would certainly be an emotional roller coaster to rival the other entries in the series, but I'm not sure anybody expected it to be so damn funny. And yet, here we are.
Toy Story 4 sends Buzz, Woody and their friends on one more adventure, but it's the additions to the cast that make Toy Story 4 the funniest, if not the best, entry in the series. Tony Hale as the clueless Forky is so good that he got his own series of shorts on Disney+. And Toy Story 4 reminded us all just why Key and Peele are the funniest comedy team of this generation. They're probably too busy to have their own Disney+ series as well, but they deserve one.
6. Long Shot
Romantic comedies are one of those comedic genre that always seem to have a strong base of support. We all probably have our favorites. However, because they tend to fall into simple formulas, they rarely stand out. However, there were a couple of rom-coms which had enough going for them in 2019 to be worth noticing, and one of them was Long Shot.
The premise itself is worthy of note. Charlize Theron is the Secretary of State who's considering a run for the White House. Seth Rogen is a former neighbor who's now a reporter and joins the Secretary's speech writing staff. The setup is strange and the pairing is the last one we'd expect, but that's part of why it works. Going with an odd couple like Theron and Rogen was certainly a bit of a risk, but it's one that pays off. It givers the rom-com formula a shot of something fresh and makes it worth checking out.
5. Always Be My Maybe
However, while Long Shot is good, the funniest romantic comedy of this year is definitely Always Be My Maybe. The Netflix comedy stars Randall Park and Ali Wong as a pair of childhood friends who maybe could have been more and reunite after many years apart. One of them is a raging professional success, and the other, not so much.
Always Be My Maybe is worth it for the Keanu Reeves scene alone, where the internet's boyfriend plays the most exaggerated version of himself conceivable. And yet, the core story is still fun and engaging even without Keanu. Because it shines a light on characters and cultures we don't normally see in rom-coms, it keeps everything from feeling too formulaic, even when it basically is.
4. Late Night
Every year at the Sundance Film Festival, there is at least one movie that tends to blow away those in attendance. This year, that film was Mindy Kaling's Late Night. Amazon shelled out big bucks to get the rights to it, and when the movie debuted, we learned exactly why.
Mindy Kaling plays the newest member of the all-male writers room for a late night talk show hosted by Emma Thompson. If Kaling's smart writing wasn't enough to make Late Night worth watching, and it is, then the film also acts as a reminder that Emma Thompson is hilarious, which is something we all need to be reminded of now and then.
3. Good Boys
If you're looking for a solid comedy to laugh the night away, you can rarely do better than boys behaving badly. 2019 had one of the best examples of the genre in years with the appropriately titled Good Boys. Needless to say, we had no idea Jacob Tremblay even knew some of those words.
Good Boys goes pretty hard on the vulgar humor, and so it might to be to everybody's tastes, but the movie certainly hits more than it misses, and it has a surprising heart which makes it more than just a marathon of vulgar sex jokes. Still, if you're a fan of vulgar sex jokes, you really can't go wrong.
2. Dolemite is My Name
Even a couple of years ago, I never would have expected to see an Eddie Murphy movie anyplace whatever on a list of the best comedies of the year, never mind almost at the top. And yet, Dolemite is my Name reminds us all just how great an actor and comedian Eddie Murphy really is. This is a movie that's not be missed.
Dolemite is My Name is a biography of Rudy Ray Moore, a jack-of-all-trades entertainer who, in the 1970s, discovered the stories of the fictional character of Dolemite, and adapted them for his own stage show. The character becomes the 1970s equivalent of a viral sensation, eventually leading Moore to take his character to the big screen, even if he has to finance the movie himself. It's the perfect vehicle for Eddie Murphy, and one of the best movies of the year, in any genre.
1. Booksmart
Boys behaving badly may be worthy of a spot on this list, but in 2019, the best comedy of the year is all about the girls behaving badly. Olivia Wilde's directorial debut, Booksmart, is the absolute funniest movie of the year, with some great performances and quick-witted writing coming together with Wilde's direction to make one of the best teen comedies of the genre.
What makes Booksmart stand out immediately is that Kaitlyn Deaver and Beanie Feldstein aren't playing your typical high school comedy rejects. Instead, they're the "good kids," the ones that have never been in trouble. And that's the problem. The best friends realize too late their high school years could have been more fun, and they try to cram four years of partying into a single night, and very nearly succeed.
2019 was a solid year for comedies, so there are some good ones that couldn't quite make this list. Which of these was your favorite comedy of the year? Let us know in the poll below, If your favorite isn't listed here, let us know what you loved most down in the comments.
This poll is no longer available.
Your Daily Blend of Entertainment News
Content Producer/Theme Park Beat
CinemaBlend's resident theme park junkie and amateur Disney historian. Armchair Imagineer. Epcot Stan. Future Club 33 Member.