In recent years, it hasn't been fun seeing Eddie Murphy on the big screen. In fact, one could argue that "depressing" is an apt adjective. At the height of his powers, Murphy regularly proved to be one of the funniest and most entertaining performers on the planet, consistently doing works that were deemed instant classics – but that special spark has been absent for most of the last two decades. And what has made the whole situation particularly sad is the knowledge that talent doesn't just disappear; it simply becomes underutilized.
Because of this, there has long been acknowledged the possibility that everything could be fixed. With just one legitimately great film providing the right material, Eddie Murphy could re-write his modern profile, and demonstrate that he still has all the brilliant energy and captivating charisma that led to amazing movies like Coming To America and Beverly Hills Cop. Obviously it's a scenario that has required a lot of patience from fans, but here's the good news: that legitimately great film has now arrived, and it's director Craig Brewer's Dolemite Is My Name.
Portraying Rudy Ray Moore, a legendary entertainer whose work ethic should have resulted in his image being next to the word "Hustle" in the dictionary, Eddie Murphy delivers what is not just his best performance in a long time, but one of the best of his career – and it doesn't hurt that the rest of the film is pretty damn great as well. It's a story that is equal parts hilarious and heartfelt, not only giving its star a beautiful opportunity to shine brightly, but also weaving in an impressive message about the power of perseverance.
Based on the true story, the film introduces audiences to Rudy Ray Moore as an aging, paunchy performer who dreams big, but is stuck working as an assistant manager at a record store in Los Angeles. He struggles to get his music played on the radio, and has his material is kept limited while performing as an MC at a local club. But everything starts to change when he gets the inspiration to create a new on-stage character named Dolemite.
Putting on a wig, sporting a cane, and dressing in brightly colored suits, he devises an entire new routine basically centered around vulgar rhyming, and audiences go crazy for it. Signing a record contract with a small company, he produces multiple hit albums, and starts doing touring shows in clubs around the country.
As successful as he is, though, Rudy knows that his audience is limited, and he craves the ability to show what he can do to the entire world. And after one fateful night at the local cinema, he realizes exactly what he needs to do. Asking favors of all his friends, and utilizing every single resource he has, he works hard to bring his vision of a Dolemite movie to life – experiencing a wide variety of highs and lows along the way.
Eddie Murphy is hardly the first actor to make this kind of "comeback movie," but there is also something special in seeing the comedian play someone who has such remarkable ambition and drive – elements that we simply haven't seen from Murphy in a lot of his recent films, regardless of character. It feels like the responsibility of playing Moore brought something extra to the table for him, and the result is that he brought his A-game to the production. And it's not just a great performance that sees the actor fully encapsulate the role, but he's also hysterical – be it on stage delivering his routine, or engaging in some of the worst on-screen kung fu you've ever seen.
The excellent performance is far from singular in Dolemite Is My Name, however. Obviously the nature of the movie being a biopic puts Murphy front and center, but Craig Brewer also surrounds his star with a collection of fantastic supporting performances. Portraying hyper-cynical actor/director D'Urville Martin, Wesley Snipes actually comes impressively close to stealing the movie away from Murphy, regularly playing wide-eyed and flabbergasted at the patent ridiculousness of the Dolemite set, and getting big laughs in return. And while the don't have a ton to do in the narrative, Craig Robinson, Tituss Burgess, Mike Epps, Da'Vine Joy Randolph , and Keegan-Michael Key make up Moore's inner circle, and provide not just a lot of funny, but also a special energy from their comradery.
On a broader level, Dolemite Is My Name is also just great fun to watch from a cinephile perspective, as it does a wonderful job capturing the unique magic and chaos of filmmaking. The story behind the Blaxploitation classic at the center of the plot is truly a wild one, as it was made on a shoestring budget by a crew of total amateurs, and the amount of passion felt for the whole process is palpable as Moore puts out fire after fire trying to realize his vision. It's clearly made by people who love and understand the power of movies, and it's infectious.
It's almost a shame that Dolemite Is My Name is primarily going to be only available on Netflix, as it's a tremendous crowd-pleaser that's even better enjoyed with an audience rolling with waves of laughter. To get the full experience, you may want to pull a Rudy Ray Moore-esque move and fill your living room up with people for a viewing party, much like he did when recording his comedy albums. Like the making of Dolemite, it may be a whole lot of work, but it will be entirely worth it in the end.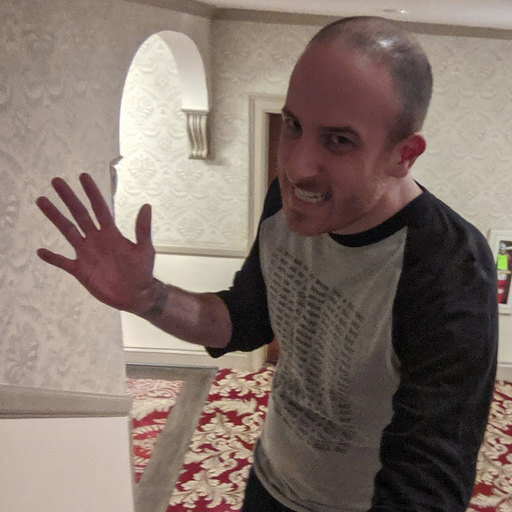 Assistant Managing Editor
NJ native who calls LA home and lives in a Dreamatorium. A decade-plus CinemaBlend veteran who is endlessly enthusiastic about the career he's dreamt of since seventh grade.