How Star Wars: The Rise Of Skywalker Sets Up For A Spinoff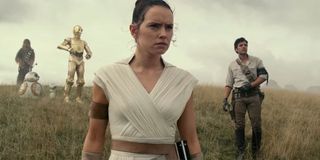 Spoilers for the latest Star Wars movie can be found throughout this article and include stuff from toward the end of the film. If you didn't catch the movie yet, you won't be spoiled on the major plot points, but you may learn more than you want to. Take this as a warning!
Star Wars: The Rise of Skywalker hit theaters this weekend, wrapping up Rey's – formerly of no family name – story and telling us what happened to the rest of the team of Resistance compatriots. Without getting too spoilery here on those details, at the end of the movie, those who have made it safely from Palpatine's clutches return to hugs and the general wrapping up of the trilogy. This includes a medal for Chewie. It also includes one scene featuring Lando Calrission that totally seems to be setting up for a spinoff.
The scene in question is actually a quick one between Lando Calrission and Jannah, a new character introduced earlier in the movie who has a special bond with Finn, given they were both Stormtroopers early in life. Prior to its theatrical opening, we had known both that Billy Dee Williams would be back for this final movie and that Naomie Ackie would be a new character in the movie. (Thanks trailers!) But we hadn't known much about how they would fit into the story.
So, what happens and how could this tie-in to a potential spinoff?
What We Know About The Rise Of Skywalker's New Character Jannah
Early on, Jannah reveals to Finn that she was taken from her parents from a young age and turned into a stormtrooper. When she meets Finn and members of the Resistance, she has defected after refusing to kill civilians for the First Order.
We know about her background thanks to a conversation between Jannah and Finn in which she admits she'd been taken as a kid. However, Lando doesn't have this information. So, when she meets Lando Calrission at the end of the movie, he talks a little about his background before asking Jannah where she hails from. The thing is, she doesn't really know the answer. She seems a little bummed about not knowing, but Lando isn't deterred, telling Jannah 'Let's find out.'
Some have already speculated that even including this scene means there is some inherent connection between Lando Calrission and Jannah. Some have even theorized this could mean Lando and Jannah are somehow related or that she could even be his daughter who was taken at a young age. Given Star Wars is often on-the-nose, it's entirely possible one of these angles could be the route the franchise goes, but I'd like to see how it plays out regardless.
How The Lando And Jannah Moment Sets Up For A Rise Of Skywalker Spinoff
It's not like Lando and Jannah have a ton of moments together in this movie. In fact, Lando was off trying to attract civilians to the Resistance, while Jannah worked with Finn to help the Resistance physically take down Palpatine's fleet. So, this origins exchange seems like the prime opportunity for Disney to be winking at a possible spinoff for the movie, one involving the new character and an original character in Lando.
Given as recently as a few days ago Star Wars head honcho Kathleen Kennedy was stating bluntly that the creative team "need[s] time" to "find out what these [next] stories might be," another big screen venture happening soon may not be about Lando or Jannah. This is particularly true given Rian Johnson is also supposedly working on another offshoot movie or trilogy of films, although rumors have been rampant about that as well.
In fact, Rian Johnson even came out recently to address all the rumors about what he's up to related to Star Wars, noting nothing is official until "it's up on StarWars.com." (Although I think it is worth pointing out StarWars.com has a headline reading: Rian Johnson, Writer-Director of Star Wars: The Last Jedi, To create All-New Star Wars Trilogy. So…)
While this Lando and Jannah conversation in the new film could simply be idle conversation meant to sort of point fans to where the characters could go now they've saved the day, this also seems very primed for a spinoff. If not a big screen spinoff, perhaps one of the Disney+ variety?
What We Know About Upcoming Star Wars Projects On Disney+
We already know Disney+ is moving forward with a variety of Star Wars spinoffs. This includes an Obi-Wan series, a Rogue One spinoff and much, much more. We also heard from The Mandalorian's Jon Favreau that the future of Star Wars could cross over between Disney+ and theatrical releases, making this talk of a potential Star Wars: The Rise of Skywalker spinoff very interesting and very timely.
Related: Everything New Coming To Disney's Streaming Service Disney+
Throwing Lando and Jannah into the mix could be an interesting pairing of old and new, although I'd assume nothing might even be discussed until the franchise sees how people respond to the new character – not to mention the return of Lando!
Personally, I liked Jannah. I liked that Finn had someone new to relate to in the movie, although this meant Rose Tico was sidelined somewhat. I also wish Naomi Ackie's character and Keri Russell's Zorii had even more to do in this final story in the Skywalker saga, not to mention Babu Frik, who was possibly the standout new character in the film. All in all, while I wanted to see more from them, some of the newbies certainly could present opportunities for more stories in the universe to be fleshed out, should Lucasfilm and Disney have ideas.
From what Kathleen Kennedy previously said and was previously noted in this story, it looks like the studio will be taking its time with its next theatrical venture, particularly given some of the backlash to the recent movies, not to mention Solo: A Star Wars Story going on to underperform at the box office after dealing with director drama and reshoots. Oh and that's right, the Game of Thrones team recently quit a potential trilogy as well.
Still, the various Disney+ ventures are a go moving forward, and Star Wars: The Rise of Skywalker clearly leaves the door (or doors) open for possible spinoff adventures in the universe as the Skywalker story wraps. Just don't ask John Boyega if he's interested in seeing more from Finn on the streaming service.
Which leads me to ask: What did you think of Jannah? Did you like her well enough to hear more of her story? Would you like her to somehow team up with Lando to determine her own origins, like Rey did in Star Wars: The Rise of Skywalker?
This poll is no longer available.
Your Daily Blend of Entertainment News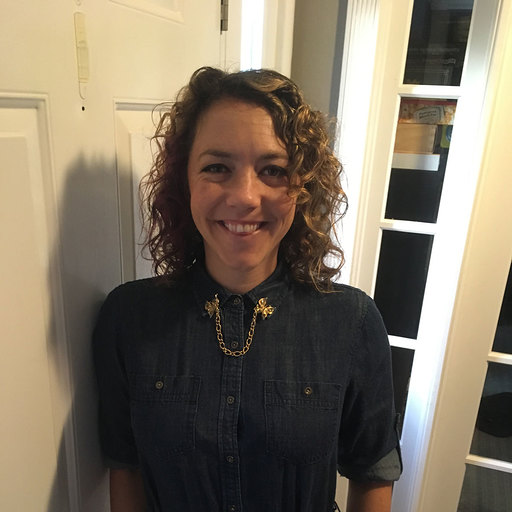 Reality TV fan with a pinch of Disney fairy dust thrown in. Theme park junkie. If you've created a rom-com I've probably watched it.