How Disney+'s Cassian Andor TV Series Will Reportedly Show The Star Wars Character's Backstory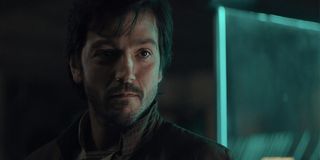 The world of Star Wars continues to expand over on Disney+. With The Mandalorian wrapping up its first season, and the solo Obi-Wan Kenobi project set to start filming in the summer, Disney+'s Cassian Andor TV show is up next. Though very little has been known about the Rogue One: A Star Wars Story spinoff so far, the series will reportedly go deep into the Star Wars character's backstory
First introduced in Star Wars' prequel movie Rogue One, Diego Luna's Cassian Andor was revealed to be a Rebel agent. Despite knowing that Cassian has been in the fight against the Galactic Empire since his childhood days, Rogue One missed out on the opportunity to expand on his origin story.
The untitled solo series will allegedly rectify the situation, exploring more of his past through detailed flashbacks that touch upon why he decided to join the fight against the Empire. According to DiscussingFilm, the Cassian Andor series is reportedly looking to cast actors in the roles of 9-year-old and 13-year-old Cassian.
It also seems that Disney is also looking to cast a 9-year-old girl to play Cassian's sister, though it's not clear how old she is in relation to him. It's possible she didn't appear in Rogue One because she died young, which could explain why Cassian decided to fight. In Rogue One, he did say that he "lost everything" and then "decided to do something about it," but tying that to the sister is pure speculation on my part.
Conversely, Cassian's sister might still be alive and the DIsney+ series could explain that she and Cassian became estranged. Anything's possible, really, and the series has a lot of room to explore Cassian's past without disputing anything that happened in Rogue One. The series might also work in other Star Wars characters and familiar faces who could appear in the series.
Speaking of familiar faces and voices, Alan Tudyk will reprise his role as the lovable K-2SO, who almost had a different fate in Rogue One. Knowing that the Cassian Andor series will explore the character's past might lead to a scene explaining how K-2SO and Cassian met.
While the solo Cassian Andor project was one of the first Star Wars Disney+ series to be announced last year, it's been all quiet on that front ever since. That's about to change, however. The series is reportedly set to begin filming in Europe in June 2020, followed by the Obi-Wan Kenobi series in July. The latter is set to bring back Ewan McGregor as the titular character, but wouldn't it be cool if he showed up in the Andor show first?
Stay tuned to CinemaBlend for more on the Disney+ series as it breaks. In the meantime, you can watch Baby Yoda, who was compared to Leonardo DiCaprio, on Season 1 of The Mandalorian. For more on everything Disney+ has to offer, be sure to check out our complete guide to find out what new TV shows and movies are available on the streaming service.
Your Daily Blend of Entertainment News
Thank you for signing up to CinemaBlend. You will receive a verification email shortly.
There was a problem. Please refresh the page and try again.