Star Wars: The Rise Of Skywalker Ending - What Happens, And What It All Means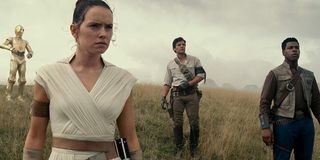 CinemaBlend participates in affiliate programs with various companies. We may earn a commission when you click on or make purchases via links.
Warning: all of the spoilers for Star Wars: The Rise of Skywalker are about to come into play. If you're not looking to get spoiled, jump to hyperspace, and get on out of here.
It's all led to this. After years of theorizing, speculating, and just plain guessing, Star Wars: The Rise of Skywalker has drawn the curtain on a nine episode saga that started with Anakin (Hayden Christiansen) and finished with Rey (Daisy Ridley). As such, it's now time to take a breath and go over exactly what just happened in the finale of Star Wars' Skywalker Saga; and it's a lot to take in.
That's no exaggeration either, as some really big revelations are included, and some fates are finally cemented throughout director J.J. Abrams' trilogy capping epic. Which means that if you haven't seen the film yet, and you're testing the waters to see how far you can swim before hitting Spoiler Bay, consider this your final warning.
If you want to know what happens, or if you're trying to piece together what Star Wars: The Rise of Skywalker has just revealed, this is definitely the place to be. So let's venture into the darkest corners of the ending, and start with that bombshell of a revelation involving Rey:
Rey Is Emperor Palpatine's Granddaughter
Remember when Kylo Ren (Adam Driver) said that Rey's parents were nobodies that sold her for drinking money in Star Wars: The Last Jedi? Turns out that was a half-truth, as her folks "chose" to be nobodies, and sold her off for her own protection. Why? Because Rey is the granddaughter of Emperor Sheev Palpatine (Ian McDiarmid.)
As it turns out, grandpa wanted to see his granddaughter follow into the family business as a Sith, and he's been alive since Return of the Jedi, pulling the strings of The First Order with Supreme Leader Snoke (and by extension Kylo Ren). But, thanks to Rey's parents ditching her on Jakku, she couldn't be found by Palpatine for years.
A family reunion in Star Wars: The Rise of Skywalker sees Rey almost succumb to Grandpappy Palpatine's scheme to have her strike him down, allowing his soul and the souls of all the Sith to pass into her. Thankfully, though, a now heroic Kylo Ren arrives at the most crucial moment, and assists his would-be partner in resisting... right before he's tossed into a pit.
Much like how Palpatine is connected with all of the Sith, Rey has a secret weapon up her sleeve, which is a powerful connection with all of the Jedi. Channeling the spirit of everyone from Obi-Wan Kenobi, to Mace Windu, to Yoda, she fights off her grandfather's Force Lighting with Luke & Leia's lightsabers, blasting him away before dying.
Reylo Finally Becomes A Thing
As if fighting the Knights of Ren and turning to the Light Side of the Force after a talk with his father's ghost wasn't enough of a redemption, Kylo Ren, or should we say Ben Solo, ultimately redeems himself by saving Rey. As she lays lifeless following her confrontation with Palpatine, he uses a trick she taught him when healing the mortal wounds she inflicted on him earlier in the film.
Giving Rey the last bit of the lifeforce left inside of him, Ben sees her awaken, and true to her promise, she takes his hand as he's now become a force for good. The two kiss, and for a brief moment we see them happy as the Reylo couple the fans wanted, but Daisy Ridley didn't.
But then Ben dies in Rey's arms, laying down on the cold floor that was once the ultimate battleground for balance in The Force, and disappears into thin air to become one with the universe. Just at that moment, the body of General Leia Organa (Carrie Fisher) disappears into the ether as well, leaving no living Skywalkers or Solos left to carry on the name. Their family lineage is, at this moment, no more. At least seemingly...
The Massive Space Battle At The End Of The Rise Of Skywalker
A huge assault is launched on Exogol, the dark and icy planet that Emperor Palpatine has called home for some time. With his fleet ready to execute "The Final Order," our friends in The Resistance, Poe Dameron (Oscar Isaac) and Finn (John Boyega), are ready to bring the fight to the bad guys for the last time.
This leads to a gigantic space battle with the remaining Resistance forces flying in to take on The Final Order's fleet of Star Destroyers, each of which is armed with a Death Star-level of their own. Stretched thin by the time the engagement even begins, Poe and Finn start to lose faith in their mission to sabotage the fleet's flagship, commanded by Allegiant General Pryde (Richard E. Grant.)
Out of nowhere, hope arrives at the last moment as General Lando Calrissian (Billy Dee Williams) arrives with a massive fleet of allies for The Resistance. All crafts engage the mass of Star Destroyers, targeting their planet killer canons as a structural weakness.
As Finn finally manages to take out a crucial navigational signal from Allegiant General Pryde's Star Destroyer, the fleet's job is made a lot easier, and The Final Order is defeated. The Resistance wins the ultimate battle as Emperor Palpatine is vanquished, and the Star Wars saga is brought to a rousing conclusion.
Saying Goodbye To New Friends And Old
We say goodbye to friends new and old in the final scenes of Star Wars: The Rise of Skywalker. Chewbacca (Joonas Suotamo) finally gets a medal awarded to him (the one he didn't get at the end of Star Wars: A New Hope), as Han's medal is given to him by Maz Kanata (Lupita Nyong'o) after Leia dies. Meanwhile, Poe and his old flame Zorri Bliss (Keri Russell) nod to each other from across the tarmac, hinting at the potential of this on again/off again couple to be very much on again. Even Lando gets an interesting send-off, seemingly set to jet off with Jannah (Naomi Ackie) and help her find where she came from before being kidnapped by The First Order.
As we say so long to the folks that made the Star Wars saga as interesting as it was rewarding, there's one final thread that needs to be closed out. With the Skywalker and Solo families now both deceased, just how does Star Wars: The Rise of Skywalker live up to its title? Well, that's something that comes as the biggest surprise of them all.
The True Rise Of Skywalker
The story of Star Wars: The Rise of Skywalker ends where the saga of the titular family began: on the desert planet of Tatooine. Rey visits Luke's former home at the Lars family homestead, and after touring its ruins, she buries both his and Leia's lightsabers into the ground.
With an almost supernatural force drawing that parcel into the depths of the planet, Rey sparks her own lightsaber, which she has seemingly constructed and is outfitted with a yellow blade. This is one of two actions that she engages in, acknowledging her own path in the galaxy.
An old lady stumbles upon her, and says that not many people have been around those parts in years. She asks Rey who she is, and the last Jedi starts to answer with her newly adopted name. Rather than keep the family name of Palpatine, after seeing Luke and Leia's Force ghosts smiling at her, Rey changes her name to "Rey Skywalker." Cue the theme music, and dissolve to credits, as the Skywalkers rise again in another new hope.
Star Wars: The Rise of Skywalker Is in theaters now, ready for the world to accept its franchise-closing finale. And if you want to take a look at how this film fits into the wider contest of the Skywalker Saga, you'll be able to watch most of the films that came before it on Disney+! Should you not be a subscriber at this moment in time, you should check out the platform through this 7-day free trial, just in time for the holidays.
Your Daily Blend of Entertainment News
Senior Movies Contributor
CinemaBlend's James Bond (expert). Also versed in Large Scale Aggressors, time travel, and Guillermo del Toro. He fights for The User.