J.J. Abrams Responds To Star Wars: Rise Of Skywalker Criticism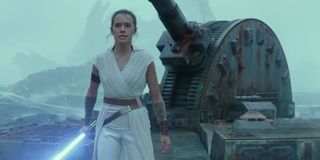 Every artist knows that when they put something out into the world, it's going to be critiqued. Some handle those critiques better than others. And given the high level of scrutiny that J.J. Abrams has faced for his two Star Wars films -- especially its epic conclusion, The Rise of Skywalker -- you could argue that he probably responds to criticism better than just about anyone else in Hollywood.
After a screening of Star Wars: The Rise of Skywalker, J.J. Abrams talked to Vanity Fair about the pressure that comes from making movies for a dedicated fanbase. He was asked what he would say to fans who are disappointed with the film, and whether or not he thinks there's something wrong with the fandom; he had this to say:
It was wise for the Star Wars: The Rise of Skywalker creative team to anticipate a mixed response. Film critics have cumulatively given the ninth episode of the Skywalker saga the franchise's worst reviews ever. Fans seem to be a bit more forgiving, if Rotten Tomatoes' Audience Score can be believed. But there is already plenty of discourse about the narrative decisions, and whether or not they amounted to a satisfying conclusion to one of the most beloved film series of all time.
Fans have had strong reactions to everything from Kylo Ren's fate to Rose Tico's limited screentime. And it's likely that the debate will rage on about The Rise of Skywalker's merits, as well as the rest of the trilogy's, for years to come. While J.J. Abrams' response to backlash is, as per usual, very gracious, it's likely he'll bow out of future conversations. The director has all but confirmed he won't play a role in any future Star Wars films.
Your Daily Blend of Entertainment News
Your Daily Blend of Entertainment News
Thank you for signing up to CinemaBlend. You will receive a verification email shortly.
There was a problem. Please refresh the page and try again.