After The Rise Of Skywalker, It Sounds Like J.J. Abrams Is Really Done With Star Wars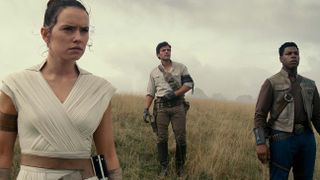 When J.J. Abrams came on board to helm Star Wars: The Force Awakens, he knew he had some monumentally huge shoes to fill. Now, seven years after signing on as director, it's impossible to deny that he has played a pivotal role in bringing the franchise's 21st century trilogy to fruition. And now that he's helped close out the era with Star Wars: The Rise of Skywalker, the director is definitely ready to move on.
In a red carpet interview at the Rise of Skywalker premiere, J.J. Abrams admitted that the moment was bittersweet:
J.J. Abrams further addressed his future with the franchise, pretending to hesitate for a moment before making it clear that he is done. When asked how he can be so sure, the director had an irrefutable response:
It probably shouldn't be a surprise that J.J. Abrams is wrapping up his tenure with Star Wars -- after all, he initially was not even supposed to direct The Rise of Skywalker. Fans will likely have mixed feelings about his decision, though, since he represents a lot of what we loved and hated about the new trilogy. When The Force Awakens first hit theaters in 2015, reviews were mostly positive, but some complained that it was too similar to A New Hope. Fans seemed to view it more favorably in hindsight, though, after Rian Johnson's The Last Jedi hit theaters and started a social media storm with its controversial narrative choices.
When J.J. Abrams came on board to direct The Rise of Skywalker, some perceived it as an attempt to bring in a stabilizing force to course correct the final installment. (The director has denied that he was trying to 'fix' the franchise.) The response is mixed as to whether or not The Rise of Skywalker met the incredible expectations set for it. While the film is currently the worst reviewed of franchise, the audience response seems to be a bit more positive. And it's on track to be yet another hit at the box office, having pulled in $40 million domestically on opening night.
In the past several weeks, J.J. Abrams has spoken multiple times to the ups and downs he's experienced during his Star Wars run. When it comes to facing fan backlash, he's been enormously gracious. He's also been patient when addressing not only his own opinions, but also the unrelenting controversy surrounding The Last Jedi. But it's easy to see why he's ready to leave the galaxy far, far away behind him.
Your Daily Blend of Entertainment News
Thank you for signing up to CinemaBlend. You will receive a verification email shortly.
There was a problem. Please refresh the page and try again.