Sorry, Christian Bale, One Dark Knight Star Says Michael Keaton Was 'By Far' The Best Batman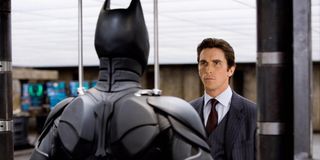 Most Batman fans probably have a favorite iteration of Bruce Wayne. And between comics, TV shows, and multiple movie franchises, there are plenty to choose from. You might expect someone who appeared alongside a specific Batman would have some allegiance to that one. But one The Dark Knight star recently revealed that he believes Michael Keaton, not Christian Bale, was actually the best Batman.
When TooFab approached Eric Roberts recently, they asked him who his favorite Batman of all time is. And his answer was surprising:
He maintained this position, even after he was reminded that he was actually, you know, in a movie with a different Batman. His wife, Eliza Roberts, offered a quick apology to his one-time co-star, saying "Sorry, Christian!" Eric Roberts co-starred as mobster Sal Maroni in the second film in Christopher Nolan's insanely successful Dark Knight trilogy. In all three films, Bruce Wayne was played by Christian Bale.
Eric Roberts' conversation with TooFab was pretty short, so it's hard to tell whether or not he was implying that he didn't find Christian Bale's performance believable. And to be fair, Michael Keaton isn't a bad choice. He brought a dignity and gravitas to his performances in Batman and Batman Returns, both blockbuster successes in their own right. And Eric Roberts isn't the only person who would rank Michael Keaton at the top of the Bat Pack. For many, the actor's performance remains the gold standard -- and he's definitely earned points for sticking to his guns and stepping away from the franchise when it went in a direction he didn't agree with.
The Dark Knight trilogy can easily be credited with reigniting interest in Batman in the mid-2000s. But there's an ongoing debate as to whether he has truly been the best live action Batman. Some point to Christian Bale's nuanced portrayal and argue that he was superior. But despite backlash to the DCEU's most recent Batman-focused films, other fans will staunchly argue that Ben Affleck's portrayal was truer to the character's comic book origins. So, while it may initially seem surprising that Eric Roberts wouldn't pick his own Batman co-star, it makes more sense when you remember that a lot of other fans wouldn't, either. And, hey, least he didn't chose George Clooney.
In the pantheon of Batmans, there's been a big discrepancy between the greats and the not-so-greats. Some actors look the part, but don't quite capture the essence of the Caped Crusader. And the iconic nature of the character means that any new actor that dons the cape and cowl has some enormous shoes to fill.
Your Daily Blend of Entertainment News
Your Daily Blend of Entertainment News
Thank you for signing up to CinemaBlend. You will receive a verification email shortly.
There was a problem. Please refresh the page and try again.