Ben Affleck Vs. Christian Bale: Who Was The Better Batman Actor?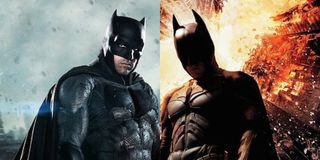 (Image credit: Warner Bros. / Warner Bros.)
In 2021, Robert Pattinson will join a long line of actors to bring one of DC comics' greatest heroes, Batman, to life in director Matt Reeves' reboot. Yet, the Dark Knight's big screen reputation in the past two decades will remain defined by two of the best people to don the cape and cowl (depending on who you talk to): Ben Affleck and Christian Bale.
As the DCEU's Caped Crusader, Ben Affleck represented a drastically different, but intriguing, interpretation of Bruce Wayne's alter ego from Christian Bale's portrayal in Christopher Nolan's Dark Knight trilogy, which marked a colossal revival of Batman popularity, even beyond cinema. Yet, like any big screen counterpart of an iconic character, the onscreen presence of both actors were not without and their pros and cons.
Between Christian Bale's gritty, grounded justice seeker and Ben Affleck's aging, morally ambiguous, burdened warrior, who represented Gotham City's nocturnal guardian better? Let us pit these comic book movie titans against one another in the ring, challenge them one category at a time, and see who prevails as the ultimate cinematic Batman not named Michael Keaton.
Combat Skills
Batman may not have the advantage of impenetrable skin and heat vision, but thanks to Bruce Wayne's years of martial arts training, there are few fights he can lose. This is evident in the fighting styles of both Christian Bale and Ben Affleck's iterations of the character, but their methods clearly contrast each other dramatically.
In Batman Begins, while training with the League of Shadows, Christian Bale's Bruce Wayne endures painful resistance tests and perfects his sword-wielding skills that, combined with his Batsuit's realistic weight, results in a predominance of blocking, punching, and reliance on henchmen's conveniently slow reaction time. We never get to see Ben Affleck undergo training in Batman v Superman: Dawn of Justice, but can confidently infer from how he leaves Lex Luthor's goons as good as potato sacks in that warehouse sequence that the DCEU's Ra's Al Ghul must like to fight dirty.
One of Batman's defining characteristics is his intimidating fighting skills. Therefore, the round should go to the most intimidating fighter and I can't see Christian Bale's blocking doing much for him against Ben Affleck's relentlessly brutal attacks. Point goes to Batfleck.
Detective Skills
Batman is the world's greatest detective, but you would not know that from just watching his movies. The screen adaptation that comes the closest to matching Bruce Wayne's skills of deduction in the comics, I would say, is Kevin Conroy's voice performance in Batman: The Animated Series. As for live action iterations, not even Ben Affleck nor Christian Bale reach their full mystery-solving potential.
We don't see Christian Bale doing much investigating in either Batman Begins or The Dark Knight Rises, but The Dark Knight, being the most grounded crime thriller Christopher Nolan's trilogy, does see him collecting clues regarding Gotham's mob activity. I suppose I could count Ben Affleck uncovering video files of the known metahumans in Batman v Superman as detective work, despite being one of that film's more ludicrous scenes.
At least when Christian Bale is playing detective, it makes sense. While we could have seen more of that characteristic in his Batman portrayal, he takes the round from Batfleck.
Gadgets
Ben Affleck's Bruce Wayne had no qualms admitting wealth as his superpower in 2017's Justice League movie, explaining his grand arsenal of crime fighting accessories. Between him and Christian Bale, which Batman got more bang for their buck.
Neither of their Batmobiles appear particularly "batty" in design, but I think I would side with Christian Bale's Tumbler over the confusing design of Ben Affleck's vehicle for practicality and seating two people, but at least Batfleck's Batwing looks more like a bat then Bale's "The Bat." I can also see Affleck's Batarang doing heavier damage and think that Bale could have benefitted from that armored suit from Batman v Superman in many situations.
To be fair, Christian Bale's tech-focused approach to becoming Batman was clear and I could give him the round right now over the sacrilegious machine guns in Ben Affleck's Batmobile. However, it was Batfleck who thought to install a voice concealer in his suit, which could have saved Bale from a lot of embarrassment with that gravelly growl. Sorry, Bale, but Batfleck takes this one too.
Overall Demeanor
Batman gets the name the Dark Knight, not just because of his symbolic aesthetic, but from crime fighting methods that often put him in the hot seat, and, despite jumping through hoops to hide it, Bruce Wayne has the social skills of an icebox. With that in mind, would you be more thankful to be saved by Ben Affleck, but would rather grab a beer with Christian Bale? Vice versa?
Bruce Wayne quells suspicions of his other vigilante identity by keeping up his fabricated reputation as a debaucherous, yet charitable, billionaire playboy. Both Batman actors in question pull it off with flying colors in their respective films, especially Ben Affleck who even sparks a genuine flirtation with Wonder Woman (Gal Gadot) at one point.
The heroes' philosophies while in costume differ dramatically, however, Christian Bale adopted a far healthier and more admirable approach to crime fighting by channeling his vengeful anger into the non-lethal punishment of his enemies. Meanwhile, Ben Affleck's Batman is a grumpy, old man, consumed by cynicism and his inner hubris, which convinces him to start a war against a man who can freaking fly.
I think it might be best to judge this round by the person who possesses more emotional security, and I think Christian Bale's decidedly calmer disposition has a leg over Ben Affleck's inconsistent flips in morale throughout the DCEU films. In retrospect, you could argue that the overall demeanor of either of these portrayals is accurate to Batman's true nature. On that note...
Comic Book Accuracy
You could be the crown jewel of superhero movies with expertly constructed action sequences or the most beautiful superhero costume ever designed, but, as both the Dark Knight trilogy and the DCEU have demonstrated, ignore just one traditional detail from the source material and you must prepare to catch hell from the fanboys. In that spirit, was it Christian Bale's gritty realism or Ben Affleck's gloomy fantasy that did justice to Bill Finger and Bob Kane's DC Comics creation better?
I admire Christopher Nolan's approach to put Christian Bale's Batman into a more realistic setting. It especially works in The Dark Knight as a deeply meditative and tragic morality tale, which also incorporates a perfrect representation of the dichotomy between Batman and his arch enemy, the Joker (Heath Ledger).
However, it is impossible to ignore that Ben Affleck's bulky, imposing frame is a mirror image of the comic book panels, particularly Frank Miller's depiction of Batman in the 1986 classic The Dark Knight Returns. Batfleck easily surpasses Christian Bale in size, achieving a representation of the character that pays a more accurate tribute to the comics in the visual sense.
However, Christian Bale's iteration is also far more faithful to the no-killing rule, established early on in Batman Begins when Bruce Wayne renounces his League of Shadows membership by refusing to be "an executioner," while Ben Affleck's Batman breaks that rule an infamous number of times in Batman v Superman. Admittedly, though, Batman should, at least, seem lethal to help with the intimidation factor and, between the two, Bale is clearly the least threatening.
Christopher Nolan's obvious lack of comic book knowledge worked for his movies and made Christian Bale the star of clever, grounded crime thrillers that happen to have a dude dressed as a bat as the protagonist. However, that is not what this round is asking for and self-proclaimed comic book supernerd Zack Snyder nailed transferring the signature tone of Gotham City from the pages onto celluloid. Despite losing points for body count, Ben Affleck wins!
Who Is The Better Batman?
For devastating combat skills, an impressively advanced arsenal of crimefighting tools, and representing the physically imposing and psychologically threatening tone of the character more accurately to the source material, I'm ruling Ben Affleck to be the better Batman. He may have stepped down from the role for future superhero films after starring in three DCEU entries, including his brief appearance in Suicide Squad, but his contribution to the Caped Crusader's onscreen legacy will be long remembered as an interpretation that die hard comic book fans could be (mostly) proud of it.
Academy Award-winning actor Christian Bale takes an upsetting defeat, despite an honorable effort from his beloved portrayal in Christopher Nolan's cinematic darlings from Batman Begins to The Dark Knight Rises. By comparison, Bale can claim that his portrayal depicts Batman as the better detective and as a, decidedly, more mentally balanced human. However, that freaking voice!
Of course, the important thing to remember is that these guys are not the only actors to don the cape and cowl and whether you root for Ben Affleck, Christian Bale, or even George Clooney, no Batman is the same and, therefore, any one of them can be the best in someone's eyes. However, based on the criteria of my choosing, until Robert Pattinson emerges as the new Dark Knight, I will proudly proclaim, long live Batfleck!
This poll is no longer available.
Your Daily Blend of Entertainment News
Jason has been writing since he was able to pick up a washable marker, with which he wrote his debut illustrated children's story, later transitioning to a short-lived comic book series and (very) amateur filmmaking before finally settling on pursuing a career in writing about movies in lieu of making them. Look for his name in just about any article related to Batman.
Your Daily Blend of Entertainment News
Thank you for signing up to CinemaBlend. You will receive a verification email shortly.
There was a problem. Please refresh the page and try again.