David Ayer Shut Down Suicide Squad Hater With Praise For James Gunn's 'Reinvention'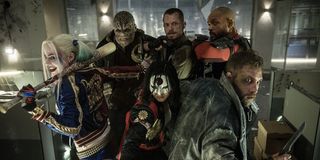 For many fans, David Ayer's Suicide Squad didn't quite live up to expectations. And they haven't exactly been quiet about that on social media. The director has defended himself in the past -- and now he's defending his successor, James Gunn, and his "reinvention" (not sequel) of the franchise.
On December 23, David Ayer responded to fans on Twitter who were complaining about his adaptation of the famous DC Comics series. When one fan expressed gratitude that the director wasn't involved with the upcoming sequel, David Ayer fired back. He wrote:
James Gunn responded to the tweet with several prayer hands emojis -- making it clear that he's happy to have his predecessor's support. This isn't the first time that David Ayer has praised James Gunn, either. In September 2019, he responded to another fan on Twitter, expressing his excitement that the Guardians of the Galaxy director would be at the helm for The Suicide Squad.
David Ayer's enthusiasm feels very genuine -- and it's also very gracious, given the backlash he received for his own adaptation. When Suicide Squad was released in 2016, fans were quite critical of David Ayer's directorial choices. Back in September 2019, he responded to a film critic's harsh tweet about Suicide Squad, calling it "mean-spirited" and saying it wasn't fair to the cast and crew that worked hard to make the film. Then, in a follow up tweet, the director admitted that the final cut of Suicide Squad wasn't in line with his original vision. In other words, he's not entirely happy with the movie, either.
Despite the backlash he's faced, David Ayer insists he doesn't regret making Suicide Squad, and that the film wasn't without its merits. Looking toward the future, he seems content to throw his support behind James Gunn's efforts. The Suicide Squad director recently revealed that he's spoken to David Ayer about the film while it's in production.
James Gunn has also hinted that his not-a-sequel follow-up will be different from the 2016 adaptation. Earlier this year, he shared his (massive) cast list on his own Twitter account, and there were some new faces, as well as a few notable absences. And he's spoken openly about how much fun he's had writing and filming The Suicide Squad, which bodes well for fans looking for a change in tone from David Ayer's film.
Though it looks like it will be a while before we see any actual footage from The Suicide Squad, it seems like the movie is in decidedly good hands. We'll see exactly how James Gunn has reinvented the cadre of supervillains when it hits theaters on August 6, 2021.
Your Daily Blend of Entertainment News
Your Daily Blend of Entertainment News
Thank you for signing up to CinemaBlend. You will receive a verification email shortly.
There was a problem. Please refresh the page and try again.