F--k Yeah: Adam Sandler's Uncut Gems Has More F-Bombs Than Almost Any Other Movie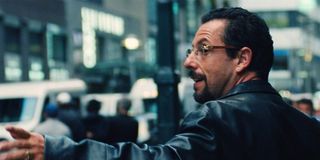 Uncut Gems may be an unconventional film for Adam Sandler, but it's proven that it has plenty of reasons to draw moviegoers in. From unexpected celebrity cameos (The Weeknd! Kevin Garnett?!) to overwhelming critical success and impressive holiday box office numbers, it's become one of A24's most successful films of all time. Now, it has one more unique charm to entice fans: It officially has one of the highest F-bomb counts in movie history.
Entertainment Weekly first reported that the Safdie Brothers' crime thriller ranked seventh in terms of the number of times the word is spoken on screen. Since then, Wikipedia has been updated again, and Uncut Gems is listed as the fourth biggest F-bomb user in cinematic history. The grand total of, um, Fs given in the film is 500 -- or, on average, 3.7 F-bombs per minute.
Wikipedia's list has some ground rules -- it has to be an English language film with at least 150 spoken uses of the word (and its many derivatives), and it can't be a pornographic film. Given those criteria, the only movies that currently beat Uncut Gems on the F-bomb front are Swearnet: The Movie, Fuck (a documentary about the word itself), and Martin Scorsese's The Wolf of Wall Street. Other movies that Uncut Gems is currently out F-ing include Summer of Sam, Nil by Mouth, Casino, Straight Outta Compton, Alpha Dog, and End of Watch.
If it isn't clear by now, Uncut Gems is not really a family movie. In addition to its excessive profanity, there's some disturbing violence, as could be expected for a movie about a gambling addict who pawns Kevin Garnett's championship ring. But despite more than earning its R-rating, the movie has proven to be a bona fide box office powerhouse.
Since it hit theaters on December 13, 2019, Uncut Gems has set given A24 its best per-screen average in history. And if the holiday box office numbers hold, it could wind up usurping Hereditary to become the indie studio's highest-grossing film ever. That's a feat in and of itself, but especially impressive when you take into account the fact that audiences seem to like the film less than the critics that have hyped it.
That gap could have something to do with the fact that Uncut Gems isn't your typical feel-good holiday flick -- it's basically the cinematic equivalent of an adrenaline-fueled anxiety attack. It's also possible that fans went into it expecting typical Adam Sandler fare, when it's a huge departure for the actor (in the best way possible). While a lack of word of mouth buzz may hurt Uncut Gems' long-term success, it can't take away its current accomplishments for A24, or take away from what the film has already given to F-word aficionados.
Your Daily Blend of Entertainment News