Jason Blum's Blunt Email To Scott Derrickson After His Shocking Doctor Strange Exit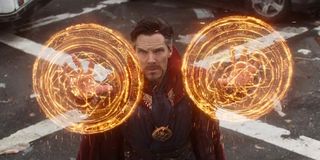 Last night, it was announced that Scott Derrickson, director of the first Doctor Strange movie, will not reprise his helming duties on the sequel, Doctor Strange in the Multiverse of Madness, after all. Derrickson confirmed the news shortly thereafter, and now he's shared an email he received from Blumhouse Productions founder Jason Blum reacting to the creative shakeup.
I mean, what else is there to say? Those three words summarize Jason Blum's feelings perfectly, and there will undoubtedly many other people who also said "Oh my god" upon hearing that Scott Derrickson had exited Doctor Strange in the Multiverse of Madness. Derrickson didn't share on Twitter how he responded to Blum, if at all, but considering that the two have previously collaborated together on movies like Sinister and Deliver Us from Evil, one can safely assume that Blum is in Derrickson's corner.
Although Scott Derrickson had talked about having a plans for a Doctor Strange sequel even before Stephen Strange's MCU origin story came out, it wasn't until December 2018 that he was reported to have signed onto the sequel. Then at San Diego Comic-Con the next year, Derrickson talked about how the reason he returned for Doctor Strange in the Multiverse of Madness (which will also include Scarlet Witch) is because he was given assurances it wouldn't be "just another sequel," and that he'd get into the "gothic" and "horrific" elements from the original Doctor Strange comics.
However, in the half year since then, evidently Scott Derrickson and Marvel Studios did not see eye to eye on how Doctor Strange in the Multiverse of Madness should be handled, as the filmmaker's exit was attributed to "creative differences." However, Derrickson hasn't cut all ties with the sequel, as he'll remain an executive producer.
It remains to be seen if we'll ever learn specific details regarding why Scott Derrickson vacated the director's chair on Doctor Strange in the Multiverse of Madness. However, there are two things worth noting. The first is that while Derrickson indicated that while the sequel would delve into the horror genre, Marvel Studios president Kevin Feige recently said that wouldn't be the case, though it would still have "scary elements." So perhaps Derrickson didn't agree with the overall tonal direction for The Multiverse of Madness.
The second thing is that last month, Scott Derrickson tweeted out how studio release dates are "the enemy of art." Given that Marvel rarely pushes back the release of its movies, it's possible that Derrickson felt there just wasn't enough time to have Doctor Strange in the Multiverse of Madness ready in time for the beginning of summer 2021, so Marvel decided it'd be better to have someone else helm the project who can meet that timetable.
Regardless, while Marvel is now looking for a new director to replace Scott Derrickson on Doctor Strange in the Multiverse of Madness, this isn't expected to either delay the May start of principal photography or push its release date back. As for Scott Derrickson, he's still primed to direct a film adaptation of the Stephen King novella The Breathing Method, which is being done over at Blumhouse, so he and Jason Blum will have plenty of contact with one another.
Doctor Strange in the Multiverse of Madness is still scheduled to come out on May 7, 2021, so keep checking back with CinemaBlend for more updates on its development, including who's hired to replaced Scott Derrickson. You can learn what other Marvel movies are coming out in Phase 4 with our handy guide.
Connoisseur of Marvel, DC, Star Wars, John Wick, MonsterVerse and Doctor Who lore. He's aware he looks like Harry Potter and Clark Kent.
Your Daily Blend of Entertainment News
Thank you for signing up to CinemaBlend. You will receive a verification email shortly.
There was a problem. Please refresh the page and try again.