Just Mercy: How Historically Accurate Was The Movie Starring Michael B. Jordan?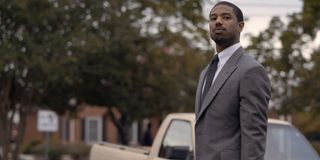 Following a limited release in late December, Just Mercy came to theaters nationwide last week, and it proved to be a modest critical and commercial success. The real-story drama secured strong reviews and it also earned a rare A-plus CinemaScore, proving that the emotionally-stirring new movie has made an impact. But just how accurate is Just Mercy, starring Michael B. Jordan, Jamie Foxx, and Brie Larson, to Bryan Stevenson's true story?
Adapted from Bryan Stevenson's memoir of the same name, Just Mercy details the MacArthur grant-winning lawyer's early years of fighting for the life and rights of inmates on Death Row in Georgia. The resulting film is a compelling, investing story, but how closely does it follow Stevenson's life story and his career dedicated to helping others? Based on what we know about this man and his legal cases, let's explore Just Mercy's accuracies. Naturally, since we will be discussing the true story behind the movie, you can expect major spoilers for Just Mercy to follow from this point forward.
Bryan Stevenson Did Get Walter McMillian Exonerated From Death Row
The crux of Just Mercy centers around Bryan Stevenson (Michael B. Jordan) fighting to bring Walter McMillian (Jamie Foxx) out of death row for a murder conviction he firmly believes — and later knows with absolutely certainty — was falsely placed on the inmate. The beginning of Just Mercy shows Walter McMillian on his way home from work before he's stopped by law enforcement and accused of a crime he couldn't have committed. The narrative mainly tracks Stevenson's side of the story, as he gets acquainted with McMillian's family, friends, and fellow townspeople and finds himself working hard to clear McMillian's name in a town where many folks are hard-pressed in their beliefs that McMillian killed an 18-year-old girl.
Just Mercy details Bryan Stevenson's hard-fought legal battles as he tries to bring Walter McMillan back home after six long years on death row for a crime he didn't commit. The details depicted in Just Mercy are largely accurate to the information surrounding the publicized case, although because it's a two-hour narrative movie (with a screenplay based on Stevenson's perspective), one could argue that details found in this particular story are ultimately more complex and nuanced than how they're ultimately portrayed in the film. But that's always the case with dramatization versus reality.
As Just Mercy depicts, Bryan Stevenson worked tirelessly to make Walter McMillian the first person in Alabama history to be freed from death row, from a retrial that Stevenson worked hard to secure between 1988 through 1993, when Stevenson's client was finally released from all charges. Unfortunately, when McMillian was freed from prison, the weight of his time on death row weighed heavily on him, as the film tragically notes toward the end credits. McMillian died in 2013, battling early on-set dementia. When he was in treatment for this disease, McMillian started to believe he was back on death row, as Stevenson wrote in his book, and it painted a sad and painful existence during Walter McMillian's final few years in this world.
Many Of The Events Depicted In Just Mercy Happened While Bryan Stevenson Was Working On Different, Separate Cases
Just Mercy follows Bryan Stevenson's 2014 memoir of the same name closely. The events depicted in the film are often taken from Stevenson's life and pen, and the narrative that unfolds is based largely on Stevenson's life and career. Nevertheless, since Just Mercy focuses primarily on Stevenson's working relationship with Walter McMillion, many of the other cases depicted in the movie were ultimately not included in the story. A few of the incidents depicted in Just Mercy, including Stevenson's strip search by a prison guard and intense encounter with local police, happened while the defense lawyer was working on other cases with separate death row inmates. While they are truthful, they did not happen in the movie's timeline.
Going off those two examples, the subplot about Bryan Stevenson having trouble with a disgruntled white prison guard (Hayes Mercure), who tells Stevenson that he must be strip searched before he can visit the inmates, only to learn to trust Stevenson and see the value of his legal practices, is a story that happened with a separate case in a different prison while Stevenson was working with another client. It was placed into this narrative to condense the story into a more contained timeline. Similarly, the scene where Bryan Stevenson gets a gun pulled on him by a police officer during a traffic stop is also when Stevenson was working on a separate case, although the real-life story found the lawyer in his car in front of his apartment.
Walter McMillian's Story Did Get Featured On 60 Minutes
As Bryan Stevenson works to clear the public's media-twisted perception of Walter McMillian, Stevenson uses the media to his case's advantage by presenting the story to 60 Minutes, where the lawyer, the inmate, Ralph Myers (an excellent Tim Blake Nelson), the man who wrongfully accused Walter McMillian of murder under pressure from the authorities, and Tommy Chapman (Rafe Spall), the District Attorney who was convinced of Walter McMillian's guilt, were all interviewed on the nightly news segment. If you wish to watch the real-life segment, which was pretty accurately recreated in the movie, you're in the luck. The clip is available in full on YouTube, and you can watch it for yourself to see the film's real-life personalities speak.
The Judge Was Actually Named Robert E. Lee Key Jr.
Believe it or not, the judge that presided the case was named Robert E. Lee. Robert E. Lee Key, to be more specific. This is the judge that felt Walter McMillion needed to get the death penalty, even though there was limited evidence against him and the jury felt he should get a life sentence instead. As the movie notes, the judge called the crime a "vicious and brutal killing" of a woman "in the first flower of adulthood." Additionally, the judge seen in Just Mercy who believes McMillian is still guilty is named Judge Foster, but it's based on Judge Thomas B. Norton Jr., who presided the case but appeared to believe similar ideas. The more inflammatory quotes uttered by "Judge Foster" in this scene, notably, were taken from Norton's words.
Tom Chapman Reportedly Had More Animosity Towards Bryan Stevenson Than Just Mercy Depicted
While Tom Chapman isn't necessarily made to be the "bad guy" in Just Mercy, he is a considerably opposing force throughout the course of the film, showcasing both indifference to McMillian's potential innocence, then strong-willed belief that he is guilty of these crimes. As Just Mercy goes from the source material's description of the man, it paints him as a character who plays a critical role in both holding McMillian in jail and later leading to his release from death row when he accepts publicly that the evidence suggesting Walter's innocence is overwhelming. As it turns out, this portrayal of Chapman might be softer than Chapman's character in real-life, based on what is presented in Pete Earley's 1995 book, Circumstantial Evidence.
In the 1995 book, as it was reported by Slate, Bryan Stevenson and Tom Chapman were reportedly even more bitter towards each other than Just Mercy (both the book and the movie) would lead you to believe. Chapman is quoted as saying that Stevenson doesn't "know [him] or anything about [him]," and he implied that he was a big-time Harvard lawyer who was acting morally superior than everyone else in town. Also, Chapman wanted to know what "right" did Stevenson have to "lecture [him] about his morals." Additionally, Chapman was known to complain to the press in regular intervals about the case and Stevenson, and he claimed that 60 Minutes was "irresponsible" in their coverage of Walter McMillian's ongoing case. Furthermore, it sounds like Stevenson didn't really care much for Chapman either, even more so than it was depicted in the movie or in his own book.
Overall, it appears that Just Mercy does a pretty darn good job of depicting the accuracies of this Atlanta case, particularly by Hollywood standards. While the story is most certainly dramatized, featuring heavy performances and emotional moments, it's apparent that director/co-writer Destin Daniel Cretton wanted to stick close to the facts as they were presented in Bryan Stevenson's memoir of the same name. Not only to make a concentrated effort to provide realistic and authentic tale of corruption, false conviction, and the power of those righteous few who stand up for what's right, even against all costs, to free innocent people of terrible sentences, but in a firm effort to do justice to Bryan Stevenson's story, which Just Mercy reveres.
Notably compared to other recent dramatizations of real life stories, Just Mercy appears to be a fittingly truthful depiction of Bryan Stevenson's life and career as a lawyer fighting for the rights of prisoners and death row inmates. But what do you think of the new drama? If you saw the movie and you were taken by Bryan Stevenson and Walter McMillian's real-life story, let us know your thoughts on Just Mercy and more in the comments below.
Will is an entertainment writer based in Pittsburgh, PA. His writing can also be found in The Playlist, Cut Print Film, We Got This Covered, The Young Folks, Slate and other outlets. He also co-hosts the weekly film/TV podcast Cinemaholics with Jon Negroni and he likes to think he's a professional Garfield enthusiast.
Your Daily Blend of Entertainment News
Thank you for signing up to CinemaBlend. You will receive a verification email shortly.
There was a problem. Please refresh the page and try again.