Martin Scorsese's The Irishman: How Historically Accurate Was The Film, Starring Robert De Niro?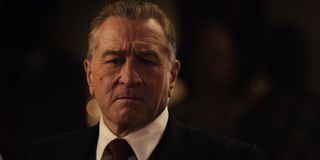 Martin Scorsese's The Irishman was a long time coming. The project has been in development since 2007 (maybe even earlier) and it was a winded road before Netflix gave the green light for Scorsese's latest project. Nevertheless, after a decade-plus of fighting to bring the film onto the screen, Scorsese's latest crime epic is here.
It is currently playing in theaters in limited release and and is now streaming on Netflix. It's an audacious, astounding achievement that is both one of Scorsese's most expensive movies with a budget of $159 million, and his longest film to date at 209 minutes. But when you tell the rise and fall of one man's life working as a gangster, it's hard to cut corners. Nevertheless, one wonders, how closely does Frank "The Irishman" Sheeran's cinematic story stay true to the facts?
Based on the book I Heard You Paint Houses (which is also, oddly, what the film is titled on-screen) by Charles Brandt, The Irishman has received complaints from critics claiming that the story strays far from the truth. Robert De Niro has pushed back against in interviews, noting that he, Martin Scorsese and screenwriter Steven Zaillian weren't striving for complete realism in their cinematic portrayal.
Nevertheless, while we can't say with full certainty how closely the potentially awards-friendly film rides the line between truth and fiction, we can look at the facts we do know and determine how closely Scorsese's latest gangster epic follows the true story versus delivers total fabrication made for the screen. Without further ado, let's look at how historical accurate Martin Scorsese's The Irishman, i.e. I Heard You Paint Houses, is in its telling. Oh, and needless to say that SPOILERS are ahead.
Frank Sheeran Claimed He Killed Jimmy Hoffa, Though There Have Been Doubts About The Truthfulness Of This Confession
Let's address the big one right off the bat. The part of the story that most people will likely question is whether or not Frank Sheeran actually killed Jimmy Hoffa. Ultimately, there is no way to be certain who killed the labor leader, though Frank Sheeran confessed to author Charles Brandt that he killed Hoffa in the way it was depicted in Martin Scorsese's film. However, there has been severe pushback to these claims ever since I Heard You Paint Houses was published in 2004. Notably, as it was reported by Vanity Fair, several investigative people have cast doubt to Frank Sheeran's bold claim.
For instance, Harvard Law Professor Jack L. Goldsmith, who has spent upwards of seven years investigating the disappearance and presumed death of Jimmy Hoffa for his book In Hoffa's Shadow, claims that there is "absolutely no basis" to Frank Sheeran's claims. He even went so far as to call the whole thing "preposterous." Additionally, Andrew Sluss, an FBI agent who was the lead investigator for Hoffa's case for 15 years, claimed that there is little credibility to Frank Sheeran's claims, even after reviewing the footage of Sheeran's confession presented by Charles Brandt in 2008. In fact, Sluss even called the video a "laughable, sad, desperate attempt to create a record." This could possibly tie in the film's running theme on creating a legacy.
Ultimately, we're not investigative reporters. We're not here to say one way or the other whether or not Frank Sheeran pulled the trigger on Jimmy Hoffa. Since there is no clear evidence to confirm or contradict what Frank Sheeran said, it's left rather ambiguous whether or not the subject of the film was truthful or not in his confession before passing away. It would seem as though you either believe the man or you don't. There aren't enough clear facts to confirm or deny the allegation, though it'd seem as though enough people are willing to stand by their belief that Sheeran's claim is hogwash.
It should be noted once more, however, that Robert De Niro — a producer in attention to actor for The Irishman — isn't too concerned about whether or not the story is true, though the Oscar-winning actor defended the film by claiming that he believes the story is accurate. Likewise, Martin Scorsese admits that he wasn't too concerned about the accuracy of his film. Rather, he was more concerned about telling a compelling story about this subject.
Frank Sheeran Also Claimed That He Killed Joe Gallo, Though There Are Also Doubts To This Confession
Towards the middle of the film, there is a memorable sequence where Robert De Niro's Frank Sheeran kills Sebastian Maniscalco's Joe Gallo, better known as "Crazy Joe," at Umberto's Clam House in Little Italy. Once again, this is based on Sheeran's confession to Charles Brandt, which the author later reported in his book. Yet again, we're left between one man's confession and the disbelieving reports of historians and outspoken personalities.
There are some claims that back up Frank Sheeran's involvement in this killing. As reported by Hollywood vs. History, an editor for the New York Times claims she was in Umberto's Clam House the night that Crazy Joe was gunned down. When she saw a picture of Frank Sheeran, she said she instantly recognized him as the man who shot Joe Gallo. However, the woman later added some suspicion to her claim when she said that the shooter was a tall man who didn't look Irish. Additionally, she didn't recall seeing a gun in his hand at the time of the shooting. Nevertheless, she believes Frank Sheeran is the one who killed Crazy Joe. Additionally, NYPD Detective Joe Coffey, who ran the case, believed a large, non-Italian man killed Joe Gallo.
However, despite these two claims, there is a lot of evidence that suggests that Frank "The Irishman" Sheeran wasn't there the night Joe Gallo was murdered. According to witnesses who were at the scene, the killer was roughly 5'8, stocky and estimated to be around 40-years-old with a receding hairline. That description ultimately doesn't match Frank Sheeran. This description does match Carmine "Sonny Pinto" Di Biase, a killer who is long believed to be the man who put Joe Gallo into his eternal slumber. It was alleged that Di Base was working with Colombo crime family, and that there were possibly four Italian men involved in the shooting, though it was believed that Di Base was the primary shooter. It should also be noted that Joe Coffey later believed that Di Biase was likely the man who shot Joe Gallo, based on information that he reportedly received from informants.
Additionally, Sina Essary, Joe Gallo's widow, claims that the killers were "little, short, fat Italians," which backs up the previous claims and not Frank Sheeran's confession. This description fits Carmine Di Biase and his associates more than the 6'4'' Sheeran. Meanwhile, Pete "the Greek" Diapoula, who was Gallo's bodyguard and took a bullet, claims that Di Biase was the killer. Therefore, all these claims seem to support the idea that it wasn't likely Frank Sheeran who pulled the trigger on Joe Gallo. This might also cast some creditable doubt to Frank Sheeran's claims about killing Jimmy Hoffa.
Frank Sheeran Did Spend Time In Prison
While it's hard to confirm Frank Sheeran's confessions about killing Jimmy Hoffa and Joe Gallo, even though there are a number of people who believe both claims are false, there is actual proof that Sheeran did spend serious time behind bars, much like he did inside the third act for The Irishman.
Specifically, the FBI charged Frank Sheeran with labor racketeering, which resulted in him receiving a 32 year prison sentence. After nine years, though, a medical malpractice lawyer named Charles Brandt was hired to secure Sheeran's early parole. He was released on medical grounds at the age of 71. Subsequently, this is how Brandt formed a correspondence with Sheeran, which later resulted in Brandt writing about Frank Sheeran and his life story in I Heard You Paint Houses, which became the source material for The Irishman. Not all of these details weren't included in The Irishman, though.
The Irishman's Portrayal of Russell Bufalino (Joe Pesci) Is Reportedly Accurate
Since a lot of details pertaining to The Irishman's authenticity are shrouded in secrecy, it's hard to confirm a lot of the details related to the dramatic retelling. Nevertheless, according to a writer from The Federalist who combed over the FBI reports of Russell Bufalino (Joe Pesci), the film's portrayal of the closed-off mob boss is true to what he found in his research, and how the man lived his life while working inside the crime syndicates.
The research he found correlates with many details found in The Irishman, which suggests that while there aren't a ton of public records about Russell Bufalino, the film was likely skewing as close to reality in its portrayal of this supporting character as possible. While it's hard to say that the film is entirely truthful, it is thorough in its dramatic telling, which suggests that Martin Scorsese and the screenwriter did their research on the characters.
Frank Sheeran Was Close With Jimmy Hoffa
A core crux of The Irishman's epic tale centers on Frank Sheeran's close working and personal relationship with Russell Bufalino. As the movie depicts, it was through Bufalino's eventual trust in Sheeran that the mob boss decided to get him acquainted with Jimmy Hoffa. It was shortly thereafter that the labor leader and Frank Sheeran connected with one another. So there is little doubt that there was a working friendship between these two people. If it was as strong and deep a connection as the one the movie depicts, though, is ultimately left into question. But it is clear that they definitely bonded.
There Are Doubts That Frank Sheeran Killed That Many People — Or Possibly Killed Anyone, For That Matter
As The Irishman details, Frank Sheeran was a war veteran who eventually found himself driving trucks by trade, only to eventually forge a connection with Russell Bufalino as he picked up small jobs. He was considered a trusted associate, which eventually resulted in him performing jobs for Jimmy Hoffa — including, by Sheeran's admission, assassinations if necessary. Once again, though, there are doubts being cast regarding Sheeran's honesty.
In his talks with Charles Brandt, Frank Sheeran claimed that he killed between 25 to 30 people, though he also claimed that he couldn't remember an exact number. The author couldn't confirm any of these killings, let alone their reported connection to the subject. Furthermore, there's no concrete proof that Sheeran killed anyone. It should also be noted that he was indicted, but not convicted when it came to ordering two murders, and neither of them had any relation to his work with Jimmy Hoffa. Additionally, there is no firm evidence or proof that Hoffa ever commissioned Sheeran to commit murder on his behalf. Though Hoffa was known for his short temper, which included claims that he wanted to kill a lot of people, including John F. Kennedy and his brother, Bobby, among others, there is nothing concrete that definitively proves that Sheeran carried out any orders to kill anybody.
Furthermore, this information casts strong doubt that Jimmy Hoffa had any direct impact on John F. Kennedy's death, which isn't something that is claimed directly in the film, but something that some viewers might speculate based on the narrative's storyline and focus on the deceased president.
Ultimately, The Irishman is a dramatic character study about the tragic legacy of a gangster's life. It is not presented to be wholly factual, and to believe everything presented in the film would be counterproductive to its intended impact, which wrestles more with the moral consequences of a guilty man's conscious, as well as the troubled legacy of Martin Scorsese's past crime epics. When it comes to its historical accuracy, it is dubious at best, but it's hard to confirm with any certainty how close to reality this film veers towards. But there's reason to believe that it is possibly more fiction than fact, particularly based on some historian's perspectives and loose evidence made available from survivors and eye witnesses involved in these crimes.
Let us know what you think of Martin Scorsese's The Irishman and whether or not you believe any of Frank Sheeran's claims in the comments below.
Your Daily Blend of Entertainment News
Will is an entertainment writer based in Pittsburgh, PA. His writing can also be found in The Playlist, Cut Print Film, We Got This Covered, The Young Folks, Slate and other outlets. He also co-hosts the weekly film/TV podcast Cinemaholics with Jon Negroni and he likes to think he's a professional Garfield enthusiast.