The Batman's Zoe Kravitz Has Some Great Reasons For Wanting To Play Catwoman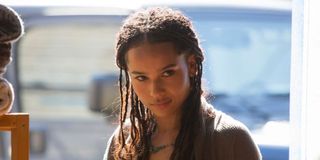 The details surrounding The Batman are still a bit scarce. What we do know is which actors are playing some of the DC Comics' franchises most iconic characters. And Zoe Kravitz, who's slipping into Selina Kyle's iconic catsuit for Matt Reeves' upcoming film, has opened up about why she's excited to play Catwoman.
The Big Little Lies actress spoke with reporters during Hulu's Television Critics Association winter press tour. And she seemed both excited and optimistic about her upcoming turn as Selina Kyle in The Batman. When asked why she decided to take the role on, she said (via ET):
Hopefully Zoe Kravitz knows that Michelle Pfeiffer had some wise words of advice for her when she learned about her casting. She joins an elite list of women, including Halle Berry and Anne Hathaway, to bring the sophisticated villain to the big screen. As for how she plans to tackle the role and make it her own, Zoe Kravitz made it clear that she's thought a lot about where Catwoman fits into the Batman universe:
As for what we can expect to see in The Batman? She's pretty quiet on that front, though she was sporting the pixie cut she says she got specifically for her role. Zoe Kravitz did give a small hint as to why she was drawn to Matt Reeves' film, though:
Well, that's something to go on, at least, though it's about as vague as everything else we've heard about the film's plot and tone so far. Zoe Kravitz will star alongside Robert Pattinson, Paul Dano, Peter Sarsgaard, and Jeffrey Wright, who recently tweeted that he was on his way to start filming his part in the movie. The Batman hits theaters on June 25, 2021.
Your Daily Blend of Entertainment News
Thank you for signing up to CinemaBlend. You will receive a verification email shortly.
There was a problem. Please refresh the page and try again.