Former Catwoman Stars Share Advice For The Batman's Zoe Kravitz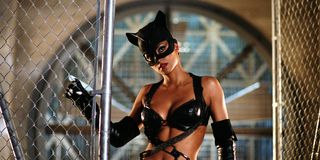 When Warner Bros. announced that Zoe Kravitz had been cast as Catwoman in The Batman, it caused a bit of a commotion. Fans all over the world instantly began to speculate about how she would portray the legendary Selina Kyle. There were varying opinions as to whether she was the right woman for the job. But a few of Kravitz's most famous predecessors had nothing but advice and support to share.
Michelle Pfeiffer, who played Catwoman in Batman Returns, was the first to weigh in on the news. During an October 15 appearance on Good Morning America, she commented on Zoe Kravitz's casting, saying that she was "so excited." And when host Michael Strahan asked if she had any advice for the young actress, Pfeiffer didn't hesitate:
She said it with a smile, but that's actually pretty common Batman movie star advice.
On October 17, Catwoman's Halle Berry continued her trend of lifting up her Hollywood counterparts when she tweeted out her own warm congratulations. "Special shout-out to your new #Catwoman," the Oscar winner wrote, before calling Zoe Kravitz "eternally graceful & extremely bad ass." She wrapped up her message with some extra words of support: "Keep shining Queen & welcome to the family!"
Meanwhile, the woman who played cinema's most recent Catwoman incarnation proved to be equally supportive. On October 17, Anne Hathaway shared a photo of Zoe Kravitz on her Instagram with a lovely (and quippy) congratulatory message to the actress on landing "the role of a lifetime… Well, one life anyway." The Dark Knight Rises star finished her post with some extra words of solidarity, telling Zoe Kravitz, "Enjoy the ride, Selina."
The newest Catwoman hasn't responded to the messages she received. But the unified support is a symbol of how far she's come in her career. In 2015, Zoe Kravitz told Nylon that she tried to audition for a "small" part in Christopher Nolan's 2012 epic. But she said she was turned away because the filmmakers weren't "going urban." (Yikes.) However, Kravitz had the last laugh, in more ways than one. The Batman will actually be the second time she's tackled her new villainous role. In 2017, she voiced Catwoman in The LEGO Batman Movie.
Zoe Kravitz may be joining an impressive pantheon of previous Catwomen, but she's sure to make the role her own. And she'll be in good company among The Batman's impressive ensemble, which includes Paul Dano, Jeffrey Wright, and Robert Pattinson. And if nothing else, she can rest easy knowing that she has at least three superfans rooting for her. The Batman hits theaters on June 25, 2021.
Your Daily Blend of Entertainment News