Let's Talk About That Crazy Bad Boys For Life Twist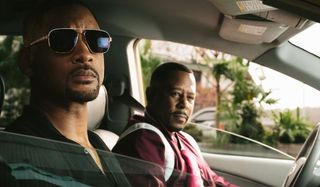 Warning: spoilers for Bad Boys For Life are in play. If you want to stay unspoiled, turn around and don't continue reading what we're about to discuss. It's worth being surprised about.
You probably wouldn't have guessed it following the trailers, but now that the movie is out we know Bad Boys For Life has a lot of things going on under the hood. By time the return of Mike Lowrey (Will Smith) and Marcus Burnett (Martin Lawrence) had run its course, a lot of life changing information has been divulged and decisions made in the aftermath. In fact, there's a pretty crazy twist.
There's one crazy twist that Bad Boys For Life delivers that's so massive, it literally affects both the past and present of the franchise. It's something so big that we have to talk about it, but I'll warn you again: If you haven't seen Bad Boys For Life, you're going to want to turn away and read no further.
That Crazy Twist In Bad Boys For Life
We learn in Bad Boys For Life's very modern story that Mike has a full grown son, who was a product of an affair he had when he was undercover with the Aretas cartel early in his career. Before he and Marcus were teamed up as the unstoppable duo that protected at-risk informants and rescued one of their own from a drug lord hiding out in Cuba, Mike was deep undercover and just as deeply in love.
As a result of his romance with Isabel Aretas (Kate del Castillo), the wife of the cartel's leader, Mike unknowingly became a father. That son would be raised to avenge the slight visited upon his family, and would become assassin/ambitious criminal Armando (Jacob Scipio).
Of course, Armando didn't know this until it was revealed to him in the final showdown portion of Bad Boys For Life. This knowledge ultimately softened Armando's attitude toward the man he saw as an enemy and a target, leading him to not only take a bullet meant for his father, but also to make a decision to help save Marcus from a sudden and gruesome death.
At the end of Bad Boys For Life, Isabel was dead, properly burned like the witch she claimed to be, and Armando was serving time in jail for the crimes that he had committed throughout the film. Regardless, in the film's final moments it looked like he might be joining his dad in the family business, as Mike approached his incarcerated son with a mysterious opportunity to reduce his sentence.
Why This Bad Boys For Life Reveal Is So Completely Over The Top
As if Bad Boys For Life weren't crazy enough in making the decision to sideline Will Smith's Mike Lowrey with an almost fatal shooting in Act One, the film took an even bigger left turn with a twist that spanned back to a time before the initial 1995 adventure made the world fall in love with the Bad Boys universe.
Wait, for a pair of friends who have known each other for much of their lives, Mike and Marcus have somehow never had a conversation that led to, at the very least, a mention of Mike's time as an undercover officer? If Marcus was a civilian, that'd be one thing; but since they're both cops and good friends, this probably should have come up before the three-quel.
Revealing that Mike had a son isn't a bad decision, and this reveal isn't crazy merely because it happened. But for as much as we know these two trusted friends have had each other's backs since day one, Bad Boys For Life's decision to keep this "secret" from Marcus only really worked because of how well Martin Lawrence played the moment for comedy. Luckily, now that the witch is off of the broom, there's an opportunity for some prime drama, should the franchise play it the right way.
How This Surprise Could Affect The Future Of The Bad Boys Franchise
From the jump, Bad Boys For Life's decision to have Armando Aretas switch sides as quickly as he did at the end of the movie already had me wondering if he's legit. While Mike Lowrey offered him an opportunity to make good for his past misdeeds, thanks to what sounded like an invitation to join the AMMO team, the newly announced Bad Boys 4 is already off to a good start.
Regardless, has Armando really bought into spending time with his real Bad Boys dad? Throughout the events of the next movie, there should obviously be an adjustment period between Mike and his newfound son, and every step of the way there should also be a concern over whether this was all part of the plan or if Armando will be truly trying to turn over a new leaf.
The first person who should ask those questions in Bad Boys 4 is probably going to be Marcus, as knowing Mike's more hotheaded nature could force him to make some choices that would put his newfound son above his trusted partner. It wouldn't be an unintentional snub, mind you, but I'm guessing something like this will happen that will be enough of an issue that the Bad Boys will naturally butt heads over it. Who would they be without a little back and forth insulting?
In the best of scenarios, Armando Aretas would potentially join the AMMO team as its latest member. Changing his name to Armando Lowrey, he would signal the acceptance of his birth father, and become the family Mike never knew he needed. In the worst case scenario, Armando could turn out to be a sleeper agent for his old cartel buddies, and the ending would more than likely result in a tragic rift between father and son. Perhaps even one that ended in a casualty.
Obviously, the gates are wide open for wherever Bad Boys 4 decides to take the film's big twist, and those are educated guesses I've just spun out a little. No matter what eventually comes of this surprise reveal, it's still a pretty crazy moment that drops in the middle of Bad Boys For Life's dark night of the soul moment planted in Mike Lowrey's story.
We'll have to wait until Bad Boys 4 officially happens to see how it pays off, but for now Bad Boys For Life is still in theaters. Maybe there are further clues to what the future may bring that await in plain sight, and the only way we'll find them is if we see it five more times. It certainly couldn't hurt both our minds and their already stellar box office grosses, could it?
Your Daily Blend of Entertainment News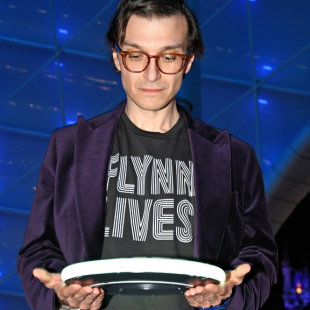 Senior Movies Contributor
CinemaBlend's James Bond (expert). Also versed in Large Scale Aggressors, time travel, and Guillermo del Toro. He fights for The User.