Bad Boys For Life Mid-Credits Scene: How It Sets Up The Future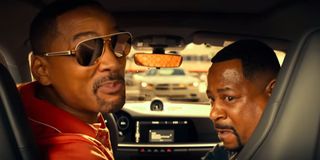 The following contains MAJOR spoilers for Bad Boys For Life.
If you're a fan of the Bad Boys series, then you've been waiting an awfully long time for a third installment. Bad Boys II came out back in 2003, so it's been basically a generation since we've seen Mike Lowery and Marcus Burnett on the big screen. If you had a kid around the time the last movie came out, they're basically old enough to watch an R-rated movie without you now. Expectations were certainly high for the long gestating movie, and it has to be said, Bad Boys For Life certainly did its best to blow us away, if not with its action, than with the way its plot takes some serious turns.
We learn during the film that Will Smith's character Mike Lowery was pulled directly from the police academy prior to the first film in the series for a special undercover mission. He was embeded with a Mexican drug cartel, where he fell in love with Isabel, the wife of the cartel's leader. Mike did his job and let the cartel go down, including Isabel, but it was apparently a difficult choice for him to make because he was truly in love with her at the time.
What's more, we learn that Isabel went to prison pregnant, and the child she gave birth to, the one who has been on a personal vendetta against Mike and killed several other people, is actually Mike's own son who he never knew he had. This was some serious telenovela shit.
In the end, the son, Armando, helps Mike rescue Marcus and nearly dies himself, but is instead arrested and imprisoned for his crimes. That could be the end of the story, but it's not.
The Mid-Credits Scene
Shortly after the credits role on Bad Boys For Life, we're treated to one additional scene. We see Armando in lock-up as Mike comes to visit him. Mike asks how he's doing, and while Armando certainly doesn't love being locked up, he seems to have come to terms with his situation. He knows that he committed crimes and is prepared to pay his debt for having done so.
However, Mike has apparently come for more than just small talk. He has something which he believes might aid Armando; some sort of deal which Mike says might help his son pay down his debt. We don't learn exactly what this offer is, but one assumes it's some sort of agreement which will allow Armando to get himself free sooner by helping out the Miami police. Clearly it's a tease for another Bad Boys movie.
What It Means For The Future
While Bad Boys 3 has been one of those movies that's been talked about since basically the last one came out, there was a point a few years back when the talk turned from something more theoretical to something more real. In fact, at one point there was a plan to film not just a third Bad Boys film, but a fourth film as well. While the fourth film has since been dropped from Sony's release calendar, it seems quite clear from this setup that the plan is still to make at least one more movie in the franchise, which will be used, at least in part, as a redemption arc for Mike Lowrey's kid.
Exactly what that could be is, at this point, anybody's guess. It was back in 2015 when Bad Boys 4 was officially put on the schedule, and Bad Boys For Life itself went through a lot of changes in that time, so whatever the plan was then might not be what the plan is now.
One intriguing possibility comes to us from Joe Carnahan. He was originally set to write Bad Boys For Life, and while he eventually left the project, he is still given a screenplay and a story credit, which means some amount of what Carnahan created survived into the final film. Some early animatics that Carnahan teased us with would seem to indicate that the villain Armando was his idea, and if that's the case, then the tease we get at the end of the film might also be part of his original plan.
Joe Carnahan had also previously teased a villain he called a "multi-headed hydra." The villain of this movie could hardly be called that, so it could be that this was some of what changed with Bad Boys Life when other writers came in. But perhaps we'll discover that Isabel was actually part of a larger organization, one that Armando likely knows things about, and thus would be in a position to help if he's given the right incentive.
Who Else Could Return
And Mike Lowrey's newfound family probably won't be the only character going along for the ride. We also met Rita, a woman with a past off-screen relationship with Mike Lowery who, as of the end of the film, is the new boss of the Miami PD. It seems unlikely that Rita and her AMMO task force were introduced for just one movie if there were plans for a sequel already in the works, so expect the entire team to return in Bad Boys 4, or whatever it ends up being called.
Of course, for any of these teases to mean anything, we have to actually get a Bad Boys 4, and considering how long it took to get a Bad Boys 3, that's far from guaranteed. The determining factor will almost certainly be the box office success of Bad Boys For Life. If the audience turns up and shows that there is still real interest in this franchise, then we could see a fourth film given the green light before the month is out.
If, however, it turns out that most have already moved on from Bad Boys, all these setups could end up meaning very little. With a reported budget of $90 million, the new film has to do some pretty significant business in a month not known for big movie crowds, but perhaps that Bad Boys name will be enough to bring the old audience back.
If you haven't already, be sure to read CinemaBlend's review of Bad Boys For Life, and stay tuned for any news regarding a fourth movie.
Your Daily Blend of Entertainment News
Content Producer/Theme Park Beat
CinemaBlend's resident theme park junkie and amateur Disney historian. Armchair Imagineer. Epcot Stan. Future Club 33 Member.
Your Daily Blend of Entertainment News
Thank you for signing up to CinemaBlend. You will receive a verification email shortly.
There was a problem. Please refresh the page and try again.