Bad Boys For Life Changed A Major Scene From The Trailer And We Have No Clue Why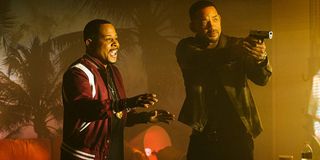 Warning: spoilers for the opening to Bad Boys For Life are in play. It might not be much, but if you want to remain totally unspoiled, what'cha gonna do? Back out of this story and head to another article in the meantime, that's what.
They said it would never happen, and yet Bad Boys For Life went from getting both Martin Lawrence and Will Smith back into the same room to blasting onto theater screens this weekend in what seems like a pretty quick turnaround.. So after taking a moment to embrace the fact that the series returned in such a spectacular, high octane manner, we started to think a little harder about the whole experience.
And that's when something interesting came to our attention: there's a major scene from the trailer to Bad Boys For Life that was changed drastically in the final cut of the movie. The strangest thing is, there's no clear reason why such a decision would be made.
We'll try to guess why this moment that literally opens Bad Boys For Life was altered in the final cut, but for now, let's recap that opening scene and how it looks in the finished product.
The Scene That Changed In Bad Boys For Life
As Bad Boys For Life opens, we see Mike Lowry (Will Smith) and Marcus Burnett (Martin Lawrence) on a high speed chase through the streets of Miami. Flying at unbelievable velocity, and pulling off some insane driving stunts as Mike makes his way to their final destination, Marcus is feeling more than a little nervous.
The reason for this chase, which leads their car onto a crowded beach, is unknown to us at the beginning of Bad Boys For Life. However, it leads to one of Martin Lawrence's first big jokes of the movie, which will serve as an important marker for what we're about to discuss.
You can see part of this sequence in the trailer provided below, as the first 32 seconds of the film's final trailer are pulled straight from the opening.
With the chase ending at a local hospital, this rousing introduction to the world of Bad Boys For Life shows us that Mike and Marcus were rushing to see the birth of Marcus' new baby grandson. An event they, sadly, missed despite all of the fancy driving. Though that's not all they missed in the final variant of these events.
How That Scene Changed In Bad Boys For Life's Final Cut
The good news about this opening to Bad Boys For Life is the fact that despite the changes made to this sequence, it looks like things played out exactly the way they were supposed to. However, the bad news is that it looks like some insane driving action was cut from the finished product of that very scene, as it seems like there was supposed to be part of that sequence which took place in a shopping mall.
Watch the first trailer to Bad Boys For Life, included below, and pay attention to the section that runs from 01:37 to 01:44:
A couple of details jump out upon closer visual examination, the first being that the exact same car is used in both of these shots from trailers to the film. Now that's not a clincher, because Will Smith's Mike loves his Porsche 911 Carrera Turbo as much as he would a child.
However, looking at both Will Smith and Martin Lawrence's outfits in both shots, we see the same orange muscle shirt on Mike and the same denim jacket on Marcus. So instead of seeing these guys tearing through the tight corners and crowded spaces of a mall, we see them blazing through the sands of a Miami beachfront, with one key punchline pointing out the fact that this wild swap was made.
That Key Joke That Proves This Bad Boys For Life Scene Was Changed
In that first trailer for Bad Boys For Life, Martin Lawrence delivers a joke that feels like it comes from his classic brand of comedy. Looking at the innocent bystanders in the mall, he holds up his badge and starts shouting the following:
It has all the makings of a Bad Boys gag you'd expect from a classic outing with Mike and Marcus, doesn't it? So much in fact that if you were to remove that scene from a mall and place in onto a crowded beach, you'd notice that joke being told again.
Which is exactly what happened when those opening moments were changed for Bad Boys For Life. Just as the high speed driving takes to the sand, Marcus starts to fret, pulls out his badge, and delivers that same joke; only with a lot more sunlight and more room to breathe.
For sure, the scene, and the gag, works no matter how you play it. But you really have to wonder, for as expensive and time consuming of a change this had to have triggered, why would the folks behind the movie want to engage in such a shift?
Why Would Bad Boys For Life Change This Scene?
As a best guess/hypothetical scenario, it could be assumed that Bad Boys For Life changed this scene for one important reason: it's the opening of the film. For directing team Bilall Fallah and Adil El Arbi, it was more than likely important to them that the opening that resurrected a franchise dead for almost two decades needed to pack a punch.
Which means two key decisions were probably made in the editing room when reviewing this sequence: the action was moved to a more open and accessible setting, and we're deliberately kept in the dark as to why Mike Lowery and Marcus Burnett are speeding into infinity in the first place.
In terms of keeping their destination a secret, it sets up a pretty effective misdirection that ends with sweet, comedic resolution. We're tricked into thinking Bad Boys For Life is going to open with the usual slam bang police action we've seen open previous entries in the series. But instead, when we arrive at the end of that heart racing intro, it's all in service of Marcus seeing himself become a grandfather for the first time. An event that, in true comedic fashion, he misses almost entirely.
Which moves to the second reason why this sequence was probably changed. If this Bad Boys For Life opening was in the name of the law, seeing Will Smith drive through a shopping mall full of people might have made more sense. But in the context of what's actually going on in the moment, zooming through a bunch of shoppers kind of dampens the gag, while also making Mike look a tad more irresponsible than we'd like to see for a hero.
Whereas flying through a sandy beach in Miami is not only more comedic, but it also means there's less of a chance that onlookers could be harmed. Thus, Mike is still seen as the more irresponsible half of the Bad Boys team, but not in a way that would make him look like a dick. A factor that is important when taking into account just how far his character goes in the name of justice and vengeance as Bad Boys For Life continues its course.
The changes made to the opening to this thrilling Bad Boys sequel aren't deal breakers, as it all works to supercharge its first couple of moments, while keeping it light and funny. While we don't know the exact reasons why these alterations came to pass, we do know that if our theory on why things were shuffled is true, it was probably for the best.
Of course, you readers out there may have a difference of opinion. In which case, we'd love to hear what you thought about the newer opening to Bad Boys For Life through our poll below and the comments section further down.
And if you haven't seen the film yet, Bad Boys For Life is in theaters now, with plenty more action to come after the closure of this initial rush of adrenaline.
This poll is no longer available.
Senior Movies Contributor
CinemaBlend's James Bond (expert). Also versed in Large Scale Aggressors, time travel, and Guillermo del Toro. He fights for The User.
Your Daily Blend of Entertainment News
Thank you for signing up to CinemaBlend. You will receive a verification email shortly.
There was a problem. Please refresh the page and try again.