The New Hunger Games Prequel Will Reveal How Snow Went From Hero To Baddie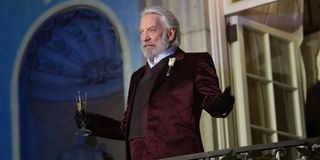 The Hunger Games is getting a prequel and although the movie rights have not been bought up and turned into a big screen venture yet, it's safe to say there's a lot of interest in another Hunger Games project from the fanbase (although maybe not the one we're getting) and given the franchise's box office trajectory, the movie business as well. Author Suzanne Collins is writing the book and we've just learned a few more details about the upcoming project, which will heavily feature and follow the young man who later became President Snow.
What The Hunger Games Prequel Is Going To Be About
This week, we learned that The Ballad Of Songbirds And Snakes will pick up with 18-year-old Coriolanus Snow. Apparently, when Snow was a young man, The Hunger Games had already been enacted in his society and had actually waned somewhat in popularity.
In an except from the new novel, published to the Song Birds and Snakes website, we get to see Coriolanus Snow's perspective as a young man ready to become a mentor for the Hunger Games. He's shrewd and popular in the excerpt. People in society want to talk to him and he's also very well-aware that if the Hunger Games don't change, they won't survive in their current form.
How This Will Tie Into The Hunger Games Movies
One of the most interesting moments comes at the end of the new chapter when it is revealed Coriolanus Snow will in fact be a mentor, just not with one of the preferred districts. Instead, he is given "District 12 girl" in an intriguing paragraph that gives Snow more ties to the district that would spawn Katniss Everdeen years later.
According to The Ballad Of Songbirds And Snakes:
We know from Collins' other books that Snow would go on to be the villainous leader of Panem and that he'd been in charge well before Katniss Everdeen's birth. This dude is a guy who ingested poison in order to become somewhat immune to it so he could poison his enemies. He's not a good dude. And now we're getting his origin story. All of the stuff in this book should go a long way to explaining the man we see in the movies and Suzanne Collins' other works. But this District 12 connection is particularly fascinating, although not everyone is excited about the prospect of a prequel following one of the villains in the story.
Will The Ballad Of Songbirds And Snakes Become A Movie?
Lionsgate was the studio around the initial The Hunger Games movie and its three subsequent sequels. While the studio hasn't spoken out officially about whether or not the Snow book will officially become a movie, but there has definitely been interest. Lionsgate Chairman Joe Drake previously told Deadline:
So, look, I'm guessing if this is a hit a movie will follow closely, but given it's a prequel about a villain, Lionsgate might be waiting on the material to see if it will translate well to the big screen and I wouldn't blame the studio if that were the case. Coriolanus Snow was always a bit hard to navigate as a character.
He's not necessarily a wasteful leader, although he will use whatever means to achieve an end. Toward the end of the original books, he ultimately convinced Katniss Everdeen President Coin was a bigger threat and so his story ended up differently that fans would have guessed from context clues. I'm not sure from this first chapter if he will be an interesting enough villain that readers will stick around for hundreds of pages, but one thing I am intrigued about? That District 12 girl.
Stay tuned to CinemaBlend for more on The Ballad Of Songbirds And Snakes.
Amazing Race & Top Chef superfan with a pinch of Disney fairy dust thrown in. If you've created a rom-com I've probably watched it.
Your Daily Blend of Entertainment News
Thank you for signing up to CinemaBlend. You will receive a verification email shortly.
There was a problem. Please refresh the page and try again.