5 Great Movies From The Past Year People Basically Ignored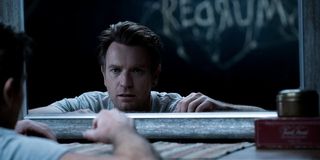 2019 was a pretty stacked year for films, with a distinctive class of those currently battling it out for Best Picture at the 92nd annual Academy Awards. With such a busy year, there are bound to be standouts that get a lot of attention. In particular, there are five great movies that were released in the previous calendar year that have us wondering: where's the buzz for these under-appreciated gems?
So while the Oscars are getting ready to toot the horns of the movies everyone and their mother knows about, we felt it was a good time to talk about those movies that slipped through the cracks. Before it's time for us to talk about the Best Pictures, let's go over what we consider the "Rest Pictures." Ok, the name might need some work, but the sentiment is still there.
Doctor Sleep
Under normal circumstances, a sequel to a classic like Stephen King's The Shining is questionable at best and outright disrespectful at worst. The fact that King wasn't exactly the warmest fan of Stanley Kubrick's previous film adaptation felt like a second strike against writer/director Mike Flanagan when he was announced to be turning Doctor Sleep into a film.
Much like the magic in Stephen King's universe of stories, Mike Flanagan turned what could have been a misguided cash grab into a movie that could eventually be seen as a classic in its own right. Merging the canons of film and literature, with Ewan McGregor's portrayal of Danny Torrance reviving an iconic character, Doctor Sleep is a mythic success that should be seen by all fans of horror movies, as well as those who enjoy the King canon of characters.
Klaus
Strangely enough, there are two films on this list of ignored successes that have found themselves at the Oscars. Though in the case of the next film we'll discuss, as well as the Netflix original Klaus, both are animated gems that were lost in the year of How To Train Your Dragon: The Hidden World, Toy Story 4 and Frozen II, which all made a lot of noise.
The story of a kind hearted loner (J.K. Simmons) and a snotty postal cadet (Jason Schwartzman) who eventually changes as a reaction to his kindness, director Sergio Pablos' joyful Christmas comedy isn't only a movie that brightened the holidays of 2019. Though it is an origin story for the Santa Claus mythos, it's also a story of true kindness and friendship that can still be enjoyed out of season.
Missing Link
No one, literally no one, could have predicted that Laika's stop-motion adventure Missing Link would have been nominated for, much less win the Golden Globe for Best Animated Feature. And now, with an Oscar nomination in the equivalent category at the Academy Awards, that success story continues to grow. But most people still haven't seen the film.
With Susan (Zack Galifanakis), Sir Lionel (Hugh Jackman) and Adelina (Zoe Saldana) trekking across dangerous terrain to reunite the yeti with his family, Missing Link has become a certified spoiler in the Best Animated Feature race with a tale of emotional adventure. Should this film go the distance, fans will not only want to get their friends to see this one for themselves, but stop motion animation might see a bit of a boom in the process.
Ready or Not
In the horror genre, 2019 was a pretty interesting year of hits both massive and surprising in nature. Yet somehow, in a time frame where the box office is typically kind to untested properties, directors Matt Bettinelli-Olpin and Tyler Gillett dropped a solid horror-comedy flick with Ready or Not, and the box office answered with a resounding "Or Not."
Samara Weaving's journey of survival pits her against a sinister family of rich would-be assassins. That's the basic log line, and that alone should have brought people into the theaters. Past that particular point, the fact that Ready Or Not has a really sharp and effective sense of dark humor in its arsenal is something that should have sealed the deal. Thankfully, that's what home video is for, as anyone who wants to get in on the excitement can do so at their own convenience.
Official Secrets
Every other film on this list is, at the very least, a film that was advertised to the masses with a solid push from the studios that were behind their creation. That, sadly, wasn't the case behind the Keira Knightley-starring Iraq War drama Official Secrets. In fact, in a movie that starred Knightly, Ralph Fiennes, and former The Crown/Doctor Who star Matt Smith, only the first two cast mates were advertised… despite all three being present in the trailer.
As for the movie, which depicted the true story of an intelligence officer who leaked documents that claimed the lead up to the 2003 invasion of Iraq was based on illegal spying, Official Secrets was pretty much buried at the domestic box office. Which is a horrible shame, because if there were more buzz around its release, we could have been talking about a Best Actress nomination for Keira Knightley right this very moment.
If you're not too busy with catching up on this year's Oscar contenders, this list of five great films completely ignored by the public are waiting for you to become their new friends. Should you still be rushing to catch those Best Picture nominees you've missed in theaters, that's okay too. And you can find out which one takes home the trophy when the Academy Awards air on Sunday, February 9 on ABC, exactly one week after the Super Bowl.
But as for these under-appreciated titles, they are all available on home video, with some even being carried on streaming services. Finally, should you be a lover of movies that haven't gotten enough attention at the box office, it would be a fantastic idea to check out the 2020 release schedule. You never know which film from the year to come will become the next overlooked champion.
CinemaBlend's James Bond (expert). Also versed in Large Scale Aggressors, time travel, and Guillermo del Toro. He fights for The User.
Your Daily Blend of Entertainment News
Thank you for signing up to CinemaBlend. You will receive a verification email shortly.
There was a problem. Please refresh the page and try again.