Why Netflix's Klaus Is A Must-Watch This Christmas Season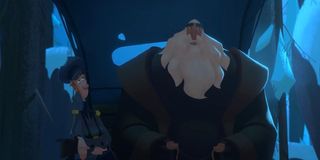 Every year there's a case to be made for why the canon of Christmas movies and specials needs new blood added to the list of movies trotted out as seasonal delights. And believe it or not, Netflix has delivered a new favorite that hardly anyone has talked about. No, it's not one of the multiple rom-coms they've devised to compete with the Hallmark Channel; it's actually writer/director Sergio Pablos' animated adventure Klaus.
The holiday movie conversation often turns to reexamining classics that feel a bit outdated, but still timeless in their own right. There's far less conversation about new potential classics, and when a new player enters the field as strongly as this one does, it deserves to be talked about.
So with my Santa hat firmly affixed to my head, and from this workshop bench I call a desk, I'd like to take this opportunity to tell you why Klaus is not only a must-watch this Christmas season, but why it deserves to be an annual classic in the making.
Klaus In A Nutcracker, Er Nutshell
The short, short version of Klaus' story could be summed up in the following rundown. Spoiled postal cadet Jesper (Jason Schwartzman) has been assigned by his father to the village Smeerensburg. His task? To open an functioning post office and send out 6000 stamped letters.
Sounds tough, but doable, right? Well, it would be, if there weren't two factions of townspeople constantly warring over a centuries old feud. Also, a lot of the townsfolk just aren't letter writers, so this task is kind of like trying to sell ice to penguins.
That's when the initially weasel-like Jesper gets an idea, inspired by a local woodworker named Klaus (J.K. Simmons.) Before you can say "Ho-ho-ho," the legend of Santa Claus is born, and things get seasonally emotional from that point on.
It's An Inventive Origin Story For Santa Claus
If you're looking to make an impression in the holiday movie market, and if you can do it in a way that hasn't been done before, a Santa origin story is a pretty good way of getting your movie in front of people at Christmas.
And Klaus manages to take the mythos of the legendary seasonal delivery man, and turn it into something beautifully affecting. We not only see the formation of the Santa phenomenon, we also see an organic development of said institution, thanks to a rip roaring adventure.
But we also get to see more into the man behind the icon, with a heartbreaking backstory accompanying just why Klaus became so good at creating toys. While Klaus is a tale about how Christmas became what it is today, it's also a meditation on how one act of kindness can inspire countless others.
Klaus Feels A Lot Like One Underrated Disney Classic
From the jump, there's one Disney movie that Klaus seems to get a lot of its DNA from, and that film is the 2000 gem The Emperor's New Groove. While there's no magical transformation, Jason Schwartzman's Jesper is definitely reminiscent of David Spade's Emperor Kuzco in his initial state.
The pampered son of a Postmaster General, Jesper goes on a journey that puts him at an inconvenient distance from all of the creature comforts he desires. But, of course, with the help of a large and kindly fellow who happens to give the film its' title, our brat prince will see himself try to achieve his goals through any scheming means possible.
Sure enough, his avarice turns to kindliness, as Jesper learns the two big lessons at the heart of Klaus: anything is possible through friendship, and sometimes people just need to talk out their differences to see that they aren't so different at all.
Communication And Empathy Are The Film's Core Values
Through the ingenious story device of letters to Santa, Klaus is able to teach children (and maybe even some adults) the lessons of how reaching out to our fellow humans is something that not only makes this time of year all the more special, but it's something we should keep with us throughout the rest of the calendar's march.
As Jesper develops as a character, we see Jason Schwartzman's performance go from snarky and smarmy to truly changed by the end of the film. In that respect, Klaus takes after one of the most classic Christmas stories of all: Charles Dickens' much adapted classic A Christmas Carol.
With a lot of other holiday flavored tales preaching the same lessons that Klaus holds dear, it's not just the frozen festivities that make this a great choice for this time of year. The lessons of kindness and open dialogue with one another only enhance the season's greetings this film has to offer, and it's something you can enjoy no matter how old you are.
The Whole Family Can Enjoy Klaus
As mentioned earlier, The Emperor's New Groove feels like a huge influence on Klaus' overall message, as well as its sense of humor. Which means that much like that particular Disney film, kids will be as entertained as their parents are by its comedic charms.
It can't be stressed enough that when an animated film can appeal to parents as well as their children, much as Klaus does, it's an invaluable advantage. Getting everyone on board with a film such as this makes it easier to watch, as no one will be tempted to leave the room or check their phone.
With its quick, and sometimes delightfully dark, wit about it, Klaus is a film that plays on so many levels, depending on who you are. Toss some Christmas cheer and theming into the mix, and you've got a movie that is perfect for family movie gatherings before or after Christmas dinner.
The Movie Deserves To Be A Christmas Classic
Klaus is, quite frankly, one of the best Christmas movies to come along in some time. It's seasonal enough to become a staple for your annual celebrations, but also easy enough to watch outside of this particular time of year, should you choose to do so.
Not to mention, the animation and art style of Sergio Pablos' film is particularly lush, giving Klaus the visual quality of a living, breathing storybook. Reminiscent of hand-drawn animation, the unique look of this movie makes it a joy to behold.
This beautiful surprise of a film makes for the perfect holiday celebration, as Klaus reaches across audience and story boundaries to create something universally enjoyable, and excitingly festive. It's a heartwarmer that never gets old, no matter how much you watch it.
Much like The Polar Express and Rise of the Guardians before it, Klaus is a modern Christmas movie that should be held in great acclaim, allowing it to become the next holiday tradition. It's a gorgeous triumph of cheer and love that makes for entertainment with a heart, at a time when everyone can use it the most.
Of course, you don't have to take my word for it. Klaus is available on Netflix now (opens in new tab), and will be there whenever you need your spirits lifted and your heart lightened. So go out there and partake in the holiday cheer it has to offer!
CinemaBlend's James Bond (expert). Also versed in Large Scale Aggressors, time travel, and Guillermo del Toro. He fights for The User.
Your Daily Blend of Entertainment News
Thank you for signing up to CinemaBlend. You will receive a verification email shortly.
There was a problem. Please refresh the page and try again.