The Most Difficult Sequence For Ford V Ferrari To Film, According To Its Stunt Coordinator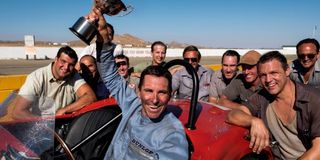 CinemaBlend participates in affiliate programs with various companies. We may earn a commission when you click on or make purchases via links.
Nothing quite compares to the difficulty of driving a race car at breakneck speeds for 24 hours straight, but recreating it on the big screen sure comes close. In Ford v Ferrari, we see one of the greatest examples of a realistic racing movie in recent memory, but that realism wasn't easy to create for the big screen. Director James Mangold took on the difficult challenge of taking the viewer on a trip through time, recreating the world of 1960s race car driving in an authentic and believable way, but the complications didn't end there. With the number of vintage race cars, high intensity racing scenes and iconic moments they had to recreate for the film, it's not hard to imagine how difficult some of the shots were to capture.
For instance, what about the actual race? How do you recreate the 24 Hours of Le Mans, an iconic track whose every twist and turn is burned into race fans' memory, when the track itself no longer exists as it did in 1966?
I had the opportunity to sit down with Ford v Ferrari's stunt coordinator, Robert Nagle, at the Daytona International Speedway ahead of the film's Digital, Blu-ray and DVD release. Nagle was quick to identify the Le Mans sequence as the most difficult to shoot from the entire movie and went on to explain:
While I could have guessed they weren't actually filming on the Le Mans raceway in France, I would have never guessed it was recreated on more than one track, let alone five. And while Director James Mangold may feel too much research into a true character can hurt a performance, the creative team clearly took a thoroughly researched approach for Le Mans, visually recreating famous portions of the track in various locations convincingly enough to fool perhaps even the most devoted racing historians.
However, the difficulties didn't end there. The 24 Hours of Le Mans was just that: 24 hours. That means racing in the day and night and in the events of the movie, rain or shine as well. Robert Nagle went on to say:
So not only did the team behind Ford v Ferrari have to create the illusion of a single race track from four or five locations, they also had to maintain the continuity over a perceived 24 hour period of time and varying weather conditions. Then beyond that, they had to keep track of each individual race car and ensure they were in their logical place as the race develops. From an outside perspective, this juggling act seems almost impossible, yet Ford v Ferrari pulled it off in a way that made it seem effortless and that is where the magic of this movie lies.
Sure, you had some of Hollywood's most capable actors, Matt Damon and Christian Bale, putting on outstanding performances as automotive designer Carroll Shelby and famed race car driver Ken Miles, but in some ways, that's just the cherry on top. Ford v Ferrari doesn't concern itself with small details and while it is largely historically accurate, it focuses more on immersion and believability, rather than documentary-like storytelling. To me, that's what makes a movie based on a true story great.
Speaking to Robert Nagle during a break at the Rolex 24, I realized he had something in common with all of the other race car drivers I had spoken to that day. They all share a very singular pursuit of perfection, a mindset I think is best described by Ken Miles in one of my personal favorite scenes from Ford v Ferrari. Check it out.
The pursuit of the perfect lap is not unlike the pursuit of the perfect stunt. Most people don't even know it's out there, but it is, and it's the job of stunt professionals like Robert Nagle to achieve it. If you want to see the fruits of his labor yourself, Ford v Ferrari is available now on Digital and on 4K UHD, Blu-ray and DVD February 11.
Kevin was born and raised in St. Louis, Missouri. After graduating summa cum laude from the University of Missouri with a degree in marketing, Kevin returned to his hometown to pursue his true passions of eating too much BBQ, drinking too much bourbon and watching movies with his dog, Bean.
Your Daily Blend of Entertainment News
Thank you for signing up to CinemaBlend. You will receive a verification email shortly.
There was a problem. Please refresh the page and try again.