Blake Lively Has A Great Take On Her Rhythm Section Character Vs. James Bond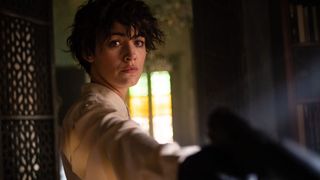 This weekend, The Rhythm Section made its box office debut, introducing movie fans far and wide to the adventures of Blake Lively's Stephanie Patrick. Showcasing a formidable spy in training, Ms. Patrick certainly holds her own in director Reed Morano's franchise starter. And if you ask Lively herself, she thinks that if Stephanie was ever in a fight with fellow espionage agent James Bond, she'd win in a heartbeat.
When I sat down with Lively and Morano, along with the producer of both The Rhythm Section and the James Bond franchise Barbara Broccoli, I had to ask how she felt such a match up would pan out. Lively's instincts were quick, and her full answer can be seen in the following video:
"F that guy," is something many a villain or hired thug has probably said when Bond's name has been mentioned in conversation. And surely, it's a humorous answer to a question that more than likely would never need to be asked in a serious context. But there is a case to be made for how Stephanie Patrick could beat James Bond, and it's all thanks to another character that exists in The Rhythm Section: ex-MI6 agent, turned mentor, Boyd-- played by Jude Law.
Boyd trains Stephanie in all of the skills she'll need to avenge the death of her family, helping The Rhythm Section's narrative into the hard driving path to revenge it turned out to be. Acting as a sort of Bond surrogate in the film, he teaches Stephanie everything he knows, preparing her for the physical and mental challenges the path she's chosen will present her with at every turn.
It's because of Boyd's grizzled semi-retirement that Stephanie Patrick is trained in similar methods of fighting and tradecraft that could give James Bond a run for his money. And while Patrick doesn't have the unlimited resources that a state sanctioned spy does, she makes up for it with key partnerships and a messy, but determined attitude.
That tenacity is something that Blake Lively herself can personally attest to, as one of her fight sequences with Law shattered her hand during the production of The Rhythm Section. But, true to her personal and on screen character, that incident was merely a stumbling block, as she came back for more when she was healed up.
Pitting The Rhythm Section's protagonist against James Bond, solely on the terms of physical strength and smarts, seems like a pretty equal match. The advantage could definitely tip into Stephanie Patrick's corner, as the element of surprise and her slightly unstructured, but definitely determined fighting style would be valuable assets in a fight with the more rigidly defined Bond. It also doesn't hurt that she's practically got the same training as 007, which puts her on a pretty good launching pad to personally catching up to, and possibly surpassing, his own preparedness.
The big reason I had to wonder if the world of The Rhythm Section would ever collide with that of the James Bond franchise is, quite frankly, it fills need that the moviegoing public has displayed as of late. With folks questioning whether or not James Bond could ever become a female character, the existence of Stephanie Patrick pretty much negates the need for such an enterprise to even happen in the first place.
The Rhythm Section exists as a film because producers Barbara Broccoli and Michael G. Wilson had faith in bringing a female superspy to the screen, without a pre-existing film franchise needed to back her introduction. Broccoli has confirmed that a female James Bond is an obsolete concept, particularly when there's plenty of room for original female characters to perform in a similar capacity So this movie could be seen as an experiment to see if the box office matchup of Patrick v. Bond would be one worth talking about.
Unfortunately, that particular matchup ends up being a very heavy handed victory for James Bond, as this past weekend saw The Rhythm Section's opening to the worst debut for a film opening in 3000+ theaters. So in the respect of their movie market footprints, there's no contest as to who would win. Which is a real shame too, as Blake Lively's performance as Stephanie Patrick is a strong one.
With films such as The Shallows and A Simple Favor preceding The Rhythm Section, there's been a momentum building in Lively's career that's undeniable. Though one of the universally praised aspects of this most recent film has been Lively's performance, it may be obscured by the fact that Super Bowl weekend was unkind to this new kid on the block.
It's early days, and just like Stephanie Patrick at the beginning of her spy game, The Rhythm Section could be taking its time to find an audience. This upcoming weekend could be better, as Birds of Prey will be headed to theaters, and those who are in the mood for female led action who end up getting frozen out of potentially sold out shows could always opt for Paramount's espionage thriller as counter programming.
We'll see what the future brings for the Stephanie Patrick franchise, but even in these uncertain times there are some universal truths that have to be admitted. The first truth is that Blake Lively is a certified action star, and with any luck The Rhythm Section won't be the last time we see her take the fight to the enemy.
A second truth is that Stephanie Patrick, even by merely existing in the current form she's taken, is definitely a worthy adversary that could compete in the world of spy movies. And the final, most obvious thing to learn from The Rhythm Section is that Ms. Patrick could definitely take James Bond in a fight.
Don't take my word for it, as you can see it for yourself in The Rhythm Section, which is is in theaters now. And if you're looking for more action at a theater near you, check out the 2020 release schedule, but be sure to pick your battles wisely.
CinemaBlend's James Bond (expert). Also versed in Large Scale Aggressors, time travel, and Guillermo del Toro. He fights for The User.
Your Daily Blend of Entertainment News
Thank you for signing up to CinemaBlend. You will receive a verification email shortly.
There was a problem. Please refresh the page and try again.